The melody of the Mothering Sunday song was taken from a song by Heinrich von Laufenberg, a fifteenth-century priest (c. 1390-1460).
The Catholic Encyclopedia says
the chief significance of Laufenberg is as a writer of religious lyrics. Some of these are renderings of Latin hymns, while others are original poems expressive of his love for Jesus and Our Lady. Most noteworthy are his recasts of worldly lyrics and folksongs in religious form (so-called Contrafacta). In these he adhered as closely as possible to the form and diction of the folk song, retaining the popular melodies but infusing into them a religious spirit,
Here is the text of "I know a lovely angel game":
Ich weiß ein lieblich Engelspiel,
da ist alls Leid zergangen:
Im Himmelreich ist Freuden viel
ohn Endes Ziel,
dahin soll uns verlangen.

Weil Gott uns durch die Gnade sein
wollt lieblich dahin weisen,
so steh auf, edle Seele mein,
und walle heim,
sein Lob sollst ewig preisen.

Der Winter kalt, der Sünden Zeit,
die hat nun bald ein Ende:
Kehr dich zu Gott, der dir vergiebt,
darum ihn bitt
mit Herzen und mit Hände.

Schlaf oder wach, lieg oder geh,
so steh allzeit in Sorgen:
Bitt Gott, daß er dir gebe Reu
all Tage neu
den Abend und den Morgen.

Aus Herzen tief andächtiglich
sollst du mit Neuen sprechen:
'Ach, reicher Gott von Himmelreich,
nun wollest dich
an meiner Sünd nicht rächen.'

Ich weiß, daß Gott ist also gut,
sein Gnad will er dir geben,
Kehrst du von Sünden deinen Mut:
wer also thut,
der kommt ins ewig Leben.

Auf himmelischer Heide grün
soll'n dein die Engel warten,
Und reines Herzens wirst du kühn
Gott schauen nun
ins ewgen Lebens Garten.

Da stehn der Heilgen Chör dabei
viel hoch auf Himmels Zinnen,
Und aller Engel Scharen frei:
was Freud da sei,
das mag kein Herz besinnen.

Gott spricht: 'nun leb in Seligkeit,
von dir will ich nicht scheiden:
Dies Reich hab ich dir zubereit
von Ewigkeit
in Wonn und allen Freuden.'

Des sei gelobt der Herre mein,
den ich so thät erbarmen,
Daß ich durch ihn erlöset bin
von großer Pein
am Kreuz mit seinen Armen.
Here is a video of Clara Oscura singing the song in a garden.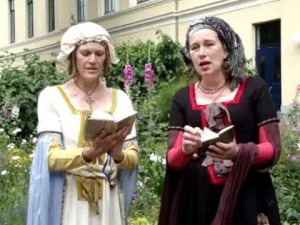 The winter cold, the time of sin

Soon have an end.

Turn to God, who forgives you.

Pray to Him,

With heart and hands.

God says, "Now live in blessedness,

I will not be parted from you.

This kingdom have I prepared for you

From eternity

In gladness and all joy."
Leave a Comment