Foxhall Parker Keene (1867-1941). also known as Foxie, was the son of the Englishman James Robert Keene (1838-1913) and the Virginia Sara Joy Daingerfield. He had one sister, Jessica Harwar, who married Talbot Jones Taylor of Baltimore. Foxhall in 1892 married Mary Lawrence, my wife's great grand aunt. They had no children, although Mary had a child from her first marriage.
Foxhall Keene claimed to be the best amateur gentleman sportsman of his time, and the record may still stand.
The Keenes, father and son, are a study on the hazards of extreme masculinity.
From my new book:
Brain wiring changes in a major way at puberty, when the male body is flooded with testosterone. Testosterone, which operates on male cells that are biochemically different from female cells, may also explain characteristically male behavior that becomes accentuated after puberty. Human males and males of other species show greater risk taking and aggression. Men and women are very similar in acting on impulse, but men are far more likely to take risks. Some risk taking (such as sky diving) requires great deliberation. Researchers therefore have suspected "that this form of impulsive risk taking – risky impulsivity – is most likely to underlie aggressive and criminal behavior." The combination is dangerous.
Men are far more inclined than women to risky behavior. They seek risk to test themselves and establish their reputation:
Because his identity is always precarious, a man, more than a woman, needs kleos, the fame that gives him escape from non-identity, from oblivion, from being a nobody. Manhood is "the Big Impossible," something that is never finally achieved (except perhaps by an heroic death) and its existence is always precarious. Men want to be recognized, to be honored, and they strive in a thousand ways to have their identity, and their identity specifically as men, acknowledged. The Boy Scout collects merit badges, scientists collect Nobel Prizes, soldiers collect medals, Wall Streeters collect bonuses, thugs collect prison terms, tattoos, scars – anything that establishes identity and encourages others to notice him and affirm him in his masculine identity.

Men are always seeking to prove their manhood by testing themselves against an adversary, whether another man, or society, or nature.
This universal situation was given a special twist during the presidency of Theodore Roosevelt. There was a concern that Anglo-American ruling class was growing weak and wimpish, that men were effete and suffering from "neurasthenia." Teddy Roosevelt was mocked for his dandyish appearance when he first appeared one the political scheme. He decided to take up sports with a vengeance and became a proponent of the strenuous life.  Joined to this was Social Darwinism, which gloried the struggle for survival that led to the survival of the fittest.
Foxhall's father, James, made and lost several fortunes, the first ($6,000,000, $150,000,000 in 2015 dollars) in the Nevada silver load, the Bonanza. In 1874 the Keenes moved back East (Foxhall bought a crate of bantam fighting cocks with him on the train) and bought a house on Bellevue Avenue in Newport. James began buying race horses and taught Foxhall to ride by putting Foxhall on a pony, Foxhall soon took up fox hunting.
James continued speculating, and lost everything to Jay Gould. Then the Newport house burned down.
Foxhall reminisced in Full Tilt:
In the clannish manner of calamities, our house at Newport burned down and we were left broke and almost homeless.
The family ended up in Babylon, Long Island.-
There Foxhall came across a pigeon shooting contest. He joined, and bet five dollars on himself. He had never shot a pigeon in his life, but had shot snipe in Newport.
The pigeons looked as big as eagles, after the small, swift snipe I was used to.

I killed thirteen straight and won the match, which was a wonderful piece of luck. My five-dollar investment netted me $565 [$15,000 in 2015 dollars], which at the age of thirteen, made me a millionaire.
Later the family moved to Cedarhurst. James repaired the family fortunes. Foxhall joined the Rockaway Hunt Club. There he had his first reported major injury. This was but the first of many.
He took up polo in 1885 in Lawrence. In 1887 he played for the American team against England.
1887 saw Foxhall entering Harvard, from which he was nearly expelled after a few weeks. He wanted to play football,

and to my chagrin nobody invited me to play. This left me with nothing to do with my spare time, with the inevitable consequence that I got into trouble.
Upperclassmen had warned Foxhall
Don't for any consideration give a punch on Bloody Monday Night as so many freshman do. If you're caught, the faculty will throw you out. They don't like the kind of man you are anyway.
A Digression on Bloody Monday
In pre-Civil war Harvard, Bloody Monday was an informal football match, with the freshman and juniors on one side and the sophomores and the seniors on the other. It rapidly degenerated into mayhem, and was forbidden in 1860.
In 1891 the Boston Evening Transcript reported
There is a growing custom among freshman of "giving punches" to the sophomores on "Bloody Monday" night – in the bibulous and not the pugnacious sense. Especially, it is said, are punches given by wealthy and roistering  newcomers  who aspire to join the choice band of spirits composing the "Dicky." Some of these depraved little noodles, with unlimited pocket money and a burning ambition to be thought "fast," have begun the custom of distributing free liquor.
So of course Foxhall joined in.
Word rang around that we were giving a party and unfortunately all of our friends in the upper classes came. They had a perfectly beautiful time, and the commotion soon assumed the proportions of a riot.
Foxhall was nabbed, and suspended for three months.
He went out for football and made the team.
In a ten minute practice on the Friday before the game I ruptured a kidney…. For ten days and nights I lay on an ice bed. As a result the surgeons did not have to cut.

When I had completely recovered from my football injuries I went into serious training for the lightweight boxing championship of Harvard.
During training he made his first connection with the Lawrence family.
A classmate of mine of whom I was very fond, Jack Lawrence, of Flushing, Long Island, was training at the same time.

But two weeks before the bout Foxhall woke up with a humiliating case of the measles and couldn't fight. Jack Lawrence took his place, and, after having been beaten to a pulp by a Harvard man, landed a haymaker and won.
Foxhall dropped out of Harvard; on the way to New Orleans to watch a fight he got into a fight on the train.
In April 1889 the twenty-two-year-old Foxhall had an altercation with a horse car driver, Nathaniel Murray, who swore out a warrant against him. Foxhall had hired Murray to take hymn to a race track, and told him to wait until 2 PM. Murray waited a few minutes past two, and when Foxhall did nto show up, started off.
Keene hove in sight, running up the raid, and when he boarded  the car he jumped on the fornt platform and proceeded to knock Murray off into the mud.

Murray got on again,  but was gain knocked off again and retired, leaving Keene and his two friends to drive the car home.

It is whispered that he had been indulging too freely on the day of the assault, and that liquor was the cause of his exhibition of temper.
On December 11, 1892 Foxhall married Mrs. Frank Worth White, the former Mary Lawrence, in a spare ceremony at her father's home on Twenty-Second Street. Shortly after that they sailed to live in Melton Leistershire to hunt.
Foxhall hunted with various meets. In Ireland he was with the Meath. He was riding a borrowed gorse that had a splint.
As I crossed a big field, all alone, a stream barred my way. I put him at it, and in landing he must have hit that splint, for he turned over and fell with his shoulder on mu head.

Somehow I managed to catch him. In very bad shape, with blood streaming from my mouth and nose, I made my way across some fields to a railway line and a main road, where I found a little inn. The landlady supplied me with some hot water, which made me a little more comfortable, but still I did nt feel equal to riding home.

There was of course no telephone not any means of communicating with my friends, so I was obliged to try what he now call hitch-hiking. After a long wait, a cart came down the road and I hailed the fellow driving it and begged him for a lift.

Angrily he eyed my scarlet coat, dusty and covered with blood. He must have thought of the recent Fenian uprising for he answered, "You may rot in the field," and drove on.

In the end I rode the eight miles back to Lagore, bleeding like a stuck pig all the way.

There was but one physician in that hamlet, who took care of horses, cows, and human beings alike. When I arrived he was out and couldn't be found, so I lay there, bleeding all the time, until nine-thirty that night when he finally came and stopped the hemorrhage.
Foxhall did not endure criticism of his sporting abilities with patience.
Foxhall was at a hunt with Lady Astor, whose disposition had soured in England. He took a wrong direction, and missed the kill.
Lady Astor, who was there, took the first occasion to twit me about it. In her parliamentary voice, which carried to at least fifty people, she said, "Mr. Foxie doesn't 'go' anymore."

The turning directly to me she asked, "and what do you think of that, Mr. Foxhall?"

Riding over to her I bowed and replied, "Madame, I make it a rule never to disagree with  a lady who was once beautiful."
In  1904 Mary left Foxhall and returned to her father, Newbold Lawrence, and the peace of the ancestral home in Bayside. Both husband and wife were discreet. The divorce was eventually granted in 1909 on grounds of abandonment.  Rumors went around about financial problems, and Foxhall was spotted in England talking to a noted beauty, but the real reason seems to be the one given by their friends: a difference of temperament. Mary was an outdoorsy and horsy woman, like many of the Lawrences, but my guess is that she was first attracted to Foxhall because he was so dashing, but later found he suffered from a surfeit of dashingness. She never knew when he went out in the morning whether he would come home in one piece or alive at all. This can be hard on a woman's nerves.
Foxhall was scheduled for a Vanderbilt Cup race on Long Island.
I was having breakfast at 1:45 A. M., the morning of the race, my father came to my room.

"You must not go," he said. "You are killing your mother. Tell the officials that we would not allow you to race."

"What," I said, "tell one hundred million people that Foxhall Keene si a coward! I won't do it." .

"But," I added. as I saw the expression of dismay on his face, :I'll tell you what I'll do. I'll drive slow."
That satisfied his mother.  Of course Foxhall did 90 mph, hit a telegraph pole and was badly injured.
Foxhall just before hitting telegraph pole
His wife had to endure headlines like these:
Keene Hurt
Foxhall Keene Hurt
Foxhall Keene Badly Hurt
Foxhall Keene Dangerously Hurt
Foxhall Keene Hurt When Thrown by Horse
Foxhall Keene Hurt Again in Polo Game
Foxhall P. Keene Hurt during a Hunt Meeting
Foxhall Keene Sustains Concussion of Brain
Foxhall Keene Injured
Foxhall Keene Injured Seriously While Hunting
Foxhall Keene Injured when Pony Stumbles
Foxhall Keene Badly Injured May Never Ride Again
Foxhall Keene Noted Horseman is Injured
Foxhall Keene Breaks Collarbone
Foxhall Keene Breaks Ankle
Foxhall Keene in Crash
 In 1913 a newspaper summarized Foxhall's travails:
This was the fourth time he had broken his collarbone. He has twice been carried from the polo field for dead. He has had falls as an amateur steeplechase rider, been blown up from an automobile, nearly drowned on a sinking yacht [in reality, a canoe, but a yacht sounds better], dragged by runaway horses and bitten by dogs.
But Foxhall kept up a grueling schedule of sports and excelled in them.
Foxhall P. Keene was not only an Olympic Gold Medalist in polo, but also an American thoroughbred race horse owner and breeder, and an amateur tennis player. He was rated the best all-around polo player in the United States for eight consecutive years, a golfer who competed in the U.S. Open, and a pioneer racecar driver who vied for the Gordon Bennett Cup. In addition to his substantial involvement in flat racing, he was also a founding member of the National Steeplechase Association.
The young Foxhall
Foxhall before polo game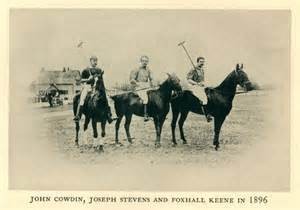 Foxhall, polo, 1896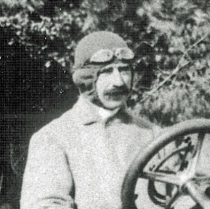 Foxhall Keene preparing for race
Foxhall on estate grounds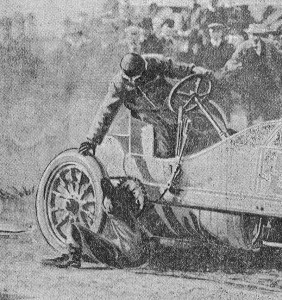 Foxhall with mechanic under car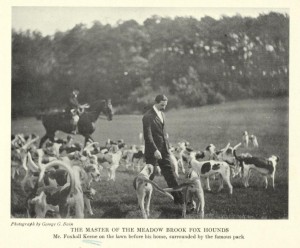 Foxhall Keene as Master of Meadow Brook Hunt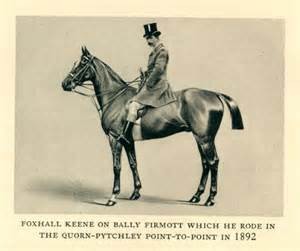 Foxhall in point-to-point
————————————————————————
Finances and Real Estate
Foxhall was not as fortunate in finances as in sports.
In 1902 Foxhall built Rosemary Hall on a thousand acres in Old Westbury. But the mortgage holder began foreclosure. Foxhall leased the estate to a Vanderbilt, and later sold it to William Grace Holloway, who renamed it Foxland,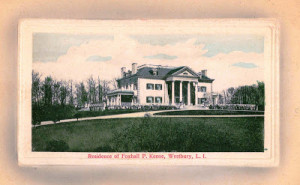 Rosemary Hall
Layout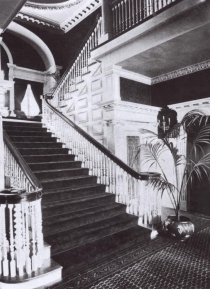 Entrance Hall
 Gardens
Rosemary Hall today
In 1889 Foxhall was made a special partner  in this brother-in-law's firm, Talbot J. Taylor and Co.  Keene invested $200,000. The firm failed in 1903, and James  lost $1,500,000.
By 1904 his servants were suing for their wages. He disputed a bill at Meadow Brook Hunt Club and resigned, although he had been Master of the Hunt. In January 1912 the Waldorf Astoria sued Foxhall for $6,036 for his charges from 1906 to 1910.
When James Keene died in 1913, he left an estate of $15,000,000 [$400,000,000 in 2015 dollars] most of which went to his daughter, who had produced grandchildren. But Foxhall's fortunes must have been repaired to some extent.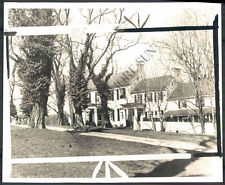 Foxhall Farms (later Loafer's Lodge, now Andor Farms)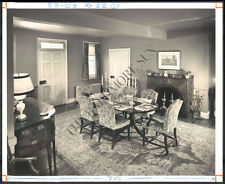 Foxhall Farms (now Andor Farms)
Foxhall Farms (now Andor Farms)
In 1919 he bought a house in Monkton, Maryland, and named it Foxhall Farms. He started a race there in 1920. He had twenty-eight house guests, The house caught fire, but the guests all pitched in and put it out.
People by thousands came out the day of the race. All the sporting countryside from Virginia to Long Island turned out. The little railway siding was crowded with private cars and seven hundred people were fed at my house alone. Though there was plenty to drink, I saw only one man who had too much. It was a purely sporting day.
The winners of that first race – and most of the subsequent contests – were from Pennsylvania. The winners take home the cup and keep it until some one beats them on their home ground.
When he initiated the race, Keene commissioned a silver trophy for $2,500. The Foxhall Farm Cup is one of the largest in sports, holding 82 quarts and weighing about 50 pounds. Almost every inch of the cup has been engraved with the names of the winning teams.
The End
Foxhall moved to a cottage on the estate of his sister in Ayer's Cliff on Lake Massawippi in Quebec. There he reminisced to Alden Hatch:
So I have participated in nearly all the sports that men have invested to harden their bodies and temper their spirits. In each of them I found pleasure and an incalculable profit to the soul. All but one of them were competitive and In all I ranked well,, while in some I reached the top.

Now I ride no more. My strength and skill, and even the fortune which enabled me to live so royally, are spent. But if I had it all to do again, I would follow exactly the same way. It was a life of pure delight.
Full Tilt: The Sporting Memoirs of Foxhall Keene.
The Derrydale Press, 1938.
————————————————-
Postscript in Maryland
The Foxhall Farm Trophy Chase kicks off Maryland's steeplechase season on March 15.
In 1920, American sportsman Foxhall P. Keene threw a party for 700 guests at his Monkton home on the eve of the first Foxhall Farm Trophy Team Chase. Keene created the race, held on the grounds of his home, Foxhall Farm, to encourage participation in timber racing.
On a March evening 86 years later, Taylor and Laura Pickett, the current owners of Foxhall Farm— now called Andor Farm— celebrated the 2006 race by throwing a party that sought to replicate Keene's inaugural festivity.

Laura Pickett called on Brian Boston, executive chef at The Milton Inn, and Carol Westerlund, owner of Larkspur Floral Design, to create a glamorous, Gatsby-esque atmosphere that would allow guests to "walk up the path and through the door and feel that they were back in the 1920s," says Westerlund, who bedecked the Pickett home with roses, carnations and calla lilies. Female guests were given gardenia corsages at the door, while male guests donned white carnations. "It was a decadent time. We were trying to convey that," says Boston, who baked a Lady Baltimore cake, among other fare, for the occasion. The original sterling silver Foxhall Cup was on display next to a photo album illustrating the history of the race.
 Maryland Steeplechase, Worthington Valley
Foxhall Trophy today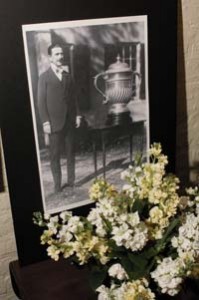 R.I. P.