James Henry Caldwell (1865-1931) was the son of Edward Holland Caldwell (1844-1872) and Caroline Amelia Shields (1846-1934) and the grandson of the thespian James Henry Caldwell (1793-1863). As James Henry's mother remarried after his father died, he had half-siblings with the name of Rubira. James Henry was the great granduncle of my wife.
James Henry was born in Mobile, Alabama, and attended private schools in Maryland and New York before entering Rensselaer Polytechnic Institute, from which he graduated with a B.S. om 1886. There he was Delta Phi. He returned to work as a civil engineer for the family business, the Mobile Gas Works, and installed electricity in that city,  fifty four years after his grandfather had installed gas.. In 1888 James Henry associated with the Ludlow Valve Manufacturing. In 1892 he became vice president, in 1893 general manager, and in 1909 president. He organized teh Troy Trust Company and became its first president, and became directors of numerous banks and companies. He was an Episcopalian and warden of St. Paul's church.
James H. Caldwell married, in Troy, May 3. 1887, Margery Josephine Christie, daughter of John T. Christie, of Troy, and granddaughter of John and Margaret (Roberts) Christie, who came to the United States from Scotland in 1832, and settled first in Troy, later moving to New Jersey. Mr. and Mrs. Caldwell are the parents of three children: 1. Margery, married, June 16, 1916, Livingstone W. Houston, of Troy, and has two children: Margery C. and Nancy. 2. John Christie, born June 10, 1893, educated in St. Mark's School, of Southboro, Massachusetts, and the Rensselaer Polytechnic Institute, now associated with the Ludlow Valve Manufacturing Company; married Helen Greatsinger Farrell. 3. Carolyn, educated in the Emma Willard School of Troy, Miss Masters' School of Dobbs Ferry, New York, and Miss Wickham's School of New York City; she married, May 28, 1921, Cebra Quackenbush Graves, of Bennington, Vermont, and New York City.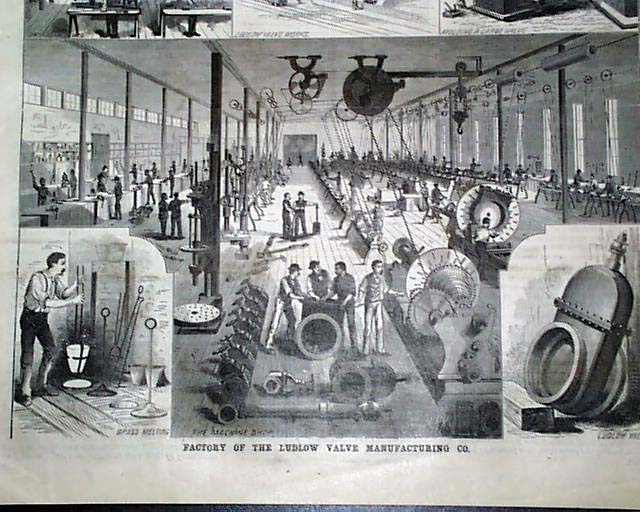 The Ludlow Valve Manufacturing Company was founded by Henry Ludlow in 1861. Ludlow, a native of Nassau, NY, had graduated with an engineering degree from Union College in 1843. He started the company in Waterford, NY but it quickly grew and Ludlow moved it first to Lansingburgh, NY, in 1872, and then to Troy, NY in 1897. When the company moved to Troy it took over the facilities of the Rensselaer Iron Company (Rensselaer Iron and Steel Company) located on the Poestenkill River in South Troy. Ludlow Valve Manufacturing Company was locally managed by four presidents until the 1930s. The first president was Henry Ludlow and he remained in the position until the early 1890s when he was succeeded by John Christie. At this time, Ludlow sold his interests in the company to a group of investors from New York City. The company was one of the largest valve manufacturers in the country and had continued success under Christie and his nephew James H. Caldwell. James H. Caldwell graduated from Rensselaer Polytechnic Institute in 1886 and joined the Ludlow Valve Manufacturing Company in 1888. In 1892 he was elected vice president, in 1893 he became general manager and in 1909 he took over the role of president for the company. During his presidency, Ludlow Valve Manufacturing Company was the largest valve and fire hydrant manufacturer in the country and perhaps the largest in the world. Interestingly enough, Caldwell was also Vice President of Rensselaer Polytechnic Institute and his daughter was married to Livingston W. Houston, future president of both the Ludlow Valve Manufacturing Company and Rensselaer Polytechnic Institute. Caldwell retired as president from Ludlow in the late 1920's and evidence exists that a man named William H. Lolley succeeded him. Lolley was president of Ludlow during crucial years in the early 1930's when serious investigation was taking place regarding the current and future of the company. When Lolley left (mid 1930's), Livingston Houston took over as president of Ludlow. Houston, using Lolly's recommendations, introduced a series of changes designed to make Ludlow as prominent as it had once been. Houston did not remain president for long, leaving the company in 1935 for a position at RPI. However, he did remain involved in the company as a board member for many more years. Despite efforts by the Board of Directors, a series of ineffective presidents plagued the business for many years. A merger with Rensselaer Valve Company was one more effort to revive Ludlow Valve Manufacturing Company in 1954. It was hoped that Ludlow could reduce employees, gain strong management and consolidate assets through this merger. However, physical dismantling of Rensselaer Valve Company was lengthy and expensive. In the early 1960s, all the problems faced by Ludlow-Rensselaer Valve Company came to a head. Foreclosure proceedings were brought against the company by James Talcott and Company, a primary lender. Future attempts at reorganization were for naught, and in 1969 final dismantling was initiated. Ludlow valves are still manufactured today under the Patterson Pump Company name in Georgia.
Leave a Comment