Mount Calvary Church
A Roman Catholic Parish
The Personal Ordinariate of S. Peter
Eutaw Street and Madison Avenue
Baltimore, Maryland
December 29, 2019
The Feast of the Holy Family
Rev. Albert Scharbach, Pastor
Dr. Allen Buskirk, Choirmaster
Midori Ataka, Organist
8:00 A.M. Said Mass
10:00 A.M. Sung Mass
Brunch to follow in the undercroft
__________________
Common, Merbecke
__________________
Anthems
Born in a stable so bare, John Rutter
Born in a stable so bare
Born so long ago
Born 'neath light of star
He who loved us so
Far away, silent he lay
Born today, your homage pay
For Christ is born for aye
Born on Christmas Day
Cradled by mother so fair
Tender her lullaby
Over her son so dear
Angel hosts fill the sky
Far away, silent he lay
Born today, your homage pay
For Christ is born for aye
Born on Christmas Day
Wise men from distant far land
Sheperds from starry hills
Worship this babe so rare
Hearts with his warmth he fills
Far away, silent he lay
Born today, your homage pay
For Christ is born for aye
Born on Christmas Day
Love in that stable was born
Into our hearts to flow
Innocent dreaming babe
Make me thy love to know
Far away, silent he lay
Born today, your homage pay
For Christ is born for aye
Born on Christmas Day
__________
A virgin most pure, arr. Charles Wood
A virgin most pure, as the prophets do tell,
Hath brought forth a baby, as it hath befell,
To be our Redeemer from death, hell and sin,
Which Adam's transgression hath wrapped us in.
Chorus
Aye, and therefore be you merry,
Rejoice and be merry,
Set sorrows aside!
Christ Jesus, our Saviour,
Was born on this tide.
In Bethlehem in Jewry a city there was,
Where Joseph and Mary together did pass,
And there to be taxed with many a one more,
For Caesar commanded the same should be so.
But when they had entered the city so fair,
The number of people so mighty was there
That Joseph and Mary, whose substance was small,
Could find in the inn there no lodging at all.
Then were they constrained in a stable to lie,
Where horses and asses they used for to tie;
Their lodging so simple they took it no scorn
But against the next morning our Saviour was born.
The King of all kings to this world being brought,
Fine number of linen to wrap him was sought;
And when she had swaddled her young son so sweet,
Within an ox's manger she laid him to sleep.
Then God sent an angel from heaven so high,
To certain poor shepherds in fields where they lie,
And bade them no longer in sorrow to stay,
Because that our Saviour was born on this day.
Then presently after, the shepherds did spy
A number of angels that stood in the sky.
They joyfully talked, and sweetly did sing,
"To God be all Glory, Our heavenly King."
This is one of the most venerable and widely distributed of all English Christmas carols. The earliest known version of the text is in New Carolls for this Merry Time of Christmas (London, 1661), published after the feast of Christmas was restored after the death of Oliver Cromwell, who had abolished Christmas (which was also outlawed in Massachusetts). This version begins "In Bethlehem city, in Jewry it was". The familiar first verse, "A virgin unspotted" or "A virgin most pure" had been added when the carol next surfaced in the 18th century.
__________________
Hymns
#20 Of the Father's love begotten is a translation of corde natus ex parentis by Aurelius Clemens Prudentius (ca. 348-ca. 413), The translation is by Sir Henry Williams Baker (1821-1877) based on John Mason Neale (1818-1866).
#117 Sing of Mary is by Roland F. Palmer (1892–1985, an Anglo-Catholic priest, who entered the Society of St. John the Evangelist ("Cowley Fathers") at Cambridge, Massachusetts. The tune PLEADING SAVIOR was composed by American Congregational minister Joshua Leavitt (1794–1873).
#13 While shepherds watched their flocks by night is a Christmas carol describing the Annunciation to the Shepherds, with words attributed to Irish hymnist, lyricist and England's Poet Laureate Nahum Tate (1692-1715).
The tune WINCHESTER or WINCHESTER OLD was originally published in Este's psalter The Whole Book of Psalmes from 1592. This tune was, in turn, arranged from chapter VIII of Cambridgeshire composer Christopher Tye's setting of the Acts of the Apostles in 1553.
George Kirbye, an East Anglian madrigalist about whom little is known, was employed by Este to arrange some of tunes featured in his The Whole Book of Psalmes and it is his arrangement of Tye's work that appears in the psalter to accompany Psalm 84 "How Lovely is Thy Dwelling Place."  The tune and hymn text were probably first published together in an arrangement by William Henry Monk for Hymns Ancient and Modern in 1861.
Professor Jeremy Dibble of Durham University has noted that "While shepherds watched" was "the only Christmas hymn to be approved by the Church of England in the 18th century and this allowed it to be disseminated across the country with the Book of Common Prayer." This was because most carols, which had roots in folk music, were considered too secular and thus not used in church services until the end of the 18th century.
Note on the icon of the Holy Family
In the middle ages the Holy Family was Jesus, Mary, and Anne, Mary's mother. Joseph was shown in icons of the Nativity as an old man who was somewhat befuddled by what was going on. He was presumably shown as elderly to avoid doubts about Mary's perpetual virginity.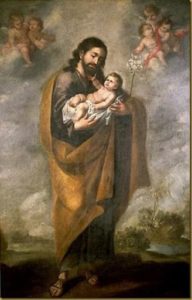 Murillo (1617-1682)
However, when the Reformers emphasized the role of the father in the family, the Catholics of the Counter-Reformation transformed the image of Joseph into a young, vigorous man, who was the provider and protector for Mary and Jesus, and a model for Catholic manhood. Young Catholic men were called to be chaste, like Joseph, and to avoid the siren call of donjuanismo.
The image at the head of this post is therefore not a traditional iconographic theme, but a modern one. I find it especially poignant because  the three figures are not shown as separate. but are included in a single outline, with Joseph enfolding and protecting both Jesus and Mary. This emphasizes the unity of the family. Jesus is giving Mary a chin-chuck, a medieval gesture of affection (note the similar gesture in the Murillo).
Leave a Comment