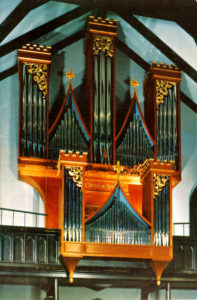 Mount Calvary Church
Baltimore
Personal Ordinariate of the Chair of St. Peter
Quinquagesima Sunday
February 26, 2017
Hymns
I sing the mighty power of God
Lord of all hopefulness
For the beauty of the earth
Anthems
Consider the Lilies, by Roger Hoffman
Geistliches Lied, Op. 30, by Johannes Brahms
____________________
I sing the mighty power of God was written by Isaac Watts (1674-1748) for children, and was entitled "Praise for Creation and Providence." In 1715 Watts published Divine and Moral Songs for Children, in the preface of which he wrote, "Children of high and low degree, of the Church of England or Dissenters, baptized in infancy or not, may all join together in these songs. And as I have endeavored to sink the language to the level of a child's understanding . . . to profit all, if possible, and offend none."
At the time of the Reformation, Martin Luther instructed his followers to sing hymns. However, John Calvin only allowed the singing of versified, or paraphrased, Scripture. By Watt's time, the psalm singing had become dull and lifeless. When 19-year-old Isaac complained to his father about this, his father challenged him to write something better. Watts then proceeded to write hundreds of hymns.
I sing the mighty power of God,
That made the mountains rise;
That spread the flowing seas abroad,
And built the lofty skies.
I sing the Wisdom that ordained
The sun to rule the day;
The moon shines full at His command,
And all the stars obey.

I sing the goodness of the Lord,
That filled the earth with food;
He formed the creatures with His word,
And then pronounced them good.
Lord, how Thy wonders are displayed,
Where'er I turn my eye:
If I survey the ground I tread,
Or gaze upon the sky!

There's not a plant or flower below,
But makes Thy glories known;
And clouds arise, and tempests blow,
By order from Thy throne;
While all that borrows life from Thee
Is ever in Thy care,
And everywhere that man can be,
Thou, God, art present there.
Here is the hymn to Ellacombe. Here is a curious version by a Baylor choir. Here is the Fort Lauderdale interpretation. And the Lincoln, Nebraska version. The let us not forget The Hoppers at the National Quartet Convention. (I love the Christian exuberance of  America)
____________________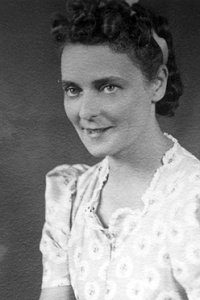 Lord of all hopefulness was written by Joyce Torrens-Graham (1901 -1953) in 1929 at the request of her friend, Canon Percy Dearmer of Westminster Abbey. She carefully fitted the words to the lovely Irish melody Slane, also used by Be thou my vision.
Joyce was the young­er of two child­ren born to Har­ry (Hen­ry) Tor­rens An­stru­ther, Mem­ber of Par­lia­ment and his wife (lat­er Dame) Eva An­stru­ther (née Han­bu­ry-Tra­cy). She spent her child­hood in Whit­church, and was ed­u­cat­ed pri­vate­ly in Lon­don. In class, she used to sit be­hind Eliz­a­beth Bowes-Ly­on (the fu­ture Queen Eliz­a­beth, the Queen Mo­ther) and would oc­ca­sion­al­ly dip the long tresse­s of "roy­al" hair in­to the ink-well. In lat­er life, when quizzed about this by an An­stru­ther fam­i­ly mem­ber, the ever-tact­ful Queen Mo­ther de­clared that she could re­call no­thing of it! Joyce is the author of Mrs. Miniver.
Lord of all hopefulness, Lord of all joy,
Whose trust, ever child-like, no cares can destroy,
Be there at our waking, and give us, we pray,
Your bliss in our hearts, Lord, at the break of the day.

Lord of all eagerness, Lord of all faith,
Whose strong hands were skilled at the plane and the lathe,
Be there at our labors, and give us, we pray,
Your strength in our hearts, Lord, at the noon of the day.

Lord of all kindliness, Lord of all grace,
Your hands swift to welcome, your arms to embrace,
Be there at our homing, and give us, we pray,
Your love in our hearts, Lord, at the eve of the day

Lord of all gentleness, Lord of all calm,
Whose voice is contentment, whose presence is balm,
Be there at our sleeping, and give us, we pray,
Your peace in our hearts, Lord, at the end of the day.
Here is a lovely performance.
The hymn is sung to the melody "Slane", first published as "With My Love on the Road" in Patrick Joyce's Old Irish Folk Music and Songs in 1909.[The tune is a more elemental distillation of earlier forms, such as "The Hielan's o' Scotland'[ and "By the Banks of the Bann," also compiled in Joyce (1909). The words of "Be Thou My Vision" were first combined with this tune in the Irish Church Hymnal in 1919.
____________________
For the beauty of the earth was was written by the Anglican layman Folliott Sandford Pierpoint (1835-1911) as a communion hymn in the Anglican Church. The refrain alludes to the post-communion prayer in the Book of Common Prayer, which begins "O Lord and heavenly father, we thy humble servants entirely desire thy fatherly goodness mercifully to accept this our sacrifice of praise and thanksgiving." The last verses, with their references to the saints and Mary, were considered too Catholic and were omitted in Anglican hymnals, but we have restored the verse that refers to the Eucharistic Sacrifice.
For the beauty of the earth,

For the beauty of the skies,

For the Love which from our birth

Over and around us lies:

Christ, our God, to Thee we raise

This our Sacrifice of Praise.

For the beauty of each hour

Of the day and of the night,

Hill and vale, and tree and flower,

Sun and moon and stars of light:

Christ, our God, to Thee we raise

This our Sacrifice of Praise.

For the joy of ear and eye,

For the heart and brain's delight,

For the mystic harmony

Linking sense to sound and sight:

Christ, our God, to Thee we raise

This our Sacrifice of Praise.

For the joy of human love,

Brother, sister, parent, child,

Friends on earth, and friends above;

For all gentle thoughts and mild:

Christ, our God, to Thee we raise

This our Sacrifice of Praise.

For each perfect Gift of Thine

To our race so freely given,

Graces human and Divine,

Flowers of earth, and buds of Heaven:

Christ, our God, to Thee we raise

This our Sacrifice of Praise.

For Thy Bride that evermore

Lifteth holy hands above,

Offering up on every shore

This Pure Sacrifice of Love:

Christ, our God, to Thee we raise

This our Sacrifice of Praise.

For Thy Martyrs' crown of light,

For Thy Prophets' eagle eye,

For Thy bold Confessors' might,

For the lips of Infancy:

Christ, our God, to Thee we raise

This our Sacrifice of Praise.

For Thy Virgins' robes of snow,

For Thy Maiden Mother mild,

For Thyself, with hearts aglow,

Jesu, Victim undefiled,

Offer we at Thine own Shrine

Thyself, sweet Sacrament Divine.
Here is the hymn version. Her is John Rutter's arrangement,
The tune "Dix," was written by Conrad Kocher (786-1872) was born in Ditzingen, Wurttemberg, Germany, where he was trained as a teacher. At the age of 17, Kocher left Germany to work as a tutor in St. Petersburg, Russia. Kocher's love for Mozart and Haydn influenced him to pursue a career in music. In 1811, he moved back to Germany and settled in Stuttgart, where he would remain for most of his life. During the early years of his career, the prestigious Cotta Music Firm published some of his works, and eventually sent him to study music in Italy. After Kocher completed his studies in Italy, he returned to Stuttgart where he founded the School for Sacred Song, which encouraged the use of four part singing in the church. Kocher published two Operas, an Oratorio, and a few Sonatas. The best known version of "Dix" came from a shortening of Kocher's "Treuer Heiland, wir sind hir," found in Kocher's Stimmen aus den Reiche Gottes (1838). The final arrangement was done by William H. Monk and was published in the 1861 version of Hymns Ancient and Modern, for which Monk was the music editor. (Evan Collins)
_____________________
Consider the Lilies is by Roger Hoffman, a contemporary LDS composer. He described the genesis of this piece:
At the time I wrote "Consider the Lilies," my wife, Melanie and I had spent five years (now twenty-six) following the Lord's commandment to put the kingdom of God first, believing that he would add everything else we needed. It seemed the Lord would send what we needed in the way of work or help, just when we needed it. Miraculously, we had survived! This allowed us to use our time to teach his Gospel through music. This kind providence had become such a regular occurrence for us that we wanted to tell others about it.
One day, as I was sitting at the piano in our chapel, (we didn't have a piano at home) I found my fingers wandering over the piano keys. I noticed what I was playing and repeated it so I wouldn't forget it. Once the melody had become locked into my consciousness, words began to form in my mind,
"Consider the lilies of the field,

how they grow, how they grow."
I grabbed my pencil and began writing. As quickly as I could write, the words continued,
"Consider the birds in the sky,

How they fly, how they fly.

He clothes the lilies of the field.

He feeds the birds in the sky.

And he will feed those who trust him,

And guide them with His eye."
I was beginning to feel very excited! Here was a way to share this marvelous principle!
The words kept coming,
"Consider the sheep of his fold,

How they follow where he leads.

Though the path may wind across the mountains,

He knows the meadows where they feed."
I thought of how Nephi and Lehi had been led on their way through "the more fertile parts of the wilderness…" and how the seas had parted for Moses and the children of Israel. Again, the chorus re-assured me,
"He clothes the lilies of the field.

He feeds the birds in the sky,

And he will feed those who trust him,

And guide them with his eye."
I was pleased that the message had been so well delivered, and gratefully acknowledged the power that had presented this song to my mind. I was about to rise from the piano bench and go home, when I felt a kind of downward tug, and sat down at the bench again. The message came clearly into my mind, "I'm not finished yet."
I sat down and the verse began,
"Consider the sweet, tender children

Who must suffer on this earth…"
I panicked. I was afraid to tackle so large a subject. I thought, "My pen is too small to deal with a problem so great." The thought came into my mind, "You're not writing this, anyway." I then remembered someone very dear to me who once said she had a hard time understanding why God would allow little children to be abused, and I had a great desire to help her understand this subject better and be comforted. This urged me on. So, tremulously, I continued,
The pains of all of them he carried

From the day of his birth.

He clothes the lilies of the field,

He feeds the lambs in His fold,

And he will heal those who trust him,

And make their hearts as gold."
I wept profusely. I could not contain my feelings. The love I felt was so powerful that I was overcome. (Indeed, for the rest of the day, I felt somewhat removed from this mortal sphere.)
My soul vibrated with the message I had just written, for my own suffering and weakness had been taken in hand by the Wonderful Counselor, and where once there was darkness, light by light, strand by strand, he rewove the fabric of my heart with threads of purest gold, so that my affections and sympathies have been, in a marvelous manner, enlarged and re-trained to make me more like him.
This is the way of the Master. He tells us plainly that he has given us weakness to bring us to him. When we come unto him, he teaches, counsels, and heals us, replacing evil with good, pouring himself into us, a spiritual transfusion where his light replaces our darkness. The light he has put into us works its way through everything we know and feel and draws us to yet greater light.
One day, if we continue, we will be like him, for his light will have chased every trace of darkness from us, and will have drawn into us all the light he has.
Here is the Mormon Tabernacle Choir. (Alert: anyone with a pre-diabetic condition should use caution when listening to this.)
___________________
Johannes Brahms, c. 1853
The Opus 30 Geistliches Lied  (Sacred Song) is Brahms' (1833-1897) earliest accompanied choral work he composed it in 1856 – the same year in which he composed his Missa Canonica, he was all of twenty-three years old . It's an accomplished piece of writing that combines a mastery of counterpoint with a sense of delicacy  to remarkable effect. It consists of an organ accompaniment to four-part double canon in which the tenor follows the soprano, and the bass follows the alto. The first and third sections of the lied have been likened to the columns of a musical arch in that Brahms uses the same music to illustrate different verses of Paul Fleming's poem. For the 'Amen' which ends the piece Brahms reverses the canon with alto following the bass and the tenor follows the soprano.
Lass dich nur nichts nicht dauren
Mit trauren;
Sei stille,
Wie Gott es fügt,
So sei vergnügt
Mein Wille.

Do not let yourself be depressed
By sadness;
Be calm,
However God may dispose,
Be content with it,
My will.

Was willst du heute sorgen
Auf morgen?
Der Eine
Steht allem für;
Der gibt auch dir
Das Deine

Why worry today
About tomorrow?
There is One
Who controls everything;
He will give you
Your share too.

Sei nur in allem Handel
Ohn' Wandel,
Steh feste;
Was Gott beschleusst,
Das ist und heisst
Das Beste. Amen.

Be constant in everything
You undertake,
Stand firm;
What God ordains
Is and is known to be
Best. Amen.
Here is the Winchester Cathedral Choir.
Leave a Comment