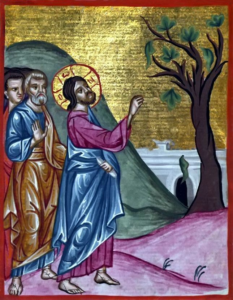 The parable of the fig tree
Mount Calvary Church
A Roman Catholic Parish
The Personal Ordinariate of the Chair of S. Peter
Eutaw Street and Madison Avenue
Baltimore, Maryland
Rev. Albert Scharbach, Pastor
Dr. Allen Buskirk, Choirmaster
Lent III
March 24, 2019
8 A.M Said Mass
10:00 A. M.  Sung Mass
Breakfast in the undercroft following the 10:00 A.M. Mass
____________________
Common
Missa de Angelis
____________________
Anthems
Richard Farrant (1530-1580)
Hide not thou thy face from us, O Lord, and cast not off thy servants in thy displeasure; for we confess our sins unto thee, and hide not our unrighteousness. For thy mercy's sake, deliver us from all our sins.
Here is the choir of Westminster Abbey.
William Byrd (1540-1623)
Ne irascaris Domine satis, et ne ultra memineris iniquitatis nostrae. Ecce respice populus tuus omnes nos. Be not angry, O Lord, and remember our iniquity no more. Behold, we are all your people.
Here is the choir of Ely Cathedral.
Hymns
The Great Litany was the first service written in English. It was composed by Thomas Cranmer in 1544 from older litanies: the Sarum rite litany, a Latin litany composed by Martin Luther, and the Divine Liturgy of St. John Chrysostom. The word litany comes from the Latin litania, from the Greek litê, meaning "prayer" or "supplication." Litanies are penitential exercises. They are the urgent supplications of the people of God suffering under or dreading divine judgements and asking to be spared or delivered from calamities which at the same time they confess that they deserve. After invoking the Trinity, we ask to be delivered from the evils that come upon us because of sin: heresy, schism, natural disasters, political disasters, war, violence, murder, and sudden and unprovided death.
Rock of ages (TOPLADY) has been a stay and comfort in days of peril, and in the hour of death. No other English hymn can be named which has laid so broad and firm a grasp upon the English-speaking world. It was written by the Rev. Augustus Toplady (1740–1778), an Evangelical priest of the Church of England, who was first a friend of John Wesley but who quarreled with him over predestination.
Take up thy cross (BRESLAU) was composed by the American Episcopal clergyman Charles William Everest (1814—1877) when he was still a teenager. It is based upon the Scripture: "Then Jesus told his disciples, "If any man would come after me, let him deny himself and take up his cross and follow me.'" We must die to self to be reborn in Jesus. If we accept the sufferings of this life in union with His sufferings, we like Him will rise from the dead to a new life. The cross is not only painful, but shameful, in the eyes of this world, which thinks it folly to deny oneself the pleasures of life in order to follow the perfect Law of the Lord. We train ourselves in small ways so that we can bear the greater crosses. We spend Sunday morning in church rather than in bed, so that we can patiently endure the death of a loved one. But we do not bear these crosses in our own power, but He in us bears them.
Leave a Comment