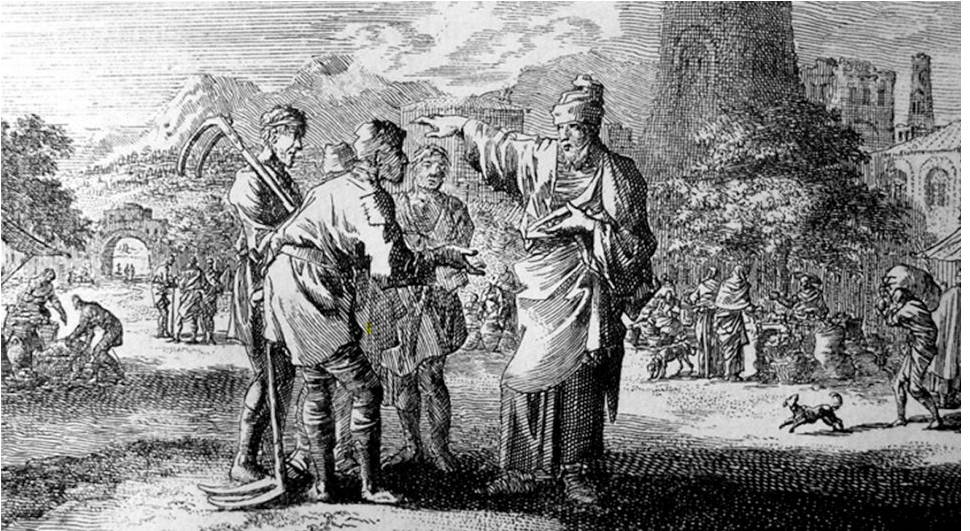 The Parable of the Two Sons
Mount Calvary Church
A Roman Catholic Parish
The Personal Ordinariate of S. Peter
Eutaw Street and Madison Avenue
Baltimore, Maryland
Rev. Albert Scharbach, Pastor
Andrew Johnson, Organist and Music Director
Trinity XVI
September 27, 2020
8:00 A.M. Said Mass
10:00 A.M. Sung Mass
This mass will be live streamed.
___________________
Organ Prelude
Trio Sonata in E-flat major: Allegro moderato, J.S. Bach
This piece is the first of six trio sonatas by Johann Sebastian Bach. This particular style of composition mimics the quality of having three solo baroque instrumentalists playing at the same time, requiring the organist to have complete independence of their right hand, left hand, and feet. The first movement, "Allegro moderato," passes the motive between voices in a playful manner while the third movement, "Allegro," is even more light-hearted than the first.
_________
Organ Postlude
Allegro, J.S. Bach
________________
Offertory Anthem
Christus factus est,  Felice Anerio
Christus factus est pro nobis obediens usque ad mortem, mortem autem crucis. Propter quod et Deus exaltavit illum et dedit illi nomen, quod est super omne nomen.
Christ became obedient for us unto death, even death on the cross. Therefore God exalted him and gave him a name which is above all names.
Felice Anerio (1560-1614) was an Italian composer of the late 16th century. This motet shows clear influence of Palestrina, though Anerio's use of dissonance and sudden textural contrasts point to his own interest in Italian madrigals. The first section depicts Christ's death on the cross through suspensions, or musical sighing. The second half shifts to a light dance-like meter to proclaim God's exalted.
__________
Communion Anthem
If ye love me, Thomas Tallis (1505-1585)
If ye love me, keep my commandments, and I will pray the Father, and he shall give you another comforter, that he may 'bide with you forever, e'en the spirit of truth.
Thomas Tallis composed for the Church of England in the 16th century. Anglican anthems from this period were expected to have English texts set intelligibly. Tallis achieves this clarity through the use of homophony, where all voices speak at the same time, and short repetitive sections of imitation, where voice parts overlap. This piece remains among the composer's most well-known and programmed works.
_______________
Hymns
All praise to Thee, for Thou, O King divine. The Episcopal priest Francis Bland Tucker (1896-1984), a native Virginian, who received his education at the University of Virginia and Virginia Theological Seminary, wrote this metrical version of Philippians 2:5-11, the Kenosis Hymn, or hymn of self-emptying "Let this mind be in you, which was also in Christ Jesus: who, being in the form of God, thought it not robbery to be equal with God: but made himself of no reputation, and took upon himself the form of a servant, and was made in the likeness of men: and being found in fashion as a man, he humbled himself and became obedient unto death, even the death of the cross. Wherefore God hath also highly exalted him, and given him a name which is above every name, that at the name of Jesus every knee should bow, of things in heaven and things in earth, and things under the earth; and that every tongue confess that Jesus Christ is Lord, to the glory of God the Father." ENGLEBERG by Charles Villiers Stanford (1852-1924).
Soul of my Saviour. The author of this hymn is unknown, and the earliest date to which it has been assigned is the 14th century. St. Ignatius of Loyola frequently referred to it.  It is believed that Jesuit priest William J. Maher (1823- 1877) composed the tune ANIMA CHRISTI around 1863.
Praise to the Lord, the Almighty, a paraphrase of Psalms 103 and 150, was written by Joachim Neander (1650—1680), the first hymn writer of the German Reformed Church. A valley was renamed in his honor in the early nineteenth century, and later became very famous in 1856 because of the discovery of the remains of Homo neanderthalensis, or the Neanderthal discovered in that valley. The hymn was Englished by the indefatigable translator of German hymns, Catherine Winkworth (1827—1878). She began translating hymn texts into the English language during the early years of the Oxford movement.
The anonymous tune LOBE DEN HERRN appeared in the 1665 edition of Praxis pietatis melica (Practice of Piety in Song). a Protestant hymnal first published in the 17th century by Johann Crüger.
Leave a Comment