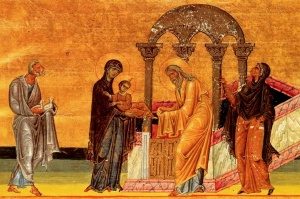 Mount Calvary Church
Eutaw Street and Madison Avenue
Baltimore, Maryland
A Roman Catholic Parish
The Personal Ordinariate of the Chair of S. Peter
Anglican Use
Rev. Albert Scharbach, Pastor
Dr. Allen Buskirk, Choirmaster
The Vigil of Candlemas
The Presentation of the Lord in the Temple
Friday, February 1
7 :00 PM
Sung Mass
Blessing of Candles
Procession
Blessing of Throats
Reception
_________________
Common
Missa quarti toni, Tomás Luis de Victoria (1548-1611)
___________________
Anthems
William Byrd (1538-1623)
Diffusa est gratia in labiis tuis: propterea benedixit te Deus in aeternum. Propter veritatem et mansuetudinem et justitiam: et deducet te mirabiliter dextera tua. Audi filia, et vide, et inclina aurem tuam: quia concupivit Rex speciem tuam.
Grace is poured abroad in thy lips: therefore hath God blessed thee for ever. Because of truth, and mildness, and justice: and thy right hand shall conduct thee marvelously. Hear, daughter, and see, and incline thine ear, for the king hath coveted thy beauty.
Here are the Tallis Scholars.
__________
Tomás Luis de Victoria (1548-1611)
Senex puerum portabat, puer autem senem regebat, quem virgo peperit, et post partum virgo permansit: ipsum quem genuit, adoravit.
The old man carried the child, but the child ruled the old man; Him whom the Virgin brought forth, and after childbirth remained a virgin, Him whom she bore, she adored.
Here is the King's College Choir.
___________________
Hymns
Hail to the Lord who comes was written by the Anglican clergyman John Ellerton (1826–1893)  The first verse contains a series of negatives: this is not the eschatological Christ in glory, nor the one entering Jerusalem on Palm Sunday. But in the second verse the secret is disclosed: the Lord is an infant. Here Ellerton imaginatively reinterprets Luke's story. Mary's breast is Christ's earthly throne and the infant Saviour is now a guest, albeit a heavenly guest, in his Father's earthly house. The third verse is not unlike an Italian Renaissance painting rendered into words, but towards the end of the verse the mention of Simeon recalls the 'Nunc dimittis'
Of the father's love begotten is a translation of corde natus ex parentis by Aurelius Clemens Prudentius (ca. 348-ca. 413), The translation is by Sir Henry Williams Baker (1821-1877) based on one by John Mason Neale (1818-1866).
O gladsome light is a translation by Robert Bridges (1844-1930) of the Phos hilaron,  an ancient hymn originating in the early church and sung daily at Vespers (hesperinos) in the Byzantine liturgy of the hours.  St. Basil the Great (d. 379) described it as ancient, in fact so old that he did not know who wrote it, and he equated it with thanksgiving for the light.
Leave a Comment