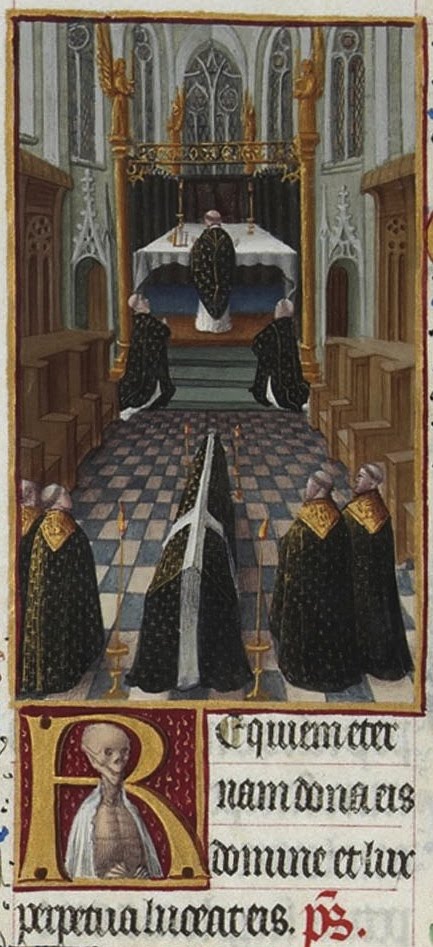 Mount Calvary Church
A Roman Catholic Parish
The Ordinariate of the Chair of St. Peter
Eutaw Street and Madison Avenue
Baltimore, Maryland
Rev. Albert Scharbach, Pastor
Rev. Armando Alejandro, Celebrant
Andrew Johnson, Music Director and Organist
All Souls' Day
November 2, 2020
7:00 P.M.
__________________
Organ Prelude
"Alle Menschen müssen sterben," J.S. Bach
Organ Postlude
"O wie selig seid ihr doch, ihr Frommen,"Johannes Brahms
_________________
Offertory Anthem
"Pie Jesu," Gabriel Fauré
Pie Jesu Domine, dona eis requiem, sempiternam requiem.
Blessed Lord Jesus, grant them rest, eternal rest.
________
Communion Anthem
"Be Thou My Vision" arr. Bob Chilcott
"Be thou my vision, O Lord of my heart,
Be all else but naught to me, save that thou art;
Be thou my best thought in the day and the night,
Both waking and sleeping, thy presence my light.
Be thou my wisdom, be thou my true word;
Be thou ever with me, and I with thee, Lord;
Be thou my great Father, and I thy true son;
Be thou in me dwelling, and I with thee one.
Be thou and thou only the first in my heart;
O Sovereign of heaven, my treasure thou art;
Great heart of my own heart, whatever befall,
Still be thou my vision, O Ruler of all."
________________
Hymns
The King of love my shepherd is (ST COLUMBA) was written by Sir Henry Williams Baker (1821–1877). It is notable for its skillful meter, and its well-managed rhyme scheme of single and double rhymes, which control and shape the emotion very beautifully. Baker gave an Anglican slant to Psalm 23, interpreting it as a psalm of love and care, but stressing these qualities as evidenced in the Eucharist. The spread table of verse 5 becomes the altar on which the elements are displayed, and the delight comes as the believer takes the 'pure chalice'; the unction, or anointing (from 1 John 2: 27), while bestowing grace in a spiritual sense, also has suggestions of a rite. This verse spreads its meaning through the whole hymn, allowing the words of Psalm 23 to acquire an extra significance: so that the last verse suggests that the length of days of a person's life can be spent, figuratively, 'within thy house for ever', in the service and under the influence of the church, and then later in heaven. The singer can reflect back, and conclude that the first verses suggest the ransomed soul, sought out in love and rescued from sin (Baker's version of 'he restoreth my soul'). The beautiful use of the shepherd metaphor in verse 3, as the shepherd carries the lamb gently on his shoulder, is an illustration of the tenderness of Baker's work: these lines were the last words spoken by Baker on his deathbed. ST COLUMBA is a folk tune adapted for this hymn by Ralph Vaughan Williams.
Jesus son of Mary was written by Edmund Stuart Palmer (1856–1931) in Swahili as 'Yesu Bin Mariamu' sometime before 1901, for the Requiem of a colleague. Palmer was a doctor and Anglican cleric who preached and practiced medicine in Zanzibar and East Africa. Here is the tune we will use: ADORO DEVOTE.
Abide with me was written by the Scottish Anglican clergyman Henry Francis Lyte (1793–1847). The hymn is based on Luke 24:29, part of a post-Resurrection narrative telling the story of Emmaus: "But they constrained him, saying, Abide with us: for it is toward evening, and the day is far spent. And he went in to tarry with them."  Lyte takes the quotation and turns it into a metaphor for human life in all of its brevity. At the same time, by changing 'Abide with us' into 'Abide with me,' he deepens the feeling by making it speak to the individual, in prayer or meditation. It is perhaps the personal intensity of the text, the use of the metaphor of evening and the closing line, "In life, in death, O Lord, abide with me," that makes this hymn a favorite at requiems.
Leave a Comment