Mary Trimble Lawrence Tonetti with Lydia, Anne, and Joseph 1906
Anne (also Ann and Annette) Elizabeth Tonetti was born on March 15, 1903 at 136 East 40th St in New York, the daughter of Mary Trimble Lawrence and François Tonetti, and therefore my wife's fourth cousin twice removed. Anne was raised in an artistic household, as both her mother and father were sculptors, and she also lived in the family compound-artists colony at Snedens Landing.
Her mother took Anne to see Isadora Duncan at the Met, and Anne decided to be a dancer. She and her sister Alexandra attended Elisabeth Duncan's School of the Dance where they associated with Maurice Stern, Pablo Casals, Mabel Dodge Luhan, Gertrude Stein, and of course Isadora. Ann took a leave from Miss Chapin's School to tour Europe in a dance troop with Isadora and the Isadorables.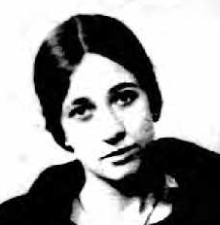 Anne at 17
Anne as a dancer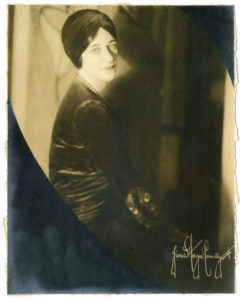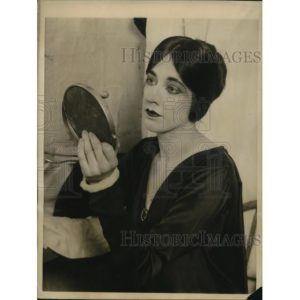 Anne as an actress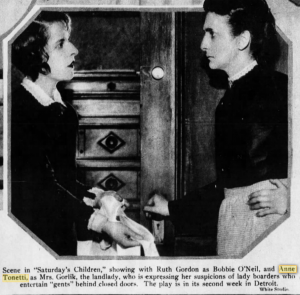 Anne in Saturday's Children
She then had a brief career as an actress. She appeared in
Roadside
Between Two Worlds
The Road to Yesterday
Saturday's Children as "proverbial keeper of a boarding house"
Mrs. Partridge Presents as Madame La Fleur
The Green Hat as Sister Clothilde
Tea for Three
He Who Gets Slapped
Lay Christalinda
Cyrano de Bergerac as the Duenna
Street Scene as "a gossipy scandal monger" with "queenie" the dog.
Roadside
Between Two Worlds
The Constant Sinner with Mae West
In 1929 she took a tour of the Soviet Union and did her Auntie Mame act:

The architect Eric Gugler rented a house from Mary Tonetti. It was directly across from the studio on 40th St, and he met Anne. They married in 1931; Judge Benjamin Cardozo performed the ceremony.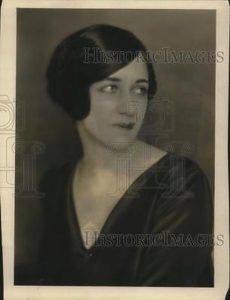 Anne Tonetti Gugler 1937
Anne had to deal with a certain amount on financial irresponsibility on the art of her mother Mary and her husband. Mary lost the properties on 40th St to foreclosure Mary at first rented the houses that she owned in Snedens landing for $15-20 a month to artists, She therefore lost about 12,000-15,000 a year and this was in the 1920s and 1930s.  Ann tried to bring financial sanity and pay all the bills. Mary tore up the withholding checks to Social Security. Ann tried to reason with her; Mary responded "Ever since your telegram about my bank account, I have been plunged into deepest gloom." Fortunately Mary kept the property at Snedens Landing, and after the Depression it steadily increased in value.
Actresses  Anne Gugler, Katherine Cornell, and Sandy McAllister with Dachsund, 1978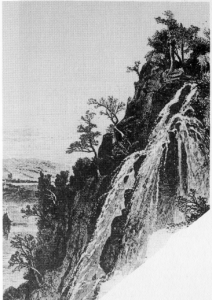 In 1979 Anne Gugler donated the Cascade on the Snedens Landing property to Palisades Park Commission. She also gave the Metropolitan two bronzes by St. Gaudens:
Robert Louis Stevenson
Anne died at Snedens Landing March 22, 1990.
Leave a Comment