Andrew Hutchins Mickle was the husband of Mary Nicoll Lawrence, my wife's third great-grand aunt. Mary Nicoll Lawrence (1822-1896) was the daughter of Judge Effingham Lawrence. Andrew Mickle, whose name means "Great" in Scots, was born on February 2, 1805 in the Sixth Ward. The Old Merchants of New York recounted of the house Mickle was born in:
We have watched for hours the honorable discipline of about twenty lusty porkers, who used to inhabit it, and went to regularly for grub in the morning, returned after sundown, and then marched upstairs t their place in the attic.
The Sixth Ward, which contained the notorious Five Points, was not as bad as it became later, and Mickle may have been pulling an Andrew Jackson in claiming low origins.
Andrew the Tobacconist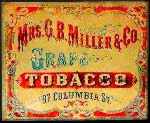 The G.B. Miller firm was a premiere tobacco firm, founded in 1776. The records are a little confused, but it appears that Rose Miller grew four acres of tobacco in New Windsor,  and sold it as "Rose-Leaf Snuff and Tobacco." The firm prospered, being run by George Benjamin Miller père et fils, and became renowned (and cursed) for its fine-cut chewing tobacco.  Andrew Mickle went to work for the younger G. B. Miller. Upon G. B. Miller's death  in 1816 Mrs. Miller took over the business, and it prospered enough so that jokes were made about it:
Mrs. Miller became a byword for tobacco.
The Oneida community fought the use of tobacco, and finally everyone there renounced it:
"Good-bye Anderson, Lorrillard and Lillienthal. Your companionship, cosy as it is brings with it a bad smell. Good-bye, Mrs. G. B. Miller. Your charming influence does not render a man very acceptable to others of your sex. Thank God, the reign of yellow drizzle, spittoons, stale scents and 'old-soldiers,' is over! Thank God, the most vile, absurd, unclean, slave-driving tyranny that ever cursed humanity is hereabouts broken, and the insurrection is spreading!"
Andrew Mickle in 1827 married the Miller's daughter, Caroline Augusta Miller (1810-1849). After her death he married Mary Nicoll Lawrence, the sister of Lydia Ann Lawrence,   By his first wife he had a daughter Hannah Mickle, who married William Effingham Lawrence, son of Judge Effingham Lawrence. William was Mary Nicoll Lawrence's – Andrew Mickle's wife – brother, and was therefore Andrew's brother-in-law and son-in-law (and probably other things as well, but those are the closest relationships).
Andrew the Politician
Tammany put forward Andrew Mickle as their candidate. A historian of Tammany recounts:
"It was in 1846, just at this period of rampant Tammany corruption, which was beginning to  become somewhat too obvious, that Washington Irving returned to New York from Spain, where he had been Minister of the United States. He was received enthusiastically by the populace of New York, and Tammany joined vigorously in the welcome, for Tammany Hall needed a reputable man. The leaders of Tammany Hall offered Washington Irving the nomination for Mayor of New York. "It was not as a literary man especially that they desired to honor Irving," wrote Mrs. Euphemia Vale Blake, "for they had always plenty of literary timber at hand, but partly for old association's sake, and from their natural instinct to honor any man who had brought honor to America."

Irving declined, and Tammany Hall nominated instead Andrew H. Mickle, who was  born in a hut in the "Bloody Sixth" Ward; it was said by his opponents that no less than a dozen pigs were present at the birth and lived with the family for many years.
Nathaniel Hubbard, a contemporary of Mickle's , claims this is what really happened:
This election was bought of the sachems of Tammany hall, the tobacconist and mother–in-law  [Mrs. Russell, the mother of Andrew's father-in-law] of the incumbent. She sent a letter to the rulers of Tammany with a pledge to give them $5.000 on condition they would nominate and elect her son in law to the office of mayor of this city. The bait was accepted and he was accordingly put in nomination and elected, and the $8,00 promptly paid.

He was a man utterly disqualified for the office of mayor, having been brought up behind the tobacco counter of Mrs. Russell.
Mickle was elected mayor in 1845 and served one term. A few things happened.
Mickle encouraged the construction of a new workhouse and insane asylum, leading eventually to Blackwell's Island becoming a sort of one-stop for all of New York's undesirable industries.  After the Great Explosion of 1845, Mickle also saw to developing New York's fire-fighting infrastructure.
Mickle gave $40.00 in the name of Tammany Hall to Irish relief during the Famine.
Mickle returned to the tobacco business in 1847.
In 1848, upon the death of his mother-in-law, Andrew Mickle changed the name of the firm to A. H. Mickle and Sons. He built Bay Lawn, which burned in 1890.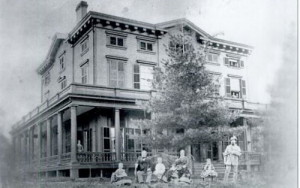 At his death on January 25, 1863, Andrew left a fortune of over a million dollars (perhaps $30,000,000 in 2013 dollars).
Leave a Comment