The Schieffelins were from Swabia. Johann Jacob Scheffelin (1702-1750) settled in Philadelphia. His sons Jacob the elder and George, followed him. Jacob the elder married Regina Ritzhauer in 1756, and begot our Jacob, who was born in Philadelphia in 1757. Jacob the elder moved his family to Montreal in 1760. It had just passed into control of the British, and Jacob the elder had a business furnishing supplies to the British.
The Loyalist
In 1775 our Jacob, the younger, (1757-1835) joined the British army at the age of 18 to oppose the American invasion of Canada (one of the more disgraceful incidents in American military history. And we lost). Schieffelin went to Detroit, then a British fort, and ran a store supplying the army. Governor Hamilton of Detroit appointed Jacob to the Detroit Volunteers, giving him the status of an officer.
Schieffelin went with the force that captured Vincennes from the Americans; however, he in turn was captured by the Americans and taken to Virginia. He escaped and made his way to New York speaking French along the way, as the French were allies of the Americans, He reached New York July 19, 1780. There he met Hannah Lawrence, my wife's fourth great grand aunt, and anti-British poetess, arranged to be billeted with her family, and married her August  13, despite Quaker disapproval. They made their way back to Montréal, All this is described in her blog.
While he was in Montreal and Detroit, Jacob had been engaging in business and in real estate speculation, some of which was with the Indians, and therefore illegal under British law. He showed an entrepreneurial spirit which would blossom into a family fortune.
After the end of the American Revolution, Jacob went to London to lobby for benefits for loyalist soldiers. Presumably he met with Effingham Lawrence, the brother of his wife's father. This Effingham had moved to London to engage in the drug business, and was the father of the Effingham whose drug business in Manhattan Jacob would later take over.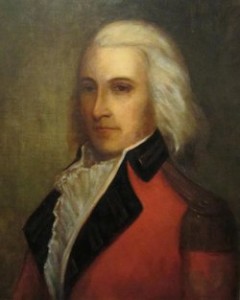 The New American
Jacob returned to Montreal with a shipment of goods which he would sell. He had remained on good terms with his American relatives, and in 1794 moved to New York and took over Effingham Lawrence's drug business on Pearl Street.
When Schieffelin and John Lawrence entered into the drug business, the trade was primarily conducted by wholesale houses in New York and Philadelphia. Before the Revolutionary War, drugs and botanicals had been mostly supplied by the English. By the time of the Revolution, about half of the drug manufacturing in England was controlled by the Quakers. Quaker pharmacists in America had ready access to the latest and most up-to-date information thanks to their coreligionists in England. At the end of the eighteenth century, druggists provided a wide array of medicines, botanical products, cooking spices, surgical supplies, medicine chests, as well items found today in hardware stores — paints and glassware, for example — to general stores, physicians, farmers, plantations, ships, and apothecary shops. Soon after the beginning of the eighteenth century, many druggists and apothecaries had expanded into chemical manufacturing, an activity that accelerated during the Revolutionary War, when, cut off from England, druggists learned new manufacturing techniques to produce the embargoed chemicals.
Jacob was well positioned: he had Quaker contacts, he had British contacts, he had business experience, and he knew how to speculate in real estate. Most of all he had an extended family involved in various businesses.
Manhattanville
Jacob bought up land in upper Manhattan. He built his country house, Rooka Hall, where 144th St. now joins the Hudson, and sold land to his friend Alexander Hamilton for a country estate.
In 1806 Schieffelin and his brothers-in-law, Thomas Buckley and John B. Lawrence, joined the lands they owned individually and jointly in northern Manhattan and requested that surveyor Adolphus Loss lay out the plan for Manhattanville, which was incorporated as a village the same year. Manhattanville was organized around a street grid that followed the natural topography of the area, on land that had long been cattle pastures and farms. Harlem Cove formed the heart of the commercial waterfront. Stables, warehouses, icehouses, and factories blossomed along Manhattan Street, which in turn became a major transportation route moving goods from what was then Kingsbridge Road to the Hudson River. The Public Advertiser in 1807 described Manhattanville as

a flourishing little town, pleasantly situated near the banks of the Hudson, about eight miles from City-Hall… first projected and laid out twelve months ago by Mr. Schieffelin and others, since which an Academy has been erected, where are taught by persons of superior qualifications, the Latin, French and English Languages… A very excellent public house has been built and opened, together with many private houses and a ferry established to the opposite shore of the North [Hudson] river… and a market is contemplated to be finished in the course of the present summer.

When established, the streets carried the names of Schieffelin, Effingham, Buckley, Lawrence, Hamilton, and Manhattan.
The Schieffelins had six sons and one daughter: Edward Lawrence (1781-1850), Henry Hamilton (1783-1865), Anna Maria (1788-1845) Effingham (1791-1863), Jacob (1793-1880), John Lawrence (1796-1866), and Richard Lawrence (1801-89). These are my wife's first cousins, five times removed.
Jacob Schieffelin died in New York on April 16, 1835 of apoplexy and was buried in the family vault at St. Mary's Church.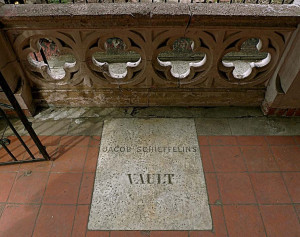 A Very Brief History of the Schieffelin Businesses
Although Hannah was read out of meeting when she married a soldier, Schieffelin remained on close terms with all the Quaker relatives, and the Quakers dominated the drug business in England, possibly because they were trusted, the same quality that gave them an advantage in the finances of New York His partnership with John Lawrence proved successful.
Another Lawrence brother, Richard ran a business on Pearl St4reet that imported and sold leads, steel, pots, kettles, and other hardware. The success of these businesses encouraged others in the family to open their own firms and in May 1801 two of Schieffelin's sons, Edward L. and Henry Hamilton, purchased the stock of the late Dr. Nicholas S. Bayard and entered into co-partnership at 193 Pearl Street, next door to their father.
In July 1802, Schieffelin expanded his business and was appointed the wholesale and retail agent for P. Paterson, M.D, of London, and began selling Paterson's "restorative vegetable drops" as well as his "nervous cordial pills." In 1803 his son, Edward started selling Glauber's salts — a hydrate of sodium sulfate used widely at the time for its medicinal properties — as well as an antidote to the "dangerous effects of impure wines, otherwise undescribed." Jacob's (3) brother.
J & E Schieffelin & Co., operated out of 179 Pearl Street, where they had taken over the store of James Thomson. In 1805, Jacob and his son Henry joined together under the name Jacob Schieffelin & Son, and announced that the goods in their several warehouses would be of interest to dealers of drugs and medicines "on the continent of America, and the West-Indies."
Following the Civil War, the four Schieffelin brothers retired from active participation in the company.  William H. Schieffelin, son of Samuel B. Schieffelin, became the lead partner In 1882, Schieffelin established the finest pharmaceutical laboratory in the United States. It had sales offices located in Chicago and San Francisco, and served Europe through its operations in London, England.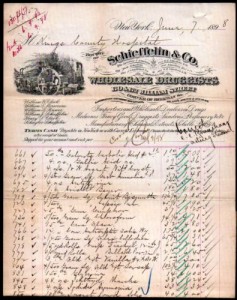 The Lawrences and then the Schieffelins had always been deeply concerned about drug purity. In 1906 it became the first company in the United States to file proofs of purity to federal regulators, receiving Guaranty Number One. Because of their excellent reputation, the Schieffelins were chosen by Bayer (Farbenfabriken) the distributors for their new drug, aspirin. Bayer also helped Schieffelin introduce another substance to the United States: heroin. The Schieffelins already handled cannabis indica.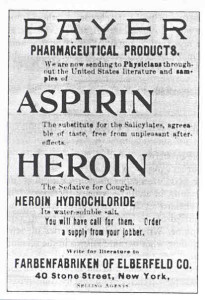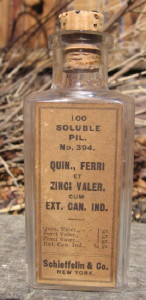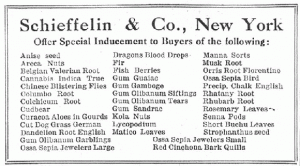 The Schieffelins therefore were involved when Congress started to regulate such substances. In 1910 Dr. William Schieffelin, President of the National Druggists Wholesalers' association, testified

So he was at least in part responsible for the problems that stem form including cannabis with opium in that class of controlled substances.
Because of Prohibition, Schieffelin's business would start to specialize in "medicinal" alcohol.  it was alcohol intended for medicinal purposes, especially Hennessy Cognac and Moët & Chandon Champagne. Distilled spirits were a traditional remedy for chest pain, but I wonder what champagne was prescribed for. In 1962 the company gave up pharmaceuticals for alcohol.
In 1980, Moët-Hennessy acquired Schieffelin. In 1987, Moët-Hennessy reached an agreement to merge Schieffelin with Somerset Importers Ltd., owned by Guinness.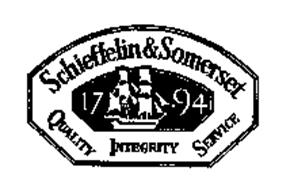 The new company specializes in high end products:
Dom Perignon
Moët & Chandon
Oban
Johnnie Walker
Tanqueray Gin
Grand Marnier
So many thanks to the Lawrences, especially various Effinghams, for helping to establish  business that has contributed mightily to the happiness quotient of the United States.
Malt does more than Milton can
To justify the ways of God to man.
Not to mention heroin and cannabis.
Acknowledgments to Susan Lukesh, "Jacob Schieffelin, the Philadelphia-born son of a German immigrant businessman, engaged in furnishing stores and provisions for the British Army in Canada, was an entrepreneur who moved vigorously into commerce and real estate speculation wherever he found himself."
Leave a Comment