Tristram Tupper, my wife's second cousin once removed, had a houseboat on the Eastern Shore of Maryland, in the 1920s. While lazing about Claiborne, he wrote a story, "The Four Brothers," which appeared in the April 7, 1928 Saturday Evening Post and which was quickly adopted to the screen as The First Kiss, with the young Gary Cooper and Fay Wray.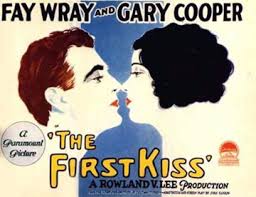 James Dawson researched the history of this major artistic event for The Tidewater Times.
The plot is:
after years of dissolution and drink, the noble Talbot family, which had given its fine name to the county, had fallen on hard times. Pap Talbot, the son of the distinguished Rev. Henry Talbot, was a drunkard and his four sons not much better. Pap had named his first three sons William, Ezra and Carroll in an attempt to ingratiate himself with his father-in-law, William Ezra Carroll, who lived on a plantation in Virginia and was said to be fabulously rich. When that failed, he named his fourth son Mulligan to spite his father-in-law who had an enemy by that name.
When Pap dies and is buried in a pauper's grave, Mulligan has an epiphany. After an epic battle in which he beats his oldest brother half to death, he states that if his siblings will clean up their acts, go to school and get respectable jobs, that their rich grandfather will finance their education.
And sure enough, the money starts coming in. His three brothers go to school and graduate from college with honors, becoming in turn a preacher, a lawyer and a doctor. During this time, Mulligan still works as a waterman, but never fails to bring the money from Grandpap Carroll.
In the meantime, Mulligan falls in love with Anna Lee Marshall (played by Fay Wray). She is the daughter of the richest man in town and she spurns his advances because, as she so delicately put it, he is "poor white trash." Mulligan slowly wins her heart and impresses her with his surprising success on the water. He takes her sailing. They kiss.
Then, in a melodramatic plot twist, Mulligan is caught attempting to rob passengers on the Annapolis-Claiborne ferry.
The Annapolis-Claiborne Ferry
At his trial, it is revealed that he is not the honest, hardworking waterman that everyone thought, but the notorious Bay pirate "Black Duck," who, disguised in black oilskins, had been robbing vessels off the coast for years. Grandpap Carroll had died insolvent years before, and the money had actually been coming from Mulligan's piratical enterprises. While Mulligan is in the Easton jail, his brothers help him break out and he and Anna sail off into the sunset together in the dream yacht that he built.
Gary and Faye 1928
For the movie is the ending had to be made more moral.
In the movie, Mulligan sells the boat he built and pays back all the money he stole, which triggers his arrest. He is tried and found guilty, but released into Anna's custody and the two live happily ever after.
I especially like the idea of a pirate robbing the ferry.
The film is lost, but someone found the theme song and created a series of stills on You Tube.
Here are some stills: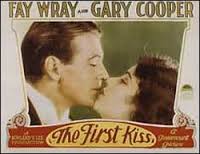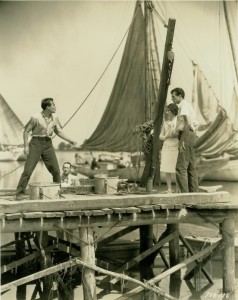 The filming of the movie in 1928 was the biggest thing that had happened in St. Michael's since the War of 1812.
The cast and crew, about 75 people, stayed at the Pasadena Inn in Royal Oak. Pauline Valliant, who worked as a hostess in the dining room there, recalled in a May 20, 1973 Baltimore Sun article that they soon felt right at home and grew to love the Eastern Shore. Gary Cooper, the rising young actor who played the lead role of Mulligan Talbot, rose for an early morning swim each day before the filming started, and lead actress Fay Wray, who played Cooper's rich sweetheart, liked it so much that she convinced her fiancé John Saunders, a Hollywood screenwriter, to come east and the two were married on June 15 at Calvary Methodist Church in Easton. Their wedding reception was held on a skipjack in St. Michaels harbor.
Serving as a rower was the young Elmer T. Parkinson; he grew up to be the captain and handyman for my wife's grandfather, R. Templeton Smith, who had a house at Emerson Point.    Elmer persuaded R. Templeton, who was from Pittsburgh, that a cabin cruiser, the Osona, was tricky and needed a professional captain to take it out one the dangerous waters of the Miles River.
Elmer also took up painting under the name El DotTow (Elmer, his name; Dorothy, his wife's name; and Townsend, his son). He painted mostly duckscapes.
Elmer Parkinson and the infant Charles Podles 1984
He also painted R. Templeton's dog, Willie, a yellow lab, in profile; he gave Willie a human eye. Somewhere in the Pittsburgh house is a genuine El DotTow. My wife seems reluctant to seek it out and photograph it for posterity, despite its important art historical connections to her grandfather and to Gary Cooper and to Tristram Tupper.
Leave a Comment