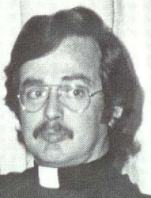 I went to Calvert Hall College High School from 1963-1967. We had a few odd teachers, but fortunately I missed the Rev. Lawrence Brett, who was chaplain there for a few years, 1970-1973, of his long career of molesting teenage boys.
He was on the lam from police and living under an assumed name in Martinique. He died on Christmas day after falling down a flight of stairs.
His victims at Calvert Hall remember his modus operandi. 
Hired as Calvert Hall's chaplain and religion teacher in 1970, Brett became known among students and faculty at the school for his sharp mind and hip coolness, former students and colleagues said.

"He would hold court, literally, in his office," said Charles T. LoPresto, a Calvert Hall graduate who returned there in 1969 as a young teacher and quickly became friends with Brett. "These boys would just clamor to be part of that inner circle with him."

In his courses, Brett exposed students to a variety of religious doctrines, said Dembeck, who had Brett as a religion teacher for two years.

"He taught us about all the major world religions," he said. "He taught us a bunch of stuff that was way outside the box of Catholicism that I grew up with."
Yes, indeed, "out of the box."  What exactly was Brett teaching? – the most advanced doctrines of proportionalism, perhaps, as a prelude to introducing teenage boys to sex.
Molesters use whatever approach works – Maciel used traditionalist Catholicism, Brett hip Catholicism.
Leave a Comment