Leonie Alexandre (1890-1992) was Jerome Alexandre's sister. She is therefore also the first cousin twice removed of my wife.
Leonie led at active life as a debutante.
 On March 20, 1909 a Chocolatière et Tableaux was held at the Plaza. The Times reported that
chocolate and other refreshments will be sold by women and girls in chocolatière costumes after the famous painting in the Dresden gallery.
La Belle Chocolatière
Pastel on Parchment
There were also dances, and Leonie was an Egyptian dancer, and the evening also promised a "a humorous reading of Salome."
An Egyptian Dancer, c. 1910
Later in March of that year Leonie was again an Egyptian dancer at at benefit for a benefit of a dancing class of factory and shop girls, hosted at their studio by Mr. and Mrs. Francois Tonetti. Mrs. Tonetti was Mary Trimble Lawrence, another relation of my wife's, from the artistic side of the family.
Leonie played in The Castle of Liguria during the Italian Carnival at the Waldorf Astoria on March 30, 1910.
Like Jerome, she also stood to inherit $1,500,000 (about $40,000,000 in 2015 dollars) when she reached her majority. Her tendencies differed from Jerome. This is the report on how she celebrated her access to vast wealth on July 3, 1911.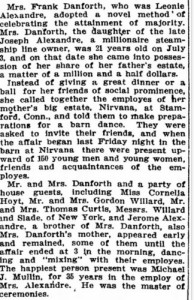 Nirvana was the family estate in Connecticut and the site of the mysterious burglary.
She was engaged to Francis J. Danforth (1878-1950) an industrial engineer. Her fiancé gave his bachelor dinner at Delmonico's on May 19, 1911. A "colored band" played, according to the Times.  They were married on May 11, 1911, at St John's Episcopal Church in Stamford.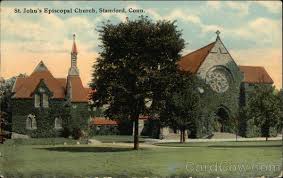 St. John's Protestant Episcopal Church, Stamford, Connecticut 
The reception took place at Nirvana.
Her life seems to have been devoted to charity events.  Among those she assisted at were the appearance of Will Rogers in 1928, an exhibition of Edward VII's coronation robes in 1937, and a production of the pantomime "Popo" in 1939. She acted in a Snark's production of "The Aunt of England"  in 1939.
If the Social Security death index is accurate, she died at the age of 101 on May 18, 1992.
A Note on the tableau vivant
In a tableau vivant actors posed motionless to duplicate a famous painting or scene. Paintings were subjects of tableaux vivants. Here are some recent ones:
Scenes could also be acted. For example, when Dickens came to New York in 1842, an entertainment for him involved both dances and tableaux vivant of :
"A Sketch by Boz"
"Oliver Twist"
"Little Nell"
"Pickwick Papers"
"Curiosity Shop" etc.
They were popular in the nineteenth century My wife informs me that they are still given at the Roland Park School in Baltimore.
Leave a Comment