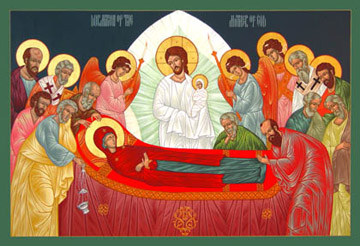 Mount Calvary Church
A Roman Catholic Congregation of
The Personal Ordinariate of St. Peter
Anglican Use
The Dormition of the Theotokos
(The Assumption of the Blessed Virgin Mary)
Hymns
Daily, daily sing to Mary
 Sing of Mary
Hail Holy Queen enthroned above
_________________________
Daily, daily sing to Mary is a translation of the Latin hymn Omni die dic Mariae, by St. Bernard of Clairvaux.  St. Casimir, patron of Poland and Lithuania (1458—1484), had a devotion to this poem, and it is sometimes attributed to him, as it was found in his tomb. It was translated by Henry Bittleston (1818–1886), an Anglican priest who converted to Catholicism and joined the Oratory at Birmingham with John Henry Newman.
Sing of Mary is by Roland Ford Palmer (1891—1985). He was a priest in the Anglican Church of Canada and joined the Society of St. John the Evangelist, the Cowley Fathers, in 1919.
Hail Holy Queen enthroned above is an anonymous translation of Salve regina coelitum by Hermanus contractus (The Crippled or The Lame). Hermann was a son of the Count of Altshausen. He was crippled by a paralytic disease from early childhood. He was born in 1013, with a cleft palate, cerebral palsy and is said to have had spina bifida.  Hermann possibly had either amyotrophic lateral sclerosis or spinal muscular atrophy. As a result, he had great difficulty moving and could hardly speak. At seven, he was placed in a Benedictine monastery by his parents who could no longer look after him. He grew up in the monastery, learning from the monks and developing a keen interest in both theology and the world around him. He spent most of his life in the Abbey of Reichenau. He was renowned as a musical composer and wrote a treatise on the science of music. When he went blind in later life, he began writing hymns, the best known of which is Salve Regina Coelitum.
Here is the hymn sung at the Anglo-Catholic Church of the Atonement.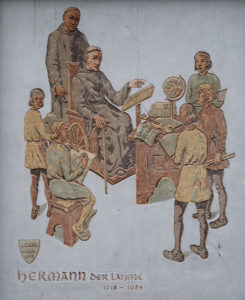 Leave a Comment