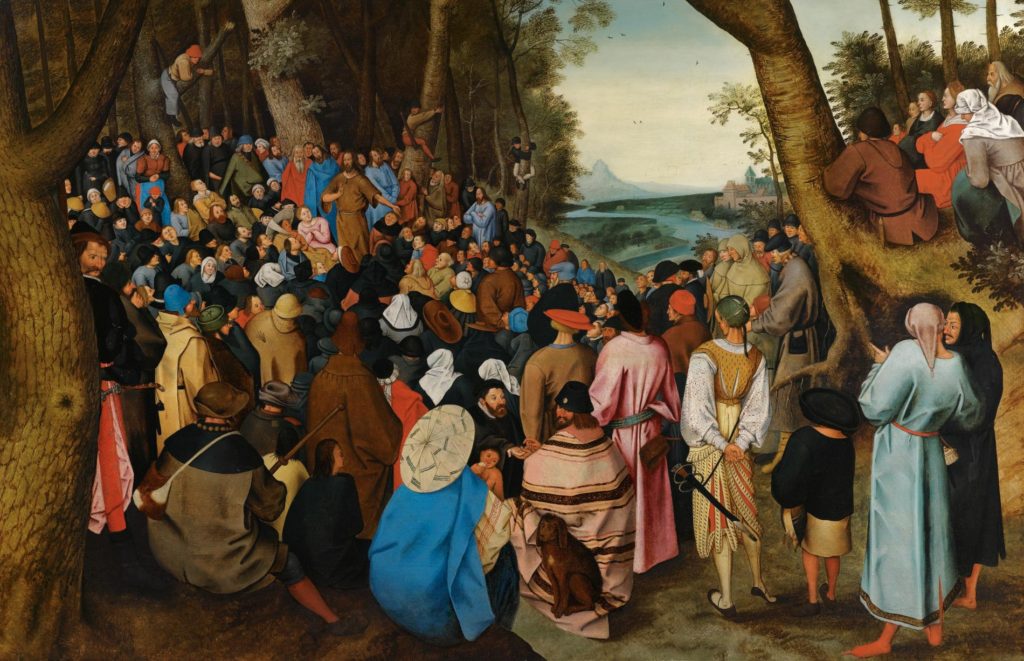 The Preaching of St. John the Baptist by Pieter Bruegel the Elder
________________________________________________
Mount Calvary Church
Eutaw Street and Madison Avenue
Baltimore, Maryland
A Parish of the Roman  Catholic Personal Ordinariate of St. Peter
Rev. Albert Scharbach, Pastor
Advent III: Gaudete Sunday
Schedule for week of December 17, 2017
 ________________________
Sunday December 17
Advent III
8:00 AM Said Mass
9:00 AM Bible Study: Jonah
9:30 AM Confessions
10:00 AM Sung Mass
Coffee Hour
4 PM Evening Prayer
Tuesday December 19
5:30 PM Mass in Alcock Chapel
Wednesday December 20
5:30 PM Mass in Alcock Chapel
Thursday December 21
5:30 PM Mass in Alcock Chapel
Saturday December 23
4:30 Vigil Mass of the Fourth Sunday of Advent
Greening of Church
Sunday December 24
10:00 PM Carols
10:30 PM Christmas Eve Mass
Monday Christmas Day
9 AM Said Mass
 __________________________________________________
Music for December 17, 10 AM Sung Mass
Prelude
Preludes Liturgiques, No. 2 – Gaston Litaize
Common
Kyrie, Sanctus, Agnus Dei, Merbecke
Hymns
Hail to the Lord's anointed 
On Jordan's bank 
Rejoice the Lord is King
Anthems
Rejoice in the Lord alway, Anon
This is the record of John, Orlando Gibbons
Postlude
Chorale Prelude on DARWALL – Alec Rowley
_______________________________________________
Prelude
Préludes liturgiques, No. 2 – Gaston Litaize
Archibald Farmer wrote that the Préludes liturgiques were "clever, interesting, often good, and always modishly French."
Here is No. 11 of Prélude Liturqiques.
Gaston Litaize (1909-1991) was born in Ménil-sur-Belvitte, Vosges, in northeast France. An illness caused him to lose his sight just after birth. He entered the Institute for the Blind at a young age, studying with Charles Magin, who encouraged him to move to Paris and study with Magin and Adolphe Marty at the Institut National des Jeunes Aveugles, which he did from 1926 to 1931. Concurrently, he entered the Paris Conservatoire in October 1927, studying with Marcel Dupré and Henri Büsser, as well as privately with Louis Vierne. Over the course of six years, he won first prizes in organ, improvisation, fugue, and composition, as well as the Prix Rossini for his cantata Fra Angelico. In 1938 he finished second to Henri Dutilleux in the Prix de Rome, said to be the first time that a blind person was accepted in the competition.
_________________________________
Hymns
Hail to the Lord's anointed was written by James Montgomery (1771-1854) for a Moravian Christmas occasion, perhaps at the settlement at Fulneck, near Leeds. It is a free paraphrase of Psalm 72, a psalm of righteousness and justice.
Here is the complete hymn. The 1940 Hymnal uses stanzas 1, 2, 3, a combination of 5 and 6, and 7.
1 Hail to the Lord's Anointed,
great David's greater Son!
Hail, in the time appointed,
His reign on earth begun!
He comes to break oppression,
to set the captive free,
to take away transgression,
and rule in equity.

2 He comes with succor speedy
to those who suffer wrong;
to help the poor and needy,
and bid the weak be strong;
to give them songs for sighing,
their darkness turn to light,
whose souls, condemned and dying,
were precious in His sight.

3 He shall come down like showers
upon the fruitful earth;
and love, joy, hope, like flowers,
spring in His path to birth;
Before Him on the mountains
shall peace, the herald, go,
and righteousness, in fountains,
from hill to valley flow.

4 Arabia's desert ranger
to Him shall bow the knee,
the Ethiopian stranger
His glory come to see;
with offerings of devotion,
ships from the isles shall meet,
to pour the wealth of ocean
in tribute at His feet.

5 Kings shall fall down before Him,
and gold and incense bring;
all nations shall adore Him,
His praise all people sing;
for He shall have dominion
o'er river, sea, and shore,
far as the eagle's pinion
or dove's light wing can soar.

6 For Him shall pray'r unceasing,
and daily vows ascend;
His kingdom still increasing,
a kingdom without end;
the mountain dews shall nourish
a seed in weakness sown,
whose fruit shall spread and flourish,
and shake like Lebanon.

7 O'er every foe victorious,
He on His throne shall rest,
from age to age more glorious,
all-blessing and all-blessed;
the tide of time shall never
His covenant remove;
His name shall stand forever –
that name to us is Love.
Here is St. John's, Detroit.
It is closely based on Psalm 72.
A Psalm for Solomon. Give the king thy judgments, O God, and thy righteousness unto the king's son.

He shall judge thy people with righteousness, and thy poor with judgment.

The mountains shall bring peace to the people, and the little hills, by righteousness.

He shall judge the poor of the people, he shall save the children of the needy, and shall break in pieces the oppressor.

They shall fear thee as long as the sun and moon endure, throughout all generations.

He shall come down like rain upon the mown grass: as showers that water the earth.

In his days shall the righteous flourish; and abundance of peace so long as the moon endureth.

He shall have dominion also from sea to sea, and from the river unto the ends of the earth.

They that dwell in the wilderness shall bow before him; and his enemies shall lick the dust.

The kings of Tarshish and of the isles shall bring presents: the kings of Sheba and Seba shall offer gifts.

Yea, all kings shall fall down before him: all nations shall serve him.

For he shall deliver the needy when he crieth; the poor also, and him that hath no helper.

He shall spare the poor and needy, and shall save the souls of the needy.

He shall redeem their soul from deceit and violence: and precious shall their blood be in his sight.

And he shall live, and to him shall be given of the gold of Sheba: prayer also shall be made for him continually; and daily shall he be praised.

There shall be an handful of corn in the earth upon the top of the mountains; the fruit thereof shall shake like Lebanon: and they of the city shall flourish like grass of the earth.

His name shall endure for ever: his name shall be continued as long as the sun: and men shall be blessed in him: all nations shall call him blessed.

Blessed be the LORD God, the God of Israel, who only doeth wondrous things.

And blessed be his glorious name for ever: and let the whole earth be filled with his glory; Amen, and Amen.

The prayers of David the son of Jesse are ended.
The King James translation indicates that this is song written by David for his son Solomon. The song addresses Solomon in exaggerated terms that could be fulfilled only by the Messiah, but Solomon in his wisdom and peacefulness foreshadows the Messiah: "One greater than Solomon is here."
David proclaims in hope that his son, Solomon, shall reign to the ends of the earth, that kings from afar will bring him gifts, that all nations shall serve him. Solomon's wisdom will be in service of justice, especially justice for the poor and oppressed, whom he will redeem. Therefore all nations will call him blessed. Such hopes no merely human king could fulfill, and therefore Coffman's Commentary lists the ways in which Solomon is a type of Christ.
Just as the First Israel had its most glorious extent under Solomon; so shall the Second Israel, the Church of God though Christ attain to eternal glory in Christ.
Solomon was a son of David; Jesus Christ is The Son of David.
Solomon reigned over the earth from the Euphrates to the Mediterranean Sea; but Christ's dominion is "to the uttermost parts of the earth."
Solomon's wisdom was known all over the world; but "In Christ all the treasures of wisdom and knowledge are hidden."
Solomon's reign was one of peace; and Christ our Lord is the Prince of Peace, "And of the increase of his government and of peace, there shall be no end."
Solomon sat upon the literal throne of David in Jerusalem; but Christ, risen from the dead and seated at the right hand of the Majesty on High, is seated upon the Throne of David in heaven (Acts 2:30-31).
Kings and rulers of all the world of Solomon's day honored him and brought presents to him. In Christ's kingdom, "The kings of the earth bring their glory into Christ's kingdom" (Revelation 21:24); and even in the manger at Bethlehem the kings of the earth brought unto Christ gifts of gold, and frankincense and myrrh.
But Coffman does not consider the several passages in the psalm about the judgment that shall save the poor and needy.
James Montgomery (1771-1854), the English author of the hymn Hail to the Lord's Anointed noticed these passages. For thirty years he edited a radical paper; in the fears that swept England after the French Revolution he was twice jailed because of his advocacy of social justice. He was an advocate for the end of the slave trade and of the exploitation of child chimney sweeps. During his time in jail he wrote poetry, including probably this hymn. It was first sung on Christmas Day, 1821, at a Moravian gathering.
_______________________________________
On Jordan's bank is one of the few Advent hymns to take account of Saint John the Baptist as the forerunner of the coming Christ.
This hymn, which is based on the text in Luke 3: 1-18, was written by Charles Coffin (1676-1749), who became the Rector of the University of Paris in 1718, and first appeared in the Paris Breviary in 1736. It was translated by the Revd John Chandler (1806-1876), Vicar of Witley in Godalming, Surrey, and one of the early translators of Latin hymns into English with Anglican churches and parishes in mind.
Every hymnal seems to have a different version. Here is the one from the 1940 Hymnal.
1. On Jordan's bank, the Baptist's cry
Announces that the Lord is nigh;
Awake, and hearken, for he brings
Glad tidings of the King of kings.

2. Then cleansed be every breast from sin;
Make straight the way for God within;
Let each heart prepare a home
Where such a mighty Guest may come.

3. For Thou art our Salvation, Lord,
Our refuge, and our great reward.
Without Thy grace we waste away,
Like flowers that wither and decay.

4. To heal the sick stretch out Thine hand,
And bid the fallen sinner stand;
Shine forth, and let Thy light restore
Earth's own true lovliness once more.

5. All praise, eternal Son, to Thee
Whose advent doth Thy people free,
Whom, with the Father, we adore,
And Holy Ghost, forevermore.
Here is a congregational rendition.
Here is the original Latin:
Jordanis oras praevia
Vox ecce Baptistae quatit:
Praeconis ad grandes sonos
Ignavus abscedat sopor.

Auctoris adventum sui
Tellus & aether & mare
Praegestiente sentiunt,
Et jam salutant gaudio.

Mundemus & nos pectora:
Deo propinquanti viam
Sternamus, & dignam domum
Tanto paremus hospiti.

Tu nostra, tu, Jesu, salus;
Tu robur & solatium:
Arens ut herba, te sine
Mortale tabescit genus.

Aegris salutarem manum
Extende: prostratos leva:
Ostende vultum, jam suus
Mundo reflorescet decor.

Qui liberator advenis,
Fili, tibi laus maxima
Cum Patre & almo Spiriiu
In sempiterna secula.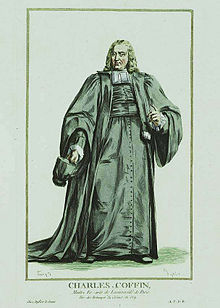 Charles Coffin (1676 – 1749 ) was a French teacher, writer and Jansenist who was Rector of the University of Paris. Among his writings are a number of hymns which have been translated into English. In 1701, he was appointed chief assistant to Charles Rollin, principal of the Collège de Beauvais. He succeeded Rollin as principal in 1712.  In 1718. he became rector of the University of Paris, a post which he held until his death.
Coffin published in 1727 some of his Latin poems, for which he was already noted, and in 1736 the bulk of his hymns appeared in the Paris Breviary of that year, an edition of which was published in 1838 at Oxford by John Henry Newman. 1736 also saw the publication of Coffin's Hymni Sacri Auctore Carolo Coffin.
The Hymni Sacri included a poem adapted from the original chant, Jordanis oras prævia, which Rev. John Chandler later translated to the hymn On Jordan's Bank the Baptist's Cry set to the tune Winchester New for use at Matins during Advent. Chandler also translated Coffin's The Advent of Our King.
Among his other works is an ode in praise of the wines of Champagne. This work is a version of a similar poem in which Bénigne Grenan, professor at Harcourt College, praised the pre-eminence of Burgundy wine, and that one of Charles Coffin's Jansenist friends, Marc-Antoine Hersan, had had fun reciting one evening at a dinner.
While the papal bull Unigenitus condemned Jansenism, many in France interpreted it as an attack on the perogatives of the French church. The University of Paris and the provincial Parlements were hotbeds of opposition. The University was known to harbor Jansenist sympathizers; the Parlement of Paris went so far as to threatened to confiscate the temporalities of the Archbishop. As rector of the University and clerk to the Parlement of Paris, even Coffin's hymns were viewed by some with suspicion.
Coffin died of pneumonia in Paris 20 June 1749. Due to his persistence in appealing against the apostolic constitution Unigenitus, under instructions from the Archbishop, who wished to make an example, the parish rector of Saint-Étienne-du-Mont, refused to administer last rites to him, or give him a Christian burial ] Four thousand Parisians joined the funeral procession. Because the crown had supported the suppression of the Jansenists, Danton notes that the religious rite took on political overtones. The Parlement of Paris subsequently issued an official and strong "remonstrance" to the king. Richard J. Janet sees the resulting popular demonstrations as contributing to the growing disenchantment with the monarchy that would later play into the coming Revolution.
________________________________________
John Chandler (1806 – 1876) was the son of the vicar of Witley. John was educated at Corpus Christi College, Oxford (BA 1827, MA 1830). He took Holy Orders, becoming a Fellow of his College and curate of Witley. He became vicar of Witley in 1839, remaining there until his death. He is chiefly known for The Hymns of the Primitive Church, published in 1837 (a later edition, with additional hymns, appeared as The Hymns of the Church, mostly Primitive, in 1841).
In the Preface to The Hymns of the Primitive Church, written in a rather ponderous style, Chandler wrote:
It has long struck me, indeed, that as our Liturgy is compiled, in a great measure, from ancient materials, so, if there were any ancient hymns still extant, of the same date and character with the prayers, they would be most suitable for our purpose; for they would, from their antiquity, carry more weight with them than any modern ones could do…
He disapproved of 'those rhyming jingling hymns which are found in the Popish missals, as barbarous in their Latinity, as defective in their doctrine'. He then described how he had found the deliberately unmetrical translations (by Isaac Williams*) in the British Magazine of hymns from the Paris Breviary of 1736, got hold of a copy, and proceeded to translate some of them again in a manner suited to congregational singing. In his orotund way, Chandler addressed himself with heavy playfulness to the Church of England:
It will not, I trust, be unpleasing or unedifying to her members to see a Morning hymn by a Bishop of Milan of the fourth century [Ambrose] joined to one on the same subject by a Bishop of Salisbury of the seventeenth [Ken? -who was Bishop of Bath and Wells]. Perhaps, if the authorities of our Church carry on the design, we may see next to them a hymn by a Bishop of Calcutta of the nineteenth [Heber].
The tune, 'Winchester New,' is a melody adapted from Georg Wittwe's Musikalishes Hand-Buch (Hamburg, 1690) by Canon William Henry Havergal (1793-1870), one of the leading figures in reforming church psalmody in the Anglican tradition.
_____________________________
Rejoice the Lord is King is by Charles Wesley (1707-1788).
The hymn has four principal sources. First, it begins with a clear allusion to Psalm 97:1, 12. Second, the 2-line refrain, with which each verse except the last concludes, begins with a citation of part of the Third Century Eucharistic text, Sursum Corda ('Lift up your hearts.'). Third, the refrain continues with a reference to Philippians 4: 4. Fourth, the content of the hymn is influenced by that section of the Nicene Creed which deals with Christ's Resurrection and Ascension, the belief that he will come again as Judge, and the unending nature of his Kingdom.
The final stanza concludes with a modified version of the refrain, in which the words of Sursum Corda are replaced by an allusion to 1 Thessalonians 4:16. This modification may have suggested itself to Wesley because the final verse itself draws upon 1 Thessalonians 4:17.
1 Rejoice, the Lord is King!
Your Lord and King adore!
Rejoice, give thanks, and sing,
And triumph evermore:
Lift up your heart,
lift up your voice!
Rejoice, again I say, rejoice!

2 The Lord, our Savior, reigns,
The God of truth and love;
When He has purged our stains,
He took His seat above:
Lift up your heart,
lift up your voice!
Rejoice, again I say, rejoice!

3 His kingdom cannot fail,
He rules o'er earth and heav'n;
The keys of death and hell
Are to our Jesus giv'n:
Lift up your heart,
lift up your voice!
Rejoice, again I say, rejoice!

4 Rejoice in glorious hope!
Our Lord the Judge shall come
And take His servants up
To their eternal home:
Lift up your heart,
lift up your voice!
Rejoice, again I say, rejoice!
Here is John Rutter's arrangement.
_____________________________
Anthems
Rejoice in the Lord alway, Anon (or Purcell, or Redford)
Rejoice in the Lord alway, and again I say, rejoice! Let your softness be known unto all men; the Lord is even at hand. Be careful for nothing, but in all prayer and supplication, let your petitions be manifest unto God, with giving of thanks. And the peace of God which passeth all understanding keep your hearts and minds through Christ Jesu, Amen.
Here is the Georgia Tech Chamber Choir.
____________________________________
This is the record of John, Orlando Gibbons
This is the record of John, when the Jews sent priests and Levites from Jerusalem to ask him, Who art thou? And he confessed and denied not, and said plainly, I am not the Christ. And they asked him, What art thou then? Art thou Elias? And he said, I am not. Art thou the prophet? And he answered, No. Then said they unto him, What art thou? that we may give an answer unto them that sent us. What sayest thou of thyself? And he said, I am the voice of him that crieth in the wilderness, Make straight the way of the Lord.
Here it is with a countertenor and boys' choir.
This is the record of John is a verse anthem written by Orlando Gibbons (1583–1625). The anthem is a characteristic Anglican-style composition of the period and is based on a text from the Gospel of John in the Geneva Bible. 'John' (whose record is being told) refers to John the Baptist. The anthem was written at the request of William Laud, who was President of St John's College, Oxford from 1611-1621; the St John to whom college is dedicated is John the Baptist. It was written for the college chapel, and presumably received its first performance there.
Orlando Gibbons was born in 1583 (most likely in December) and baptised on Christmas Day at Oxford, where his father William Gibbons was working as a wait.[3] Between 1596 and 1598 he sang in the Choir of King's College, Cambridge, where his brother Edward Gibbons (1568–1650), eldest of the four sons of William Gibbons, was master of the choristers. The second brother Ellis Gibbons (1573–1603) was also a promising composer, but died young. Orlando entered the university as a sizar in 1598 and achieved the degree of Bachelor of Music in 1606. That same year he married Elizabeth Patten, daughter of a Yeoman of the Vestry, and they went on to have seven children (Gibbons himself was the seventh of 10 children).
King James I appointed him a Gentleman of the Chapel Royal, where he served as an organist from at least 1615 until his death. In 1623 he became senior organist at the Chapel Royal, with Thomas Tomkins as junior organist. He also held positions as keyboard player in the privy chamber of the court of Prince Charles (later King Charles I), and organist at Westminster Abbey. He died at age 41 in Canterbury of apoplexy, and was buried in Canterbury Cathedral.
____________________________________
Postlude
Chorale Prelude on DARWALL,  Alec Rowley
This brilliant work comes from the "Chorale Preludes based on famous Hymn Tunes, Volume 5, No. 3," and published by Ashdown. It is to be played "like an improvisation," and there is plenty of color and excitement as it sweeps along to its triumphant conclusion.
Here is the piece. Click on Listen.The famous melody was composed by John Darwall (1731–1789), an English clergyman and hymnodist.
Alec Rowley (1892-1958) was a teacher, composer, organist, pianist, lecturer and writer, who studied at the RAM with Frederick Corder and where he won sundry scholarships and prizes. He was an organist at several London churches including, during the Second World War, St Margaret's, Westminster. As a pianist he often broadcast duets with Edgar Moy. In 1920, he was appointed to the staff of Trinity College, London, where he was elected a Fellow and remained until his death. He was elected a Fellow of the RAM in 1934.
Leave a Comment