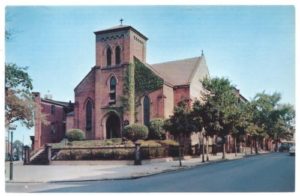 Mount Calvary Church
Baltimore
Personal Ordinariate of the Chair of St. Peter
Septuagesima Sunday
February 12, 2017
Hymns
How firm a foundation, ye saints of the Lord
Lord Jesus, think on me
Thou art the Way
Anthems
Meditabor in mandatis tuis by Orlando di Lasso
Teach me, O Lord, the way of thy statutes by Thomas Attwood
_____________________________
Opening Hymn
How firm a foundation (1787) is a hymn that for over two centuries has assured believers of the faithfulness of Christ and the certainty of hope. The first verse acts as an introduction, giving us cause to stop and ponder the Word of assurance that God has given us, described in greater detail in the next four verses. Those four verses are in fact paraphrases of Scripture passages: Isaiah 41:10, 43:2, Romans 8:3-39, Hebrews 13:5, and Deuteronomy 31:6. In the words of this hymn, we carry with us the Word from God, and the call to trust in that Word. But God's Word is expansive and not limited to letters on a page — the fifth verse moves us to a trust in the Word made flesh in Jesus Christ. Thus we are assured by the words we sing, the Word we are given, and the Word made flesh, of the steadfastness of God and His unfailing love.
In John Rippon's A Selection of Hymns (1787, plus numerous subsequent editions), "How Firm a Foundation" (no. 128) is attributed simply to "K—". Two other hymns in the collection bear the same mark, "In songs of sublime adoration and praise," and "The Bible is justly esteemed." The author of the hymn has never been definitively identified.
How firm a foundation you saints of the Lord,
is laid for your faith in his excellent Word!
What more can he say than to you he has said,
to you who for refuge to Jesus have fled?

"Fear not, I am with you, O be not dismayed,
for I am your God, and will still give you aid;
I'll strengthen you, help you, and cause you to stand,
upheld by my righteous, omnipotent hand.

"When through the deep waters I call you to go,
the rivers of sorrow shall not overflow,
for I will be with you in trouble to bless,
and sanctify to you your deepest distress.

"When through fiery trials your pathway shall lie,
my grace all-sufficient shall be your supply;
the flame shall not hurt you; I only design
your dross to consume and your gold to refine.

"The soul that on Jesus has leaned for repose
I will not, I will not desert to its foes;
that soul, though all hell should endeavor to shake,
I'll never, no, never, no never forsake!"
The tune Lyons is by Joseph Martin Kraus (20 June 1756 – 15 December 1792), was a composer in the classical era who was born in Miltenberg am Main, Germany. He moved to Sweden at age 21, and died at the age of 36 in Stockholm. He is sometimes referred to as "the Swedish Mozart", and had a life span which was very similar to that of Mozart's.
Here is a concert performance of How firm a foundation. It has become a folk hymn, and here is a lively rendition.
____________________
Offertory Hymn
Lord Jesus, think on me is a translation by the Anglican clergyman Allen William Chatfield (1808-1896) of the Greek hymn, Μνώεο Χριστέ by Synesius of Cyrene (375-430). Synesius was the Bishop of Ptolomais, one of the ancient capitals of Cyrenaica that is today part of modern day Libya. Early in life he was schooled in Greece and Alexandria in Neo-Platonism. We still have many of his letters, essays, and homilies. Μνώεο Χριστέ is one of 10 hymns that he is believed   to have written.
Here is Lord Jesus, think on me  St. John's College, Cambridge.
(Benjamin Britten used this hymn in Noah's Fludde; many years ago I saw it in the Cathedral of Mary Our Queen in Baltimore. Our friend, the Rev. Alphonse Rose, was rector at the time; he  was a baritone, and did the voice of God.)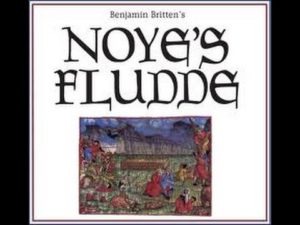 ___________________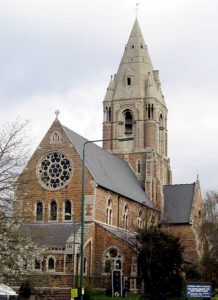 S. Andrew's, Nottinghamshire
The tune Southwell was composed by Herbert Stephen Irons (January 19, 1834, Canterbury, Kent, England-Died: June 29, 1905, Nottingham, England). Irons was a nephew of the brothers Stephen & George Elvey. He became a chorister at Canterbury Cathedral under T. E. Jones. After studying music under Stephen Elvey at Oxford, he was appointed organist at St. Columba's College, a large public school at Rathfarnham, near Dublin, Ireland. He stayed there only a few months before being offered the position of organist at Southwell Minister. From Southwell, he went to Chester as assistant organist to Frederic Gunton. Three years later, he accepted an appointment at St. Andrew's Church, Nottingham, where he remained until his death.
____________________
Closing Hymn
Thou art the Way, by the Episcopal Bishop George W. Doane (1799-1859). "I am the Way, the Truth, and the Life: no man cometh unto the Father, but by Me" (John 14:6). In His sayings which begin "ἐγώ εἰμί, ego eimi, I am," Jesus implicitly makes a claim to divinity, because the name of God is יְהֹוָה, YHWH, "I AM WHO AM." Jesus is the only Way to the Father, because Jesus alone is God and man and unites the two; Jesus is the only Truth, because He reveals the Father and He reveals the ultimate meaning of creation, which is Himself, in whom and for whom the universe was created; Jesus is the only true Life, which death itself could not destroy, and which through His resurrection and the power of the Spirit He pours forth onto a dying world to rescue it from eternal death.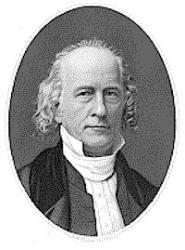 George W. Doane
George Washington Doane, D.D. was born at Trenton, New Jersey, May 27, 1799, and graduated at Union College, Schenectady, New York. Ordained in 1821, he was Assistant Minister at Trinity Church, New York, till 1824. In 1824 he became a Professor at Trinity College, Hartford, Conn.; in 1828 Rector of Trinity Church, Boston; and, in 1832, Bishop of New Jersey. He founded St. Mary's Hall, Burlington, 1837, and Burlington College, Burlington, 1846. Died April 27, 1859.  Bishop Doane's exceptional talents, learning, and force of character, made him one of the great prelates of his time. His warmth of heart secured devoted friends, who still cherish his memory with revering affection. He passed through many and severe troubles, which left their mark upon his later verse. He was no mean poet, and a few of his lyrics are among our best. His Works, in 4 volumes with Memoir by his son, were published in 1860. He issued in 1824 Songs by the Way, a small volume of great merit and interest. This edition is now rare. A second edition, much enlarged, appeared after his death, in 1859, and a third, in small 4to, in 1875. These include much matter of a private nature, such as he would not himself have given to the world, and by no means equal to his graver and more careful lyrics, on which alone his poetic fame must rest. The edition of 1824 contains several important hymns, some of which have often circulated without his name. Two of these are universally known as his, having been adopted by the American Prayer Book Collection, 1826:–
Thou art the Way: by thee alone
   from sin and death we flee;
and they who would the Father seek
   must seek him, Lord, by thee.
Thou art the Truth: thy word alone
   true wisdom can impart;
thou only canst inform the mind
   and purify the heart.
Thou art the Life: the rending tomb
   proclaims thy conquering arm;
and those who put their trust in thee
   nor death nor hell shall harm.
Thou art the Way, the Truth, the Life:
    grant us that Way to know,
that Truth to keep, that Life to win,
   whose joys eternal flow.
Here is the hymnal version.
(When I walked the Camino de Santiago in 2010, I saw thousands of versions of Yo soy el camino, la verdad, y la vida. The private, unofficial ones were the most moving: people painted it on  their homes, wrote it over their doors, forged it in  ironwork on their fences, formed it in pebbles by the wayside. We were all on the way to Him, but He was also the Way we were on.)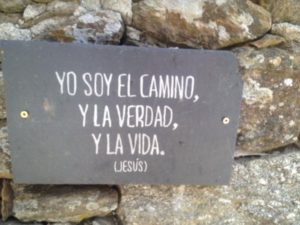 Thomas Ravenscroft
The tune Dundee is by Thomas Ravenscroft (c. 1582 or 1592 – 1635), an English musician, theorist and editor, notable as a composer of rounds and catches, and especially for compiling collections of British folk music.
Little is known of Ravenscroft's early life. He probably sang in the choir of St. Paul's Cathedral from 1594, when a Thomas Raniscroft was listed on the choir rolls and remained there until 1600 under the directorship of Thomas Giles. He probably received his bachelor's degree in 1605 from Cambridge.
Ravenscroft's principal contributions are his collections of folk music, including catches, rounds, street cries, vendor songs, "freeman's songs" and other anonymous music, in three collections: Pammelia (1609), Deuteromelia or The Seconde Part of Musicks Melodie (1609) and Melismata (1611). Some of the music he compiled has acquired extraordinary fame, though his name is rarely associated with the music; for example "Three Blind Mice" first appears in Deuteromelia. He also published a metrical psalter (The Whole Booke of Psalmes) in 1621. As a composer, his works are mostly forgotten but include 11 anthems, 3 motets for five voices and 4 fantasias for viols.
As a writer, he wrote two treatises on music theory: A Briefe Discourse of the True (but Neglected) Use of Charact'ring the Degrees (London, 1614), and A Treatise of Musick, which remains in manuscript (unpublished). (Hymnary)
____________________________
Offertory Anthem
Meditabor in mandatis tuis, quae dilexi valde; et levabo manus meas ad mandata tua, quae dilexi,  by Orlando di Lasso
I will meditate on thy commandments, which I have loved exceedingly; and I will lift up my hands to thy commandments, which I have loved.
Orlando di Lasso (possibly 1530 – 14 June 1594) was a Netherlandish or Franco-Flemish composer of the late Renaissance. He is today considered to be the chief representative of the mature polyphonic style of the Franco-Flemish school, and one of the three most famous and influential musicians in Europe at the end of the 16th century (the other two being Palestrina and Victoria).
____________________
Communion Anthem
Teach me, O Lord, the way of thy statutes, and  shall keep it unto the end, by Thomas Attwood.
Here is the choir of Sommerville College, Oxford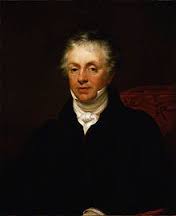 The son of a musician in the royal band, Attwood was born in London, probably in Pimlico, in 1765. At the age of nine he became a chorister in the Chapel Royal, where he received training in music from James Nares and Edmund Ayrton. In 1783 he was sent to study abroad at the expense of the Prince of Wales (afterwards George IV), who had been favourably impressed by his skill at the harpsichord. After two years in Naples, Attwood proceeded to Vienna, where he became a favourite pupil of Mozart. On his return to London in 1787 he held for a short time an appointment as one of the chamber musicians to the Prince of Wales.
In 1796 he was chosen as the organist of St Paul's Cathedral, and in the same year he was made composer of the Chapel Royal. His court connection was further confirmed by his appointment as musical instructor to the Duchess of York, and afterwards to the Princess of Wales. For the coronation of George IV. he composed the anthem I was Glad. The king, who had neglected him for some years on account of his connection with the Princess of Wales, now restored him to favour, and in 1821 appointed him organist to his private chapel at Brighton.
Soon after the institution of the Royal Academy of Music in 1823, Attwood was chosen to be one of the professors. He was also one of the original members of the Royal Philharmonic Society, founded in 1813. He wrote the anthem O Lord, Grant the King a Long Life, which was performed at the coronation of William IV, and he was composing a similar work for the coronation of Queen Victoria when he died at his house at 75 Cheyne Walk, Chelsea, on 24 March 1838.
Attwood's funeral took place at St Paul's Cathedral on 31 March 1838. He is buried in the Cathedral, in the crypt, under the organ.
Attwood's compositions, which show the influence of his teacher Mozart, are now largely forgotten except for a few short anthems. These include "O God who by the leading of a star", "Come, Holy Ghost", "Turn Thy face from my sins", and "Teach me, O Lord". He was himself the teacher of John Goss, Cipriani Potter and his godson Thomas Attwood Walmisley, and in his last years a friend of Mendelssohn. (wikipedia)
Leave a Comment