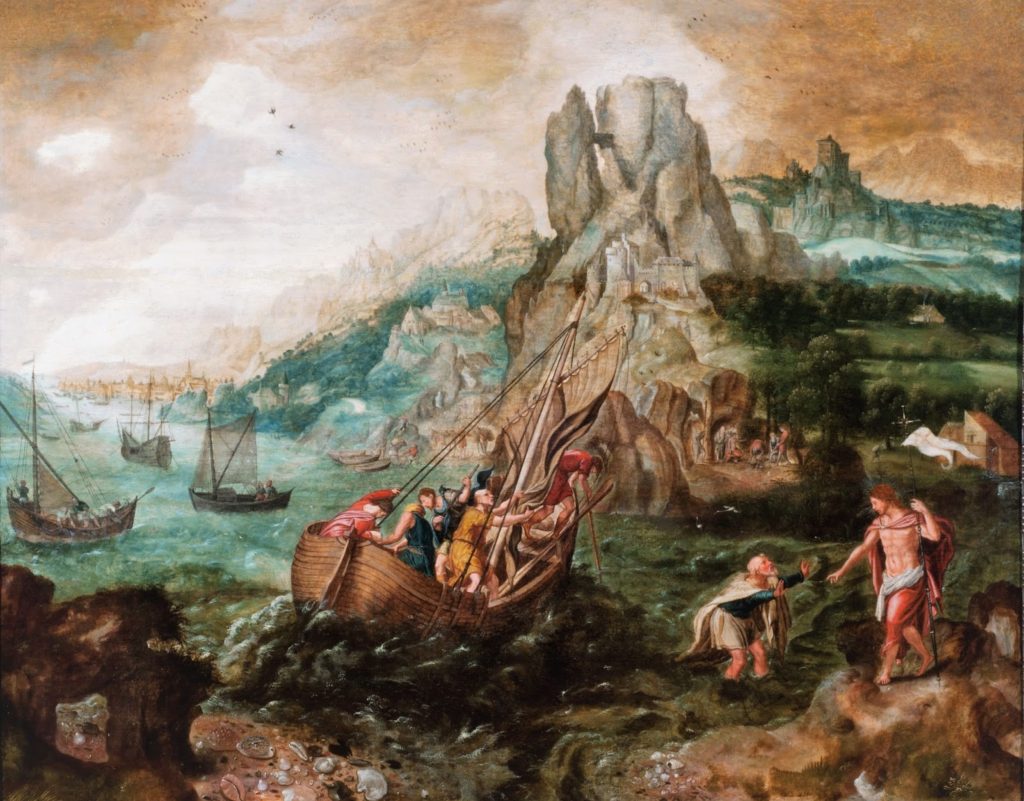 Herri met de Bles, Final Apparition of Christ to His Disciples Flemish, c. 1530-1550.
Mount Calvary Church
Eutaw Street and Madison Avenue
Baltimore, Maryland
A Roman Catholic Parish
The Personal Ordinariate of the Chair of St. Peter
Anglican Use
Rev. Albert Scharbach, Pastor
Dr. Allen Buskirk, Choirmaster
Easter III
8:00 A.M. Said Mass
10:00 A.M. Sung Mass
Breakfast following 10 A.M. Mass
____________________
Common
Healey Willan (1880-1968)
Missa de S. Maria Magdalena
____________________
Anthems
Healey Willan (1880-1968)
Alleluia. Worthy art thou, O Lord our God, to receive glory and honor and power; for thou hast created all things, and for thy pleasure they are, and were created. Salvation to our God, that sitteth upon the throne, and to the Lamb for ever. Alleluia, Amen.
The offertory motet, "Worthy art Thou, O Lord" is the setting of the antiphon for the Magnificat for Easter II in the Sarum rite, a text taken from Revelation 5 and read today in the second lesson. The music conveys the sense of grandeur and majesty of the text, which it declaims clearly in a homophonic, choral texture. Listen for the chromatic alterations that provide color and contrast: for example the radiant C major chord on "power" that shines out from amid the predominantly E-flat major harmony, or the quick trip to E-flat minor adding mystery to "Thou hast created all things." Healey Willan (1880-1968) was born in England and attended a choir school where he studied harmony, counterpoint, and organ. From an Anglo-Catholic background, Willan was organist and choirmaster at St Mary Magdalene in Toronto, Canada from 1921 until his death. This parish, with its choir singing unaccompanied motets at a very high level, became a source of liturgical and musical inspiration for other Anglican choirs in North America.
__________
Tomás Luis de Victoria (1548-1611)
Surrexit pastor bonus qui animam suam posuit pro ovibus suis, et pro grege suo mori dignatus est, alleluia.
The good shepherd has arisen, who laid down his life for his sheep, and for his flock deigned to die, alleluia.
Here is Queen's College, Oxford.
In the communion motet, Surrexit Pastor Bonus, Victoria plays the six voices off each other in creative ways, often in duets or trios. At the outset, the highest three voices sing a phrase and are answered by an echo of similar material in the lower three voices (the antiphonal style). Victoria is a master of subtle drama and text painting: listen for the rising intervals of an octave or a fifth as each voice enters on "surrexit." Listen also for the contrast between the prevailing sunshine and the cloud that passes overhead on "mori dignatus est," that is, "worthy to die." Victoria highlights the word "mori" with longer note values, repetition, and chromatic alterations (E-flat major, D major, and G major triads in the key of F major). The piece closes as the sun returns and we hear a final, rousing chorus of alleluias.
___________________
Hymns
Deck thyself, my soul, with gladness (SCHMÜCKE DICH). The original German text, Schmücke dich, o liebe Seele, was written by the German politician and poet Johann Franck (1618—1677) in the aftermath of the Thirty Years' War. It expresses an intimate relationship between the individual believer and his Savior, Jesus Christ. Jesus, ascended into heaven, is still present as our food in this "wondrous banquet." He is the fount, from whom our being flows as we receive Him and are filled with Him. He feeds us and transforms us into His likeness so that we become His joy and boast and glory before the heavenly court.
Christ the lord is risen today (VICTIMAE PASCHALI) is a translation by Jane Elizabeth Leeson (1807-1881) of the Easter sequence, Victimae paschali laudes, attributed to St. Wipo of Burgundy (c. 1000). The Council of Trent eliminated scores of sequences in the Roman liturgy. This was one of the four that survived. Leeson first joined the charismatic Catholic Apostolic Church (Irvingites) and later became a Roman Catholic.
At the Lamb's high feast we sing (SALZBURG) is a translation by Robert Campbell (1814-1868) of the seventh century Latin hymn, Ad regias agni dapes, which was sung by the newly baptized at Easter when they were first admitted to communion. Our victorious King through His death and resurrection has caused the angel of death to pass over us. We are redeemed by His blood, which opens Paradise to us where we will live forever.  The LORD brought Israel out of Egypt through the sea into the promised land by the blood of the Lamb. Jesus through His death brings us through the wilderness of this life by feeding us with Himself, the true manna that comes down from heaven.
Leave a Comment