The Parable of the Wedding Feast, Jan Luyken
Mount Calvary Church
A Roman Catholic Congregation of
The Personal Ordinariate of the Chair of St. Peter
Anglican Use
Trinity XVIII
Common
Missa de S. Maria Magdalena, Willan
Prelude
Hymns
O splendor of God's glory bright
Let all mortal flesh keep silence
The God of Abraham praise
Anthems
Psalm 23, Franz Schubert
Love bade me welcome, Ralph Vaughn Williams
Postlude
___________________________________
O splendor of God's glory bright is a translation by Robert Bridges, poet laureate of England, of St. Ambrose's morning hymn Splendor paternæ gloriæ.
O Splendor of God's glory bright,
O Thou that bringest light from light,
O Light of Light, light's living spring,
O Day, all days illumining.

O thou true Sun, on us Thy glance,
Let fall in royal radiance,
the Spirit's sanctifying beam
upon our earthly senses stream.

The Father, too, our prayers implore,
Father of glory evermore;
the Father of all grace and might,
to banish sin from our delight.

On Christ, the true bread, let us feed;
Let Him to us be drink indeed;
And let us taste with joyfulness
The Holy Spirit's plenteousness.

All laud to God the Father be;
All praise, eternal Son, to thee;
All glory, as is ever meet,
To God the holy Paraclete.
Here is the Mormon Tabernacle Choir doing a cheerful version.
Here is the English sung to a Gregorian melody.
Splendor paternæ gloriæ,
De luce lucem proferens,
Lux lucis et fons luminis,
Diem dies illuminans

Verusque sol, illabere
Micans nitore perpeti
Iubarque sancti spiritus
Infunde nostris sensibus.

Votis vocemus et patrem,
Patrem perennis gloriæ,
Patrem potentis gratiæ
Culpam releget lubricam.

Informet actus strenuos,
Dentem retundat invidi,
Casus secundet asperos,
Donet gerendi gratiam.

Mentem gubernet et regat
Casto, fideli corpore,
Fides calore ferveat,
Fraudis venena nesciat.

Christusque noster sit cibus,
Potusque noster sit fides,
Læti bibamus sobriam
Ebrietatem spiritus.

Lætus dies hic transeat,
Pudor sit ut diluculum,
Fides velut meridies,
Crepusculum mens nesciat.

Aurora cursus provehat,
Aurora totus prodeat,
In patre totus filius
Et totus in verbo pater.
Here is the Latin with Gregorian chant.
Robert Bridges (1844-1930) was poet laureate of England from 1913 until his death. At Oxford he was a friend of Gerald Manley Hopkins and arranged for the publication of Hopkins' poetry posthumously.
Bridges wrote and also translated historic hymns, and many of these were included in Songs of Syon (1904) and the later English Hymnal (1906). Several of Bridges' hymns and translations are still in use today:
"Thee will I love, my God and King"
"Happy are they that love God"
"Rejoice, O land, in God thy might"
"Ah, Holy Jesus" (Johann Heermann, 1630)
"All my hope on God is founded" (Joachim Neander, c. 1680)
"Jesu, Joy of Man's Desiring" (Martin Jahn, 1661)
"O Gladsome Light" (Phos Hilaron)
"O Sacred Head, sore wounded" (Paulus Gerhardt, 1656)
"O Splendour of God's Glory Bright" (Ambrose, 4th century)
"When morning gilds the skies" (stanza 3; Katholisches Gesangbuch, 1744)
PUER NOBIS NASCITUR is a melody from a fifteenth-century manuscript from Trier. However, the tune probably dates from an earlier time and may even have folk roots. PUER NOBIS was altered in Spangenberg's Christliches Gesangbuchlein (1568), in Petri's famous Piae Cantiones (1582), and again in Praetorius's  Musae Sioniae (Part VI, 1609), which is the basis for the triple-meter version
Let all mortal flesh keep silence is a paraphrase by James Moultrie (1829—1885) of the Cherubic Hymn from the Liturgy of St. James of the Eastern Church. The hymn dates to the third century. It is chanted as the bread and wine are carried to the altar. The Greek text reads: "Let all mortal flesh keep silent, and stand with fear and trembling, and in itself consider nothing of earth; for the King of kings and Lord of lords cometh forth to be sacrificed, and given as food to the believers; and there go before Him the choirs of Angels, with every dominion and power, the many-eyed Cherubim and the six-winged Seraphim, covering their faces, and crying out the hymn: Alleluia, Alleluia, Alleluia." Here is the hymn in the 4th Plagal. Here is the Great Entrance.
Let all mortal flesh keep silence,
And with fear and trembling stand;
Ponder nothing earthly minded,
For with blessing in His hand,
Christ our God to earth descendeth,
Our full homage to demand.

King of kings, yet born of Mary,
As of old on earth He stood,
Lord of lords, in human vesture,
In the body and the blood;
He will give to all the faithful
His own self for heavenly food.

Rank on rank the host of heaven
Spreads its vanguard on the way,
As the Light of light descendeth
From the realms of endless day,
That the powers of hell may vanish
As the darkness clears away.

At His feet the six wingèd seraph,
Cherubim with sleepless eye,
Veil their faces to the presence,
As with ceaseless voice they cry:
Alleluia, Alleluia
Alleluia, Lord Most High
Her is the King's College, Cambridge, choir.
Gerald Moultrie was a Victorian public schoolmaster and Anglican hymnographer born on September 16, 1829, at Rugby Rectory, Warwickshire, England. He died on April 25, 1885, Southleigh, England, aged 55.
____________________
One night in London, Thomas Olivers (1725—1729), a follower of John Wesley, was attracted to a service in a Jewish synagogue, where he heard a great singer, Myer Leoni, sing an ancient Hebrew text in solemn, plaintive mode. Olivers wrote a hymn to that tune: The God of Abraham Praise, which is a paraphrase of the ancient Hebrew Yigdal, or doxology. In the 12th century, Jewish scholar Moses Maimonides codified the 13 articles of the Jewish Creed. These articles of the Jewish faith were later shaped into the Yigdal around 1400 by Daniel ben Judah, a judge in Rome.
Her is the King's College choir.
Here is a wonderful Sephardic Yigdal. Here is a modern arrangement of the Yigdal.
Here are the original verses. Note that in almost all hymnals the specifically Christian references have been removed, often to make the hymn suitable for interfaith gatherings.
The God of Abraham praise, who reigns enthroned above;
Ancient of everlasting days, and God of Love;
Jehovah, great I AM! by earth and Heav'n confessed;
I bow and bless the sacred Name forever blessed.

The God of Abraham praise, at Whose supreme command
From earth I rise—and seek the joys at His right hand;
I all on earth forsake, its wisdom, fame, and power;
And Him my only Portion make, my Shield and Tower.

The God of Abraham praise, whose all sufficient grace
Shall guide me all my happy days, in all my ways.
He calls a worm His friend, He calls Himself my God!
And He shall save me to the end, thro' Jesus' blood.

He by Himself has sworn; I on His oath depend,
I shall, on eagle wings upborne, to Heav'n ascend.
I shall behold His face; I shall His power adore,
And sing the wonders of His grace forevermore.

Tho' nature's strength decay, and earth and hell withstand,
To Canaan's bounds I urge my way, at His command.
The wat'ry deep I pass, with Jesus in my view;
And thro' the howling wilderness my way pursue.

The goodly land I see, with peace and plenty bless'd;
A land of sacred liberty, and endless rest.
There milk and honey flow, and oil and wine abound,
And trees of life forever grow with mercy crowned.

There dwells the Lord our King, the Lord our righteousness,
Triumphant o'er the world and sin, the Prince of peace;
On Sion's sacred height His kingdom still maintains,
And glorious with His saints in light forever reigns.

He keeps His own secure, He guards them by His side,
Arrays in garments, white and pure, His spotless bride:
With streams of sacred bliss, with groves of living joys—
With all the fruits of Paradise, He still supplies.

Before the great Three-One they all exulting stand;
And tell the wonders He hath done, through all their land:
The list'ning spheres attend, and swell the growing fame;
And sing, in songs which never end, the wondrous Name.

The God Who reigns on high the great archangels sing,
And "Holy, holy, holy!" cry, "Almighty King!
Who was, and is, the same, and evermore shall be:
Jehovah—Father—great I AM, we worship Thee!"

Before the Savior's face the ransomed nations bow;
O'erwhelmed at His almighty grace, forever new:
He shows His prints of love—they kindle to a flame!
And sound thro' all the worlds above the slaughtered Lamb.

The whole triumphant host give thanks to God on high;
"Hail, Father, Son, and Holy Ghost," they ever cry.
Hail, Abraham's God, and mine! (I join the heav'nly lays,)
All might and majesty are Thine, and endless praise.
Here is the 1940 Hymnal version by an English choir.
Here is the Yigdal:
Exalted be the Living God and praised, He exists – unbounded by time is His existence;
He is One – and there is no unity like His Oneness – Inscrutable and infinite is His Oneness;
He has no semblance of a body nor is He corporeal – nor has His holiness any comparison;
He preceded every being that was created – the First, and nothing precedes His precedence;
Behold! He is Master of the universe – Every creature demonstrates His greatness and His sovereignty;
He granted His flow of prophecy – to His treasured, splendid people;
In Israel, none like Moses arose again – a prophet who perceived His vision clearly;
God gave His people a Torah of truth – by means of His prophet, the most trusted of His household;
God will never amend nor exchange His law – for any other one, for all eternity;
He scrutinizes and knows our hiddenmost secrets – He perceives a matter's outcome at its inception;
He recompenses man with kindness according to his deed – He places evil on the wicked according to his wickedness;
By the End of Days He will send our Messiah – to redeem those longing for His final salvation;
God will revive the dead in His abundant kindness – Blessed forever is His praised Name.
Note that the last verse expresses belief in the resurrection of the dead, which is an article of Jewish belief, as is clear from  Gospels.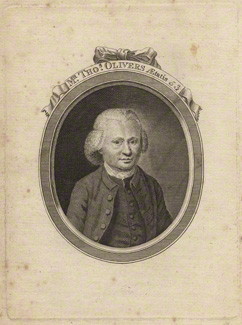 Thomas Olivers
Thomas Olivers was born in 1725 in the Welsh village of Tregynon in Montgomeryshire. Both his father and his mother died when he was four years old. He grew up to be an apprentice shoemaker and he became a profligate and reckless young man.] After his involvement in a scandal which forced him to leave his home, Olivers travelled to Bristol where he heard George Whitfield preach on the text "is not this a brand plucked from the fire?" (Zechariah 3:2). Olivers was converted and stated a desire to follow Whitfield however one of Whitfield's preachers discouraged him and instead he joined the Methodist society and met one of the founders of Methodism, John Wesley there.
After joining Wesley as a preacher, Olivers was initially stationed to preach in Cornwall.  He was later stationed to preach all around Great Britain and Ireland because of his fearless preaching style. He also had good relations with Great Britain's Jewish community, attending Jewish synagogues and became friends with Rabbi Myer Lyon. In 1775, Wesley appointed Olivers to co-write the Arminian Magazine with him. Olivers often exercised control over the content of the magazine. Due to a lack of formal education, Olivers' editorial of the magazine contained several printing errors, which annoyed Wesley but he persevered with Olivers whom he counted as a friend and attached a list of errors at the back of the yearly annual in 1778. However following an "astounding number of errata", Wesley declared in a letter that "I cannot, dare not, will not suffer Thomas Olivers to murder the Arminian Magazine any longer. The errata are intolerable and innumerable. They shall be so no more" and removed Olivers from his position in 1789. Despite this, Olivers and Wesley remained good friends, often viewed as a father-son relationship. When Olivers died in March 1799, he was buried in Wesley's grave in London.
_____________________________
ANTHEMS
Franz Schubert
Psalm 23, Franz Schubert
The Lord is my shepherd; I shall not want. He feedeth me in pastures green, he leadeth me beside still waters. He shall convert my soul and bring me forth in paths of righteousness for his name's sake. Yea, though I walk through death's dark shadowed vale, yet I will fear no evil: for thou art still with me; thy rod and thy staff they comfort me. Thou hast prepared a table for me against them that trouble me; thou hast anointed my head with oil and my cup shall be full. Thy kindness and thy mercy shall ever follow me; and I will dwell forever in the house of the Lord.
It's almost beyond belief that Schubert wrote this beatific setting of the well-beloved Psalm 23 "The Lord is my Shepherd" as an examination piece. And yet it is so: composed in December 1820 at the request of Schubert's friend Anna Frolich as a test piece for her vocal pupils, Schubert's part song far transcends its original purpose to become a small-scale piece of musical religious art. Originally written for two sopranos and two altos, Psalm 23 has become a staple of women's choirs everywhere there are women's choirs. It's easy to understand why: from the exquisite harmonies of the piano's prelude — the magical entry of the voices, the smooth voice writing, the clear progress of the harmonies — to the final blissful statement of faith (James Leonard).
Here is King's College, Cambridge.
____________________________
Love bade me welcome, Ralph Vaughn Williams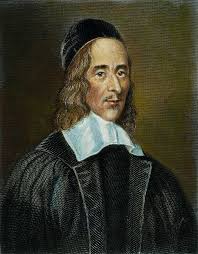 George Herbert
Love bade me welcome: yet my soul drew back.
Guilty of dust and sin.
But quick-eyed Love, observing me grow slack
From my first entrance in,
Drew nearer to me, sweetly questioning
If I lacked anything.

"A guest," I answer'd, "worthy to be here:"
Love said, "You shall be he."
"I the unkind, ungrateful? Ah, my dear,
I cannot look on thee."
Love took my hand, and smiling did reply,
"Who made the eyes but I?"

"Truth Lord, but I have marred them: let my shame
Go where it doth deserve."
"And know you not," says Love, "who bore the blame?"
"My dear, then I will serve."
"You must sit down," says Love, "and taste my meat:"
So I did sit and eat.
In 1629, the 35-year-old politician George Herbert seemed set for a promising career in public life. He had already been a favorite of King James I as a student, and now he was an up-and-coming member of Parliament. Instead, he abandoned it all to become a priest in an obscure rural church. Never a healthy man, he died of consumption four years later.
From his deathbed, he sent a friend the manuscript of his collected poems, The Temple, which he described as "a picture of the many spiritual conflicts that have passed between God and my soul, before I could subject mine to the will of Jesus, my Master." The poem "Love Bade Me Welcome" (or "Love iii") is the record of one such struggle. Its description of doubt and anguish yielding to Christ's unmerited love has been treasured by generations.
In English composer Ralph Vaughan Williams's 1906 setting, Herbert's poem is sung by a baritone solo, joined in the final stanza by a choir wordlessly singing the melody of the plainsong O Sacrum Convivium – Thomas Aquinas's meditation on Christ's promise to be present at the communion table. Here at the climax of the piece, the speaker at last accepts Love's invitation to "sit and eat."
Here is baritone Jamie Hall. Here is Wakefield Cathedral Choir.
Leave a Comment