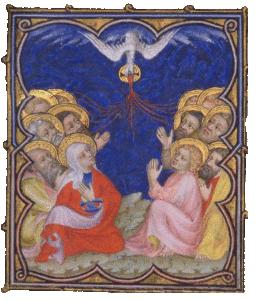 Mount Calvary Church
Eutaw Street and Madison Avenue
Baltimore, Maryland
A Roman Catholic Parish of
The Personal Ordinariate of the Chair of St. Peter
Anglican Use
Rev. Albert Scharbach, Pastor
Whitsunday
May 20, 2018
8 AM Said Mass
10 AM Sung Mass
Prelude
Komm, Gott Schöpfer, Pachelbel
Hymns
Hail thee, festival day (SALVA FESTA DIES)
Spirit divine, attend our prayers  (GRÄFENBERG)
Hail this joyful day's return (SONNE DER GERECHTIGKEIT)
Come Holy Ghost, Creator blest (MENDON)
Anthems
Confirma hoc, Deus, William Byrd
Factus est repente, William Byrd
Postlude
Fantasia super Komm Heiliger Geist (BWV 651), J. S. Bach
Common
Mass for Four Voices, William Byrd
___________________________________
Prelude
Komm, Gott Schöpfer, Pachelbel
Here on a baroque organ.  Here is Fabien Desseaux on the organ of Saint-Ouen in Rouen.
_____________________________________
Hymns
Hail thee, festival day (SALVA FESTA DIES)
Hail thee, Festival Day, Venantius Fortunatus (ca.540-early 7th century), translated by George Gabriel Scott Gillett (1873-1948).
The origins of this hymn are in a poem, or verse epistle, by Fortunatus, addressed to Felix, Bishop of Nantes (d. 582), beginning 'Tempora florigero rutilant distincta sereno'. It is a poem of nature in spring welcoming the risen Saviour. A section of the poem begins
Salve festa dies toto venerabilis aevo
qua Deus infernum vicit et astra tenet.

Hail, Festival day, worthy of veneration in every age,
on which God conquered hell and secured the skies.
Here is the Pentecost section at St. John's Detroit. 
George Gabriel Scott Gillett (1873-1948) was educated at Westminster School and Keble College, Oxford. He took Holy Orders (deacon 1898, priest, 1899), and held curacies at London and Brighton. He then became domestic chaplain to Earl Beauchamp and Viscount Halifax, and from 1913 to 1925 worked in South Africa, chiefly in Pretoria and Johannesburg. On return to England, he served as Education Secretary to the Society for the Propagation of the Gospel. Gillett was closely associated with the English Hymnal (1906), and was one of those thanked in the Preface for 'writing or translating hymns specially for this Hymnal' (p.vii). He was responsible for the Whit-Sunday text of 'Hail thee, Festival Day', translated from the Latin 'Salve, festa dies'*, in which the verse part begins 'Lo! In the likeness of fire, on them that await his appearing'.
Ralph Vaughan Williams composed SALVE FESTA DIES as a setting for Venantius Fortunatus's famous text "Hail Thee, Festival Day." The tune, whose title comes from the opening words of that text, was published in The English Hymnal of 1906. Like SINE NOMINE (505), this tune is vigorous and jubilant with a rhythmic energy characteristic of Vaughan Williams's hymn tunes.
______________________________________________
Spirit divine, attend our prayers  (GRÄFENBERG)
Spirit divine, attend our prayers was written by Andrew Reed (1787-1862), who wrote to as a prayer for revival in the East End of London.
1 Spirit divine, attend our prayers,
and make this house thy home;
descend with all thy gracious powers;
O come, great Spirit, come!

2 Come as the light: to us reveal
our emptiness and woe;
and lead us in those paths of life
where all the righteous go.

3 Come as the fire, and purge our hearts
like sacrificial flame;
let our whole soul an offering be
to our Redeemer's name.

4 Come as the Dove, and spread thy wings,
the wings of perfect love;
and let thy church on earth become
blest as the church above.

5 Spirit divine, attend our prayers;
make a lost world thy home;
descend with all thy gracious powers;
O come, great Spirit, come!
Here is the tune.
Andrew Reed (1787-1862) was the son of a watchmaker, who was also a lay preacher. He became a watchmaker himself, but sold his tools and entered Hackney College in 1807 to train for the Congregational ministry. He was also an energetic philanthropist, one of the founders of several institutions in and near London: the London Orphan Asylum, the Asylum for Fatherless Children, the Infant Orphan Asylum, the Asylum for Idiots, and the Royal Hospital for Incurables.
GRÄFENBERG was composed by Johann Crüger as a setting for Paul Gerhardt's "Nun danket all' und bringet Ehr." GRÄFENBERG was first published in the 1647 edition of Crüger's Praxis Pietatis Melica. The tune is arbitrarily named after a water-cure spa in Silesia, Austria, which became famous in the 1820s. Crüger (1598-1662) attended the schools at Guben, Sorau and Breslau, the Jesuit College at Olmütz, and the Poets' school at Regensburg.
______________________________________
Hail this joyful day's return (SONNE DER GERECHTIGKEIT)
Hail this joyful day's return  is from a Latin hymn for Lauds at Pentecost, doubtfully ascribed to Hillary of Potiers, and translated by Robert Campbell. He preserved the meter of the Latin poem.
Hail, this joyful day's return;
Hail, the pentecostal morn.
Morn when our ascended head,
On his Church his Spirit shed. Alleluia.

Like the golden tongues of flame,
On the twelve the Spirit came ;
Tongues, that earth may hear their call;
Fire, that love may burn in all. Alleluia.

Thou who didst our fathers guide.
With their children still abide;
Grant us pardon, grant us peace,
Till our earthly wanderings cease. Alleluia.

To the Father praises sing,
Praise to Christ our risen king,
Praise to thee, the Lord of love.
Blessed Spirit, holy Dove. Alleluia.
Sung at the Matthäuskirche in Munich here is the hymn with the German text. Here is the Osnabrücker Jugendchor at the Dom St. Petrus zu Osnabrück. Here is a spirited take on the tune by Kantor Ralph Leinen.
Here is the Latin:
Beata nobis gaudia
Anni reduxit orbita,
Cum Spiritus paraclitus
Illapsus est Apostolis.

Ignis vibrante lumine
Linguæ figuram detulit,
Verbis ut essent proflui,
Et caritate fervidi.

Linguis loquuntur omnium,
Turbæ pavent Gentilium:
Musto madere deputant,
Quos spiritus repleverat.

Parata sunt hæc mystice,
Paschæ peracto tempore,
Sacro dierum circulo,
Quo lege fit remissio.

Te nunc Deus piissime
Vultu precamur cernuo,
Illapsa nobis cœlitus
Largire dona Spiritus.

Dudum sacrata pectora
Tua replesti gratia:
Dimitte nostra crimina,
Et da quieta tempora.

Deo Patri sit gloria,
Sit laus Patri cum Filio,
Sancto simul Paraclito
Nobisque mittat Filius
Carisma Sancti Spiritus.
Amen.
Here is the Gregorian.
Robert Campbell (1814-1868) was educated at the Universities of Glasgow and Edinburgh and became a lawyer. He began life as a member of the Church of Scotland, but became an Episcopalian and later (1852) a Roman Catholic.
SONNE DER GERECHTIGKEIT was originally the tune to a fifteenth-century folk song, "Der reich Mann war geritten aus," and it was adopted by the Bohemian Brethren for 1566 hymnal, Kirchengeseng. The tune is thus a contrafactum, changed from the folk/court use to church use. The title is the German incipit for the chorale most commonly associated with the tune. SONNE DER GERECHTIGKEIT is a bright tune characterized by a rising initial motif and forceful rhythms.
The words of the folk song are of dubious morality, a story about what happened when the rich man went riding and what his wife gave to the beggar while her husband was gone.
___________________________________________
Come Holy Ghost, Creator blest (MENDON)
Come Holy Ghost is a translation of the Veni Creator Spiritus.
1 Come, Holy Ghost, Creator blest,
Vouchsafe within our souls to rest;
Come with Thy grace and heav'nly aid
And fill the hearts which Thou hast made.

2 To Thee, the Comforter, we cry,
To Thee, the Gift of God Most High,
The Fount of life, the Fire of love,
The soul's Anointing from above.

3 The sev'n-fold gifts of grace are Thine,
O Finger of the Hand Divine;
True Promise of the Father Thou,
Who dost the tongue with speech endow.

4 Thy light to every thought impart
And shed Thy love in every heart;
The weakness of our mortal state
With deathless might invigorate.

5 Drive far away our wily Foe,
And Thine abiding peace bestow;
If Thou be our protecting Guide,
No evil can our steps betide.

6 Make Thou to us the Father known;
Teach us the eternal Son to own
And Thee, whose name we ever bless,
Of both the Spirit, to confess.

7 Praise we the Father and the Son
And Holy Spirit, with them One;
And may the Son on us bestow
The gifts that from the Spirit flow!
Rabanus Maurus Magnentius (c. 780 – 4 February 856), also known as Hrabanus or Rhabanus, was a Frankish Benedictine monk and theologian who became archbishop of Mainz in Germany. He was the author of the encyclopaedia De rerum naturis ("On the Natures of Things"). He also wrote treatises on education and grammar and commentaries on the Bible. He was one of the most prominent teachers and writers of the Carolingian age, and was called "Praeceptor Germaniae," or "the teacher of Germany." In the most recent edition of the Roman Martyrology (Martyrologium Romanum, 2004, pp. 133), his feast is given as February 4th and he is qualified as a Saint ('sanctus').
Rabanus composed a number of hymns, the most famous of which is the Veni Creator Spiritus. This is a hymn to the Holy Spirit often sung at Pentecost and at ordinations. It is known in English through many translations, including Come, Holy Ghost, our souls inspire; Come, Holy Ghost, Creator blest; and Creator Spirit, by whose aid. Veni Creator Spiritus was used by Gustav Mahler as the first chorale of his eighth symphony.
MENDON is a traditional German tune.
_____________________________________________
Anthems
Confirma hoc, Deus, William Byrd
Confirma hoc Deus, quod operatus es in nobis; a templo tuo quod est in Jerusalem, tibi offerent Reges munera. Alleluia.
Stablish the thing, O God, that thou hast wrought in us, for thy temple's sake at Jerusalem: so shall kings bring presents unto thee. Alleluia.
Even in times of turmoil, the Church needs music. The seventeenth-century English composer William Byrd realized this, and published his Gradualia over several years from 1605. It contained chants for the Proper of the Mass for almost the entire church year, and comprises a considerable proportion of Byrd's motet output.
Confirma hoc Deus is the offertory from Whitsun. This is not a long work – the Gradualia contains several miniature motets. However, despite its size, Confirma hoc Deus does not lack artistry. The writing is particularly smooth and the structure sound. The musical phrase at "quod est in Hierusalem" forms the basis for a set of imitative passages. The passage before the terminal Alleluia is particularly inventive.
Here is the Gloriana Ensemble.  A different take by the Quink Vocal Ensemble.
________________________________________
Factus est repente, William Byrd
Factus est repente de coelo sonus, tamquam advenientis spiritus vehementis ubi erant sedentes, alleluia; et repleti sunt omnes Spiritu Sancto, loquentes magnalia Dei, alleluia, alleluia.
Suddenly there came a sound from heaven, as of a mighty wind coming where they were sitting, alleluia; and they were all filled with the Holy Spirit, speaking the wonderful works of God, alleluia, alleluia.
Factus est repente is the Communion verse for Pentecost.
Here is the Merbecke choir.
_______________________________________
Postlude
Fantasia super Komm Heiliger Geist (BWV 651), J. S. Bach
Here is Robert McCormack at the organ.
Johann Sebastian Bach's great "Eighteen" (or Leipzig) chorale preludes (based upon hymns of the day) were compiled during the latter years of his life, when he was at the Thomaskirche in Leipzig. These works had their origin earlier in his career, and there is a great diversity of style and compositional technique found in the set. A grander opening to this compilation one can scarcely imagine. The melody, or cantus firmus, of Komm, Heiliger Geist (Come, Holy Ghost, a hymn for Pentecost, itself based upon the Gregorian Veni Creator Spiritus) is heard in the pedal throughout the work, with rapid figurations in the manuals. Bach frequently used text painting devices to convey meaning, and some have said the lively manual parts are meant to convey the rushing of the Holy Spirit. It is played upon the organ's "plenum" or full organ, in this case principals and mixtures, with a reed stop only in the pedal to highlight the melody. Bach was greatly influenced by his predecessors, and his perfection of the form known as a cantus firmus chorale may have been inspired by Johann Pachelbel, who frequently employed the form in his works.
The Schoenstein organ at St. Paul's, K Street, is best known for its mastery in accompanying an Anglican service, with orchestral colors in abundance, yet it shows here its versatility in the clear and bright plenum ideal for such a piece from the culmination of the Baroque period. One hopes that Bach himself would marvel at the rich beauty of the sound (if surprised by some of the organ's more Romantic attributes and equal temperament tuning!).
_________________________________________________
Common
Mass for Four Voices, William Byrd
Leave a Comment