The Parable of the Workers in the Vineyard
by Jacob Willemszoon de Wet
Mount Calvary Church
A Roman Catholic Congregation of
The Personal Ordinariate of the Chair of St. Peter
Anglican Use
Trinity XV
Common
Missa de S. Maria Magdalena, Willan
Prelude
Preludes Liturgiques, No. 4, Gaston Litaize
Hymns
Christ, whose glory fills the skies
Now, my tongue, the mystery telling
Alleluia, sing to Jesus
Anthems
Simile est regnum caelorum, Cristobal de Morales
Simile est regnum caelorum, William Byrd
Postlude
Hyfrydol, Richard Blake
______________________________
Preludes Liturgiques, No. 4, by Gaston Litaize.  Archibald Farmer wrote that the Préludes liturgiques were "clever, interesting, often good, and always modishly French."
Litaize was born in 1909 in Ménil-sur-Belvitte, Vosges, in northeast France. An illness caused him to lose his sight just after birth. He entered the Institute for the Blind at a young age, studying with Charles Magin, who encouraged him to move to Paris and study with Magin and Adolphe Marty at the Institut National des Jeunes Aveugles, which he did from 1926 to 1931. Concurrently, he entered the Paris Conservatoire in October 1927, studying with Marcel Dupré and Henri Büsser, as well as privately with Louis Vierne. Over the course of six years, he won first prizes in organ, improvisation, fugue, and composition, as well as the Prix Rossini for his cantata Fra Angelico. In 1938 he finished second to Henri Dutilleux in the Prix de Rome, said to be the first time that a blind person was accepted in the competition.
He began working as organist at Saint-Cloud in 1934, and after leaving the Paris Conservatoire in 1939 he returned to the Institut National des Jeunes Aveugles to teach harmony. In 1944 he began a thirty-year directorship of religious radio programs, where he oversaw five weekly broadcasts. He took up a position in 1946 at St François-Xavier, Paris, where he remained the organist until his death. In 1975 he retired from the radio and began teaching organ at St Maur-des-Fossés Conservatoire.  He died in 1991 in Bruyères, Vosges.
Hymns
Christ, whose glory fills the skies was written by Charles Wesley (1707—1788). He begins the hymn with the antithesis between light and night. In stanza two, Wesley uses the first words of each line to tell the story of redemption. The first three lines begin with "Dark," "Unaccompanied," and "Joyless." The plight of humanity has been set. The next two lines begin with "till" which represents hope for salvation. The repeating of "more and more" implies the idea that we can never see enough of the "Radiancy divine" which has "[pierced] the gloom of sin and grief."
Scripture references are present throughout: John 1:9,the "true light";  Isaiah 2:6 and Malachi 4:2, the "Sun of Righteousness"; Isaiah 14:12 and 2 Peter 1:19, the "Day Star."
1 Christ, whose glory fills the skies,
Christ, the true and only Light,
Sun of Righteousness, arise,
triumph o'er the shade of night;
Day-spring from on high, be near;
Day-star, in my heart appear.
2 Dark and cheerless is the morn
unaccompanied by thee;
joyless is the day's return
till thy mercy's beams I see,
till they inward light impart,
glad my eyes and warm my heart.
3 Visit, then, this soul of mine,
pierce the gloom of sin and grief;
fill me, Radiancy divine,
scatter all my unbelief;
more and more thyself display,
shining to the perfect day!
RATISBON is a composite of many different sources. It stems from a fifteenth century German folk tune and was reworked, many times before it was given its present form by  William Henry Havergal. William Henry Havergal (18 January 1793 – 19 April 1870) was an Anglican clergyman, writer, composer and hymn writer. On 14 June 1829 he was thrown out of a carriage and received concussion of the brain, which disabled him for some years. He found relief in music.
Here is the Washington Choral Art Society.
______________________
Now, my tongue, the mystery telling is Thomas Aquinas's hymn, Pange lingua, as translated by Edward Caswell.
1 Now, my tongue, the mystery telling
of the glorious body sing,
and the blood, all price excelling,
which the Gentiles' Lord and King,
in a Virgin's womb once dwelling,
shed for this world's ransoming.
2 Given for us, and condescending
to be born for us below,
he, with us in converse blending,
dwelt the seed of truth to sow,
till he closed with wondrous ending
his most patient life of woe.
3 That last night, at supper lying,
'mid the Twelve, his chosen band,
Jesus, with the law complying,
keeps the feast its rites demand;
then, more precious food supplying,
gives himself with his own hand.
4 Word-made-flesh, true bread he maketh
by his word his flesh to be,
wine his blood; which whoso taketh
must from carnal thoughts be free:
faith alone, though sight forsaketh,
shows true hearts the mystery.
5 Therefore we, before him bending,
this great sacrament revere:
types and shadows have their ending,
for the newer rite is here;
faith, our outward sense befriending,
makes our inward vision clear.
6 Glory let us give and blessing
to the Father and the Son,
honour, might, and praise addressing,
while eternal ages run;
ever too his love confessing,
who, from both, with both is One. Amen.
Here is the Pange lingua.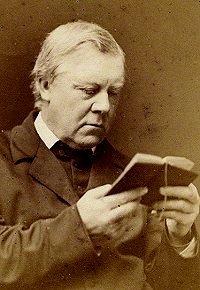 Edward Caswell
Edward Caswell (1814—1878) was an Anglican clergyman. In 1850, his wife having died the previous year, he joined the Oratory of St. Philip Neri under the future Cardinal Newman, to whose influence his conversion to Roman Catholicism was due.
He was born at Yateley, Hampshire on 15 July 1814, the son of Rev. R. C. Caswall, sometime Vicar of Yateley, Hampshire. Caswall was educated at Marlborough Grammar School and Brasenose College, Oxford, where he graduated Bachelor of Arts in 1836 with honours and later proceeded to Master of Arts. He was curate of Stratford-sub-Castle, near Salisbury, 1840–1847. In 1850, he joined the Oratory of St. Philip Neri. He died at the Oratory, Edgbaston, near Birmingham on 2 January 1878 and was buried at Rednal, near Bromsgrove, Worcestershire.
He wrote original poems that have survived mainly in Catholic hymnals due to a clear adherence to Catholic doctrine. Caswall is best known for his translations from the Roman Breviary and other Latin sources, which are marked by faithfulness to the original and purity of rhythm. They were published in Lyra Catholica, containing all the breviary and missal hymns (London, 1849); The Masque of Mary (1858); and A May Pageant and other poems (1865). Hymns and Poems (1873) are the three books combined, with many of the hymns rewritten or revised. Some of his translations are used in the Hymns Ancient and Modern. His widely used hymn texts and translations include "Alleluia! Alleluia! Let the Holy Anthem Rise"; "Come, Holy Ghost"; "Jesus, the Very Thought of Thee"; "When Morning Gilds the Skies"; and "Ye Sons and Daughters of the Lord."
______________________
Alleluia! sing to Jesus was written by William Chatterton Dix (1837—1898). Revelation 5:9 describes this eschatological scene of joy and glory: "And they sang a new song, saying: 'You are worthy to take the scroll and to open its seals, because You were slain, and with Your blood You purchased for God members of every tribe and language and nation.'"  Dix invites us to sing that new song of praise to our ascended Savior. This hymn is a declaration of Jesus' victory over death and His continued presence among His people. By complex and interlocking allusions to Scripture, it presents a very high view of the Eucharist presence: Jesus is both "Priest and Victim" in this feast. Jesus, having triumphed over sin and death, "robed in flesh" has ascended above all the heavens, entering "within the veil" to the very throne of God. Dix sees in the Eucharist the fulfillment of Jesus' promise to be with us evermore.
We sometimes forget that Jesus ever intercedes for us. The Mount Calvary Magazine in 1910 reminded us:
"The Incarnation is a permanent thing, it still exists. Our Lord still has His work to do in His glorified humanity; and that work is the perpetual intercession which He ever liveth to make for us. In order that he might carry on that work, it was necessary that His humanity should ascend into Heaven; and the way in which he now carries it on, is the unceasing presentation of His living and glorified humanity to the Father." He is thereby fulfilling His promise that is in the verse painted on the sanctuary arch.
1 Alleluia! sing to Jesus!
His the sceptre, His the throne;
Alleluia! His the triumph,
His the victory alone:
Hark! the songs of peaceful Sion
Thunder like a mighty flood;
Jesus, out of every nation
Hath redeemed us by His blood.

2 Alleluia! not as orphans
Are we left in sorrow now;
Alleluia! He is near us,
Faith believes, nor questions how:
Though the cloud from sight received Him,
When the forty days were o'er:
Shall our hearts forget His promise,
"I am with you evermore"?

3 Alleluia! Bread of Heaven,
Thou on earth our Food, our Stay!
Alleluia! here the sinful
Flee to thee from day to day:
Intercessor, Friend of sinners,
Earth's Redeemer, plead for me,
Where the songs of all the sinless
Sweep across the crystal sea.

4 Alleluia! King eternal,
Thee the Lord of lords we own;
Alleluia! born or Mary,
Earth Thy footstool, heaven Thy throne:
Thou within the veil hast entered,
Robed in flesh, our great High-Priest;
Thou on earth both Priest and Victim
In the Eucharistic feast.

5 Alleluia! sing to Jesus!
His the sceptre, His the throne;
Alleluia! His the triumph,
His the victory alone;
Hark! the songs of holy Sion
Thunder like a mighty flood;
Jesus, out of every nation
Hath redeemed us by His blood.
Here is the hymn at St. Bartholomew's.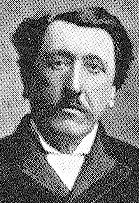 William Chatterton Dix
William Chatterton Dix (14 June 1837 – 9 September 1898) was an English writer of hymns and carols. He was born in Bristol, the son of John Dix, a local surgeon, His father gave him his middle name in honour of Thomas Chatterton, a poet about whom he had written a biography. He was educated at the Grammar School, Bristol, for a mercantile career, and became manager of a maritime insurance company in Glasgow where he spent most of his life.
At the age of 29 he was struck with a near fatal illness and consequently suffered months confined to his bed. During this time he became severely depressed. Yet it is from this period that many of his hymns date. He died at Cheddar, Somerset, England.
________________________
Anthems
Offertory
Simile est regnum caelorum homini patri familias, qui exiit primo mane conducere operarios in vineam suam. Conventione autem facta cum operariis ex denario diurno, misit eos in vineam suam. Et egressus circa horam tertiam vidit alios stantes in foro otiosos, et illis dixit:Ite et vos in vineam meam; et, quod iustum fuerit, dabo vobis.
For the kingdom of heaven is like unto a man that is an householder, which went out early in the morning to hire labourers into his vineyard. And when he had agreed with the labourers for a penny a day, he sent them into his vineyard. And he went out about the third hour, and saw others standing idle in the marketplace, and said unto them; Go ye also into the vineyard, and whatsoever is right I will give you.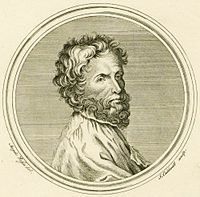 Cristóbal de Morales
Cristóbal de Morales (c. 1500-1553)was born in Seville and, after an exceptional early education there, which included a rigorous training in the classics as well as musical study with some of the foremost composers, he held posts at Ávila and Plasencia.  Earlier Spanish popes of the Borgia family held a long tradition of employing Spanish singers in the papal chapel's choir. This had a significant effect on Morales' success. Morales is documented three times in Rome as 'presbyter toletanus' in 1534. By 1535 he had moved to Rome, where he was a singer in the papal choir, evidently due to the interest of Pope Paul III who was partial to Spanish singers. He remained in Rome until 1545, in the employ of the Vatican; then, after a period of unsuccessfully seeking other employment in Italy he returned to Spain, where he held a succession of posts, many of which were marred by financial or political difficulties. While he was renowned by this time as one of the greatest composers in Europe, he seems to have been unpopular as an employee, for he began to have difficulty finding and keeping positions. Morales was the only composer of whose music the parody Mass did not constitute a majority, even though he wrote more of this type than any otherThere is some evidence that he was a difficult character, aware of his exceptional talent, but incapable of getting along with those of lesser musical abilities. He was regarded as one of the finest composers in Europe around the middle of the 16th century.
Stylistically, his music has much in common with other middle Renaissance work of the Iberian peninsula, for example a preference for harmony heard as functional by the modern ear (root motions of fourths or fifths being somewhat more common than in, for example, Gombert or Palestrina), and a free use of harmonic cross-relations rather like one hears in English music of the time, for example in Thomas Tallis. Some unique characteristics of his style include the rhythmic freedom, such as his use of occasional three-against-four polyrhythms, and cross-rhythms where a voice sings in a rhythm following the text but ignoring the meter prevailing in other voices. Late in life he wrote in a sober, heavily homophonic style, but all through his life he was a careful craftsman who considered the expression and understandability of the text to be the highest artistic goal.
________________________
Ave verum corpus natum ex Maria virgine, vere passum immolatum in cruce pro homine, cuius latus perforatum unda fluxit sanguine, esto nobis praegustatum mortis in examine. O dulcis, o pie, o Jesu, fili Mariae, miserere mei.
Hail, true Body, born of the Virgin Mary, who having truly suffered, was sacrificed on the cross for mankind, whose pierced side flowed with water and blood: May it be for us a foretaste [of the Heavenly banquet] in the trial of death. O sweet, O gentle, O Jesu, son of Mary, have mercy on me.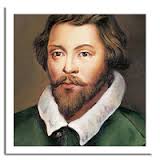 William Byrd (c. 1540-1623)
16th Century England, under the charge of Queen Elizabeth I, was officially Protestant; and although Byrd was famous in his day, he constantly lived in fear of losing commissions because of his Catholic faith. Because of this, many of Byrd's earlier sacred works were smaller in scope, and included phrases and musical suspensions meant to secretly signify the desire for equal protection for Catholics in England. By 1605, under the rule of King James I, Byrd felt comfortable enough to compose his most overtly Catholic book, Gradualia. From this collection comes this "Ave Verum Corpus."
Here are the Tallis Scholars
Postlude
Hyfrydol by Richard Blake (1953-   )
Leave a Comment