Newbold Trotter Lawrence I
Newbold Trotter Lawrence, my wife's first cousin four times removed, was born on. May 6, 1855. His parents were Newbold Lawrence and his mother  Anna Hough Trotter. Both were Quakers, but his father was Orthodox and mother was Hicksite,  so they had married in Episcopal church in 1851. Newbold Trotter was the nephew of the ornithologist George Newbold Lawrence.
Newbold Trotter attended a private school, where he befriended Harold Herrick, who later names Lawrence's' Warbler after him. Newbold Trotter had an early interest in birds and collected 600 skins, which were left to the Academy of Natural Sciences in Philadelphia. He became a Fellow of the American Ornithological Union.
Newbold Trotter attended New York University one year, and then became Real estate agent with H. H. Camman and Company. He later became an independent agent and developer. He developed his 125 acre estate in Lawrence into summer homes, and served as the treasurer of St John's Episcopal Church in Lawrence. He also helped found and served as treasurer for the Rockaway Hunt Club.
In November 1887 he married Isabelle Gillet (1860-1904) of Baltimore in the Church of the Incarnation in New York.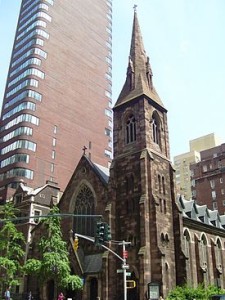 Newbold Trotter hunted in eastern Canada, visited Europe with his wife. Otherwise his life was quiet.
The season of 1895 found the couple at Saratoga.
Newbold Trotter died August 14, 1929 in Antwerp, where he was visiting his son who was serving as an agent for a steamship line.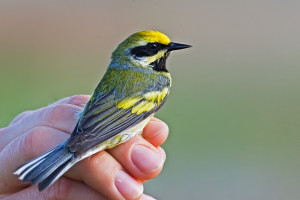 The rare Lawrence's Warbler, in the wild here.
*******************************************************************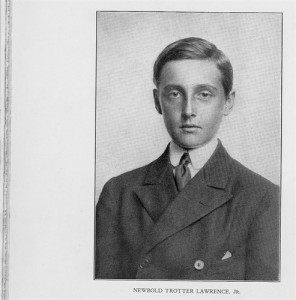 Newbold Trotter Lawrence II
Newbold Trotter Lawrence II (my wife's second cousin three times removed) was born on January 9, 1893. He was in the class of 1912 at St. Paul's School in Concord, New Hampshire and entered the Naval Academy. There in 1913 he was a victim of a hazing incident and got into a fight. His tormentor, James. C. Cook was expelled. For "humiliating" Lawrence. In 1916 Lawrence won the second prize in sailing and received a monocular.
Immediately after graduation he married Mary Evelyn Cromwell (1893-1968) at the Baltimore Cathedral at 6 P. M. on June 7, 1916. Cardinal Gibbons presided. The reception was at Ingleside, the Cromwell's estate.
During World War I Lawrence was in the submarine service out of Bantry, Ireland. He resigned in1920 and became a Merchant Marine officer until 1922. He then went to work for the Pacific Mail Steamship Company and left them in 1924 to work for the United States Lines. He was general manager from 1937, then became assistant vice president and vice president while the S.S. United States was under construction.
His son Richard remembers that
My Dad, Newbold Lawrence was the VP of Operations for the U S Lines, and this afforded me the opportunity to take weekend trips from Baltimore on the Night Boat to Newport News VA to crawl all over the Big U while building. It further gave me the opportunity to visit the ship often when in New York. I remember the special dinners on the ship when Chef Bismark would make me a special plate of petit fours to take home with me. I spent hours in the engine room with the Chief and his Lts.

I made all the trips with my Dad when the ship returned to Newport News for her annual dry docking. My two prize gifts were Commodore Anderson's sextant as a graduation gift when I graduated from NYSMC, and our honeymoon round trip on the Big U to Liverpool and return.
Newbold Trotter II also served as President of Maritime Association of the Port of New York and headed the American efforts in Lifeboat Races. He retired in 1958 to his home in Lloyd Harbor and died November 18, 1968.
Leave a Comment