Edward Lawrence Schieffelin (1847–1897) was the son of Clinton Emanuel Del Pela Schieffelin and Jane Walker. Edward was the second great-grandson of Jacob Shieffelin, the founder of the Schieffelin pharmaceutical company.  Edward was therefore my wife's third cousin, three times removed, but he preserved the Lawrence family connection in his middle name.
Edward was born in Western Pennsylvania but his family moved to the Rogue Valley in Oregon Territory. At age 17 he set out on his own as a prospector. Ed began looking for gold and silver all over the West: Death Valley, the Grand Canyon, California,

In 1876, David P. Lansing of Phoenix, Arizona, described Schieffelin as
about the strangest specimen of human flesh I ever saw. He was 6 feet 2 inches tall and had black hair that hung several inches below his shoulder and a beard that had not been trimmed or combed for so long a time that it was a mass of unkempt knots and mats. He wore clothing pieced and patched from deerskins, corduroy and flannel, and his hat was originally a slouch hat that had been pieced with rabbit skin until very little of the original felt remained.
Nothing had come of all the prospecting. In 1877 Ed enlisted as an Indian scout to assist the Army in its fight against the Apaches. He looked at the San Pedro river area, only a few miles from Geronimo. One German miner had already been murdered – the first of many murders in that area.
There are several versions of the origin of the name Tombstone:
When fellow Army scout Al Sieber learned what Ed was up to, he told him, "The only rock you will find out there will be your own tombstone". Another version is that Edward was told, "Better take your coffin with you; you will find your tombstone there, and nothing else." Or he was told "If you are determined to go, take along a chisel with you and when you get lost among the hills and come to die, chip your name on a stone and we'll stumble across it someday and put up a tombstone for you there."  Another version is that the name came from  a rock formation: "The name by the way, was bestowed as follows: a thin unpromising vein in a granite formation was followed until it widened and threatened  opulence amid a kind of rock which projected from the surface roughly resembling the headstone of a grave."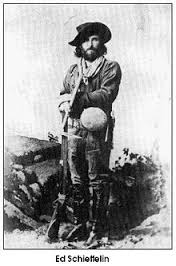 Ed found what he thought was a vein of silver ore and he filed a claim, naming it Tombstone. He had some samples but there was no assay office in Tucson and everyone he showed the samples to thought they were worthless.  Edward tried to find his brother Al. He travelled hundreds of miles but was broke, and had to stop for a few weeks to run a crank at a mine to earn enough money to continue.
When Ed finally located his brother in February 1878, Al asked the foreman at the McCraken mine to look at brother Ed's ore specimens. The foreman thought the samples were mostly lead. Unconvinced, Schieffelin showed the samples to 20 or 30 others who had some expertise, and they all thought the ore worthless. Frustrated, Schieffelin threw his ore specimens out his brother's cabin door, as far as he could throw, but at the last minute held on to three of them. For the next four weeks he worked in the McCracken Mine, wielding a pick and shovel.

Ed learned about the McCracken Mine's recently arrived assayer, Richard Gird, who had a reputation as an expert. Taking his last three ore samples, Ed Schieffelin asked Gird if he thought they were worth assaying. Gird took a look and said he'd get back to Ed. Three days later, Al shook Ed out of his bunk and said Gird wanted to see him now. When they met, Gird told Ed that he valued the best of the ore samples at $2,000 a ton. Ed, Al Schieffelin and Richard Gird formed a partnership on the spot.

The three partners formed the Tombstone Gold and Silver Mining Company to hold title to their claims. Gird built a crude assay furnace in the cabin's fireplace. He found that Schieffelin's initial find of silver ore was valuable, but within a few weeks of mining the vein, Ed discovered it ended in a pinch about three feet deep. His brother Al and Gird were despondent but Ed was optimistic he could find more ore deposits. He continued his search for many more weeks until one day Al found Ed joyously exclaiming over another sample of float ore he had found. Indifferently, Al told Ed he was a "lucky cuss," and that became the name of one of the richest mining claims in the Tombstone District. The ore samples assayed at $15,000 a ton. Ed shortly afterward identified another claim, the "Tough Nut" lode.
On June 17, 1879, Schieffelin showed up in Tucson driving the blue spring wagon carrying the first load of silver bullion valued at $18,744 (about $474,424 today). The mines in the area eventually produced about a billion dollars of silver in 2015 dollars.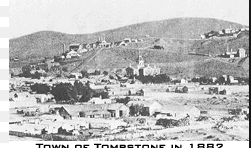 Tombstone 1882
Tombstone 1932
Tombstone today
The town was built to work the mines. When Cochise County was formed in January 1891, Tombstone became the county seat. In 1881 Ed's's brother Al built Schieffelin Hall as a theater, recital hall, and a meeting place for Tombstone citizens. It is the largest adobe structure in the southwest.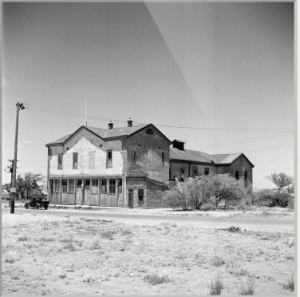 (His great-niece Mary Schieffelin Brady reopened it in 1964.)

Tombstone was the site of the gunfight at the OK corral on October 26, 1881.
Ed sold part of his interests in the mines but was still wealthy. He was convinced there was a band of mineral wealth all long the mountains from Alaska to the Andes, and financed an expedition to Alaska.
Steamer "New Racket"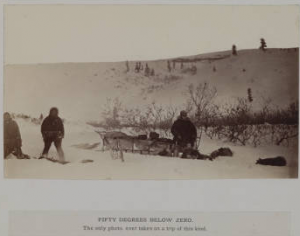 50 below
The cold discouraged him, and he returned to California. In 1883 he married Mary Elizabeth Brown, and lived in Los Angeles for a while. He returned to the Rogue River area and bought a ranch near his brothers Eff (Effingham) and Jay (Jacob). He continued prospecting. He was found dead of a heart attack in his cabin on May 12, 1897.
The legend is that they found
his body slumped ever so peacefully across a worktable where samples of the gold ore were being worked. Ore that was eventually tested at more than $2,000 to the ton. But Ed Schieffelin did not leave behind a map or directions to his discovery. That would be up to others to locate. The last entry in his journal simply read, "Struck it rich again, by God."
In his will he specified:
It is my wish to be buried in the garb of a prospector, my old pick and canteen with me on top of the granite hills about three miles westerly from the city of Tombstone and that a monument such as prospectors build when locating a mining claim be built over my grave and no other monument or slab erected.  And I request that none of my friends wear crepe. Under no circumstances do I want to be buried in a cemetery or graveyard.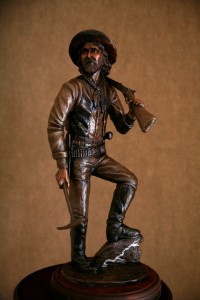 Leave a Comment