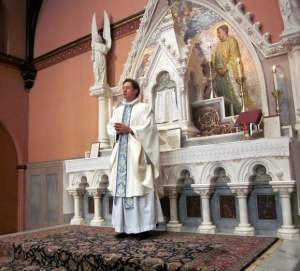 Mount Calvary Church
Baltimore
Personal Ordinariate of the Chair of St. Peter
January 29, 2017
Hymns
 O for a heart to praise my God
Sing praise to God who reigns above
Anthems
Beati pauperes by Jan Pieterszoon Sweelinck
Beati mundo corde by William Byrd
 O for a heart to praise my God, by Charles Wesley (1707-1788). This hymn has the Wesleyan emphasis on the religion of the heart, which is transformed by the saving blood of Jesus. The hope for perfection is deeply Wesleyan. The Beatitudes likewise point the Christian to greater and greater perfection: Blessed are the pure of heart, blessed are the meek. Perfection is found in love, because we become sharers of the divine nature, and Jesus reveals the "new, best name" of God, Love.
1 O for a heart to praise my God,
a heart from sin set free;
a heart that's sprinkled with the blood
so freely shed for me:

2 A heart resigned, submissive, meek,
my great Redeemer's throne;
where only Christ is heard to speak,
where Jesus reigns alone:

3 A humble, lowly, contrite heart,
believing, true, and clean,
which neither life nor death can part
from Him that dwells within:

4 A heart in every thought renewed,
and full of love divine;
perfect and right and pure and good —
a copy, Lord, of Thine.

5 Thy nature, gracious Lord, impart,
come quickly from above;
write Thy new name upon my heart,
Thy new best name of Love.
Protestants, following Luther, tended to think that man was simul justus et peccator, at the same time just and a sinner. Luther used the Ten Commandments in his catechesis, but he thought the purpose of the Law was to show us that we were unable to obey it, and that we had to receive the unearned forgiveness of God. (He did not tell children that they were unable to obey the Commandments!) But Wesley thought that, with the help of the Holy Spirit, the heart, the emotions, the deep well of our being, could be "strangely warmed" and that we could therefore attain to sinless perfection in this life. Jesus in the Beatitudes calls us to a high perfection, and above that perfection are the gifts of the Holy Spirit which supernaturalize human nature and help us to attain to participation in the divine nature, to divinization (theosis).
The tune, Kilmarnock, was composed by Neil Dougall (December 9, 1776, Greenock, Renfrewshire, Scotland – October 1, 1862, Greenock).
Neil's father, wheelwright Neill Dougall, was drafted into the ar­my, and died in Ceylon (now Sri Lanka) when his son was only four years old. At age 15, Neil became an apprentice on the ship Britannia. In 1795, while he was loading a gun to fire the second volley of a salute to commemorate Lord Howe's victory over the French, an explosion blinded him and took his arm. After recovering, he began his musical career. In 1798, he attended a singing class under Robert Duncan, and in the fall of the next year opened his own class, which he ran until 1844. He gave annual con­certs in Greenock. (Hymnary)
Here is the tune. It has a pleasant Scots quality to it.
Sing praise to God who reigns above is a translation by Frances Elizabeth Cox (1812-1897) of Sei Lob und Ehr' dem höchsten Gut by Johann Jacob Schütz (1640-1690). He became a Pietist, and the hymn has the warm, affectionate tone of German Pietism.  The line "casts each false idol from its throne" recalls the first hymn's prayer for "a heart" that is "my dear Redeemer's throne." The tune, Mit Freuden zart, is beloved of the American Moravians. The tune name itself – "with tender joy" – expresses something of the character of the life and music of the Moravians.
1 Sing praise to God who reigns above,
The God of all creation,
The God of power, the God of love,
The God of our salvation;
With healing balm my soul He fills,
And every faithless murmur stills:
To God all praise and glory!

2 What God's almighty power hath made
His gracious mercy keepeth;
By morning glow or evening shade
His watchful eye ne'er sleepeth:
Within the kingdom of His might
Lo, all is just, and all is right:
To God all praise and glory!

3 The angel host, O King of kings,
Thy praise forever telling,
In earth and sky all living things
Beneath Thy shadow dwelling,
Adore the wisdom that could span,
And power which formed creation's plan;
To God all praise and glory!

 4 Thus all my gladsome way along
I sing aloud Thy praises,
That men may hear the grateful song
My voice unwearied raises:
Be joyful in the Lord, my heart:
Both soul and body bear your part:
To God all praise and glory!
5 O ye who name Christ's holy name, 

Give God all praise and glory:

Give God all praise and glory:

All ye who own His power, proclaim

Aloud the wondrous story!

Cast each false idol from its throne,

The Lord is God, and He alone:

To God all praise and glory!
"Frances Elizabeth Cox, daughter of Mr. George V. Cox, born at Oxford, is well known as a successful translator of hymns from the German. Her translations were published as Sacred Hymns from the German, London, Pickering. The 1st edition, pub. 1841, contained 49 translations printed with the original text, together with biographical notes on the German authors. In the 2nd edition, 1864, Hymns from the German, London, Rivingtons, the translations were increased to 56, those of 1841 being revised, and with additional notes. The 56 translations were composed of 27 from the 1st ed. (22 being omitted) and 29 which were new. The best known of her translations are "Jesus lives! no longer [thy terrors] now" ; and "Who are these like stars appearing ?" A few other translations and original hymns have been contributed by Miss Cox to the magazines; but they have not been gathered together into a volume." (Hymnary)
"Johann Jacob Schütz was born Sept. 7, 1640, at Frankfurt am Main. After studying at Tübingen (where he became a licentiate in civil and canon law), he began to practice as an advocate in Frankfurt, and in later years with the title of Rath. He seems to have been a man of considerable legal learning as well as of deep piety. He was an intimate friend of P. J. Spener; and it was, in great measure, at his suggestion, that Spener began his famous Collegia Pietatis. After Spener left Frankfurt, in 1686, Schütz came under the influence of J. W. Petersen; and carrying out Petersen's principles to their logical conclusion, he became a Separatist, and ceased to attend the Lutheran services or to communicate. He died at Frankfurt, May 22, 1690 (Koch, iv. 220; Blätter fur Hymnologie, Feb. 1883)." (Hymnary)
The tune MIT FREUDEN ZART has some similarities to the French chanson "Une pastourelle gentille" (published by Pierre Attaingnant in 1529) and to GENEVAN 138 (138). The tune was published in the Bohemian Brethren hymnal Kirchengesänge (1566) with Vetter's text "Mit Freuden zart su dieser Fahrt."
Here is the choir at St. David's Cathedral singing the hymn.
Anthem: Beati pauperes by Jan Pieterszoon Sweelinck, The gospel includes the Beatitudes, so we are using Sweelinck's setting of the Latin Beatitudes. Here is a performance.
Here is Wikipedia. I am most fond of Dutch names. Plemp is good, as is Swybbertszoon. I also like Dutch stability. Sweelinck started work at 15 and worked in the same church (where his grandfather and uncle had been organists) his whole life No gadding about for him, although once he went as far as Amsterdam. And on his death his son took over his job.
Sweelinck was born in Deventer, Netherlands, in April or May 1562. He was the eldest son of organist Peter (or Pieter) Swybbertszoon and Elske Jansdochter Sweeling, daughter of a surgeon. Soon after Sweelinck's birth, the family moved to Amsterdam, where from about 1564, Pieter Swybbertszoon served as organist of the Oude Kerk (Sweelinck's paternal grandfather and uncle also were organists). Jan Pieterszoon must have received first lessons in music from his father. Unfortunately, his father died in 1573. He subsequently received general education under Jacob Buyck, Catholic pastor of the Oude Kerk (these lessons stopped in 1578 after the Reformation of Amsterdam and the subsequent conversion to Calvinism; Buyck chose to leave the city). Little is known about his music education after the death of his father; his music teachers may have included Jan Willemszoon Lossy, a little-known countertenor and shawm player at Haarlem, and/or Cornelis Boskoop, Sweelinck's father's successor at the Oude Kerk. If Sweelinck indeed studied in Haarlem, he was probably influenced to some degree by the organists of St.-Bavokerk, Claas Albrechtszoon van Wieringen and Floris van Adrichem, both of whom improvised daily in the Bavokerk.

According to Cornelis Plemp, a pupil and friend of Sweelinck's, he started his 44-year career as organist of the Oude Kerk in 1577, when he was 15. This date, however, is uncertain, because the church records from 1577 to 1580 are missing and Sweelinck can only be traced in Oude Kerk from 1580 onwards; he occupied the post for the rest of his life. Sweelinck's widowed mother died in 1585, and Jan Pieterszoon took responsibility for his younger brother and sister. His salary of 100 florins was doubled the next year, presumably to help matters. In addition, he was offered an additional 100 guilders in the event that he married, which happened in 1590 when he married Claesgen Dircxdochter Puyner from Medemblik. He was also offered the choice between a further 100 guilders and free accommodations in a house belonging to the town, the latter of which he chose. Sweelinck's first published works date from around 1592–94: three volumes of chansons, the last of which is the only remaining volume published in 1594[8] (for reasons that are not certain, the composer adopted his mother's last name; "Sweelinck" first appears on the title-page of the 1594 publication). Sweelinck then set to publishing psalm settings, aiming to set the entire Psalter. These works appeared in four large volumes published in 1604, 1613, 1614 and 1621. The last volume was published posthumously and, presumably, in unfinished form. Sweelinck died of unknown causes on 16 October 1621[9] and was buried in the Oude Kerk. He was survived by his wife and five of their six children; the eldest of them, Dirck Janszoon, succeeded his father as organist of the Oude Kerk.

The composer most probably spent his entire life in Amsterdam, only occasionally visiting other cities in connection with his professional activities: he was asked to inspect organs, give opinions and advice on organ building and restoration, etc. These duties resulted in short visits to Delft, Dordrecht (1614), Enkhuizen, Haarlem (1594), Harderwijk (1608), Middelburg (1603), Nijmegen (1605), Rotterdam (1610), Rhenen (1616), as well as Deventer, his birthplace (1595, 1616).  Sweelinck's longest voyage was to Antwerpen in 1604, when he was commissioned by the Amsterdam authorities to buy a harpsichord for the city. No documentary evidence has turned up to support the tradition, going back to Mattheson, that Sweelinck visited Venice – perhaps a confusion with his brother, the painter Gerrit Pietersz Sweelink, who did – and similarly there is no evidence that he ever crossed the English Channel, although copies of his music did such as the pieces included in the Fitzwilliam Virginal Book. His popularity as a composer, performer and teacher increased steadily during his lifetime. Contemporaries nicknamed him Orpheus of Amsterdam and even the city authorities frequently brought important visitors to hear Sweelinck's improvisations.
Anthem: Beati mundo corde by William Byrd. Byrd set this passage from the Beatitudes, Blessed are the pure of heart, for they shall see God. It is teh communion verse for the feast of All Saints. Here is the Hong Kong Hymn Society singing it.
A Rant on Political Correctness
One of the tentacles of the octopus Political Correctness that is strangling rational discourse is the desire to make the correct bien pensant leftist noises about any and every subject, even if the noises have nothing to do with the reality of the subject.
As my interests are Old English and Old Icelandic, I only occasionally encounter it, because one has to work hard at learning the languages and it is easier to be a leftist critic of modern literature.  My first encounter with this idiocy was in  an essay about Beowulf in which the critic claimed that Grendel was the illegitimate son of Hrothgar, who was an incestuous patriarchal brute. It was so crazy I thought it must be a spoof – it wasn't. The second encounter was with a critic who wanted medievalists to imitate their leftist betters. He gave as an example of the right way to approach an Old English literature his analysis of poem Andreas, in which St. Matthew is captured by cannibals. There is somewhat of a negative attitude to cannibals in the poem, This, the critic opined, was an example of Western cultural imperialism which interfered with indigenous mores. He was not joking. And sure enough, some critics followed his advice: "Andreas, Self-Eaters, and the Failed Historicity of Post-Coloniality."
Hymnology has been contaminated by this nonsense.
Johann Schutz has the couplet
In seinem ganzen Königreich /  Ist alles recht und alles gleich.
Which Elizabeth Cox translated gracefully as
Within the kingdom of His might / Lo, all is just, and all is right.
You might think that the reference to the Kingdom of God is crystal clear. No, no. You are deceived.
The whole stanza was omitted from the revised United Methodist Hymnal:
The Hymnal Revision Committee did not include this stanza "because of the perceived ambiguity if not contradiction in lines five and six between God's powerful establishment of his kingdom on earth and its attributes of justice and righteousness."
Michael Hahn, a professor of sacred music, nods approvingly at this decision:
Cox's translation of those critical lines five and six of the omitted third stanza may be derived from a very classist 19th-century British monarchy where the very structures of society were foreordained by God, and thus "all is just and all is right." Within the Anglican Church, Calvinism was very influential and its fervent predestination would have also fueled such a view.

A 21st-century sensibility would see justice in terms of the needs of the hungry, the poor and the disadvantaged, and victims of racism, sexism and other issues—not in terms of predetermined societal structures.
Ah, the proper noises to demonstrate his leftist credentials. Four legs good, two legs bad. Or today is it the reverse?
Leave a Comment