Gunman who shot US congressman was Bernie Sanders campaign volunteer who asked victims: "Are you Democrat or Republican?"
American political rhetoric has always been overheated. It led to one civil war; will it led to another?
John Wilkes Booth thought that Lincoln would use his troops and his negroes to establish a dictatorship in the post-Civil War United States. After he shot Lincoln, he shouted Sic semper tyrannis – thus always to tyrants.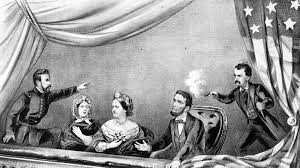 The Democrats have been loudly accusing Trump of being incompetent —and of being a budding tyrant and tool of Vladimir Putin. The accusations are contradictory, but logic has never had much influence in politics.
One Bernie Sanders supporter has taken the rhetoric with deadly seriousness:
The man identified by authorities as the shooter at a congressional baseball practice in Alexandria, Virginia, Wednesday was a Bernie Sanders volunteer who signed a petition to impeach President Donald Trump, his social media posts show.  James T. Hodgkinson, a 66-year-old from Belleville, Illinois, is suspected of shooting five people, including House Majority Whip Steve Scalise, during a Republican lawmakers team practice for an upcoming game against Democrats. He later died after being shot by police, President Donald Trump confirmed.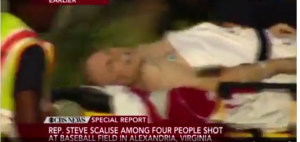 House Majority Whip Steve Scalese R. Louisiana
The 66-year-old Illinois man who opened fire early Wednesday on members of Congress practicing for a charity baseball game, raged against President Trump and once singled out House Majority Whip Steve Scalise, who was wounded in the attack.
A neighbor, Noah Nathan, was out walking his dogs when the shooting started. He dropped to the ground and pulled out his phone to video a left-winger trying to kill Republican congressman precisely and only because they were Republican. Here is the video
Hodgkinson apparently posted repeatedly about politics on Facebook, most recently slamming Trump and calling for him to be removed from office.
"Trump is Guilty & Should Go to Prison for Treason," read one post that shared a video calling for Trump's impeachment. Another said: "Trump is a mean, disgusting person."
Kathy Griffin thought it was hilarious to tweet a picture of herself holding  the blood-stained head of a beheaded Donald Trump.
New York is hosting a play in which Trump stands in for Julius Caesar and is assassinated.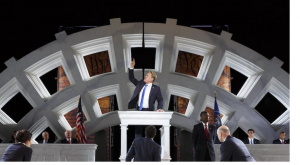 Some Trump haters – how many? – have decided if they can't win elections they will kill the Republicans who do win elections.
If Trump is assassinated or even impeached, his supporters will think that the Left will not honor the results of elections, so why try to win by peaceable means. Which side do you think the majority of police and military would be on if it comes down to a violent confrontation between right and left?
This miscalculation caused the Left in Spain to provoke and then lose a civil war.