The AP had a curious story about Mexico:
Officials in Nuevo Laredo have destroyed more than 35 statues dedicated to a "Death Saint" popular with drug traffickers.

The statues, most depicting a robe-covered skeleton resembling the Grim Reaper, lined highways and roads in and around the Mexican city on the border with Texas. One of the statues was located at the base of an international bridge linking Mexico and the U.S.
A few months ago The New Yorker had an article about Mexican drug traffickers and their religious beliefs:
On the first day of every month, at the Tepito metro stop in downtown Mexico City, a new breed of pilgrim can be observed inching his way on his knees out of the stop and down a filthy market street, and cradling in his arms, babylike, a plastic figure of Death—or Holy Death, La Santa Muerte, as the pilgrims refer to the robed skeleton, who carries, variously, a scythe, a sceptre, a set of scales, or a globe in her (sometimes his) hands. There were dozens of these effigies, borne by crawling men in their teens or early twenties. Tattooed and gaunt, they were dressed in black T-shirts with the sleeves ripped off and wore chains around their necks and silver skulls, like brass knuckles, on their fingers.

Their goal was some four blocks distant, in the heart of Tepito, a legendary neighborhood that in the centuries since the Spanish Conquest has remained stubbornly insubordinate. Venders were everywhere along the pilgrims' path, hawking T-shirts and baseball caps and medals decorated with the Santa Muerte.

The shrine of the Holy Death is just blocks away from a compound of low-income housing where, in 2007, Mexico City police conducted a full-scale assault in search of drugs, weapons, and other illegal goods. Enriqueta Romero Romero, known as Queta, or Quetita, set up the shrine on this spot seven years ago after one of her sons, who was himself a devotee of La Santa, made her a gift of the skeleton. The bewigged saint now stands in a glass case, elaborately robed and veiled according to Queta's inspiration—sometimes in rainbow gauze, sometimes in white lace. Queta and her son also more or less invented the 8 P.M. "Rosary" that is held on the first of every month, and draws thousands of the faithful, including the skull-ringed young men who, at a guess, make a paltry living running many kinds of errands for the lords of Tepito. Queta says the skeleton is feminine—the Niña Blanca, or White Girl-Child—and that those who say there is such a thing as a He-Death, and that one should have both on one's home altar, so the two can meet and marry, are charlatans. Queta is small, sixtyish, and bustling; she blows kisses at her Niña every other sentence and has a benevolent smile for everyone. But her gaze can narrow with suspicion in an alarming fashion, and one has the sense that she can summon dangerous help to her side very quickly.

The Santa Muerte had been hanging around the fringes of popular belief in Tepito and other raffish neighborhoods for decades—Queta says that she learned to pray to her from her aunt—but thanks to Queta her cult now extends throughout Mexico City and far beyond. There are, by Queta's count, two thousand shrines like hers in Mexico, and who knows if she is including the charlatans in her tally? (The cult is known for the drug traffickers' devotion to it, but it certainly embraces a far larger number of believers.) Hers, at any rate, was the first public shrine, and it holds a cathedral-like status for worshippers like Felicitas Castillo, a young woman who for the past five years has travelled once a month from the city of Xalapa, two hundred miles away, in order to offer the "Utmost Holy Death" roses and a mariachi serenade. On the day that I visited the shrine, the musicians played ranchera songs that are normally dedicated to the Virgin of Guadalupe, and Castillo provided an answer heard many times when I asked the faithful what they prayed for. "I don't ask for much," Castillo said. "Health for my family, work." This is an answer recommended by Queta, who doesn't think that one should bargain with Death or be greedy. But the following afternoon, as the time for the Rosary drew near and worshippers pressed more and more tightly into the narrow street where the shrine is situated, one crawling young man said that he was praying for his ex-girlfriend, who lived in another state, to let him see his five-month-old daughter. A woman wanted the holy figure to help her get over the suicide, last year, of her fourteen-year-old son.

Along the edges of the packed street, young men took quick snorts of glue and sometimes wept. A thin tattooed and pierced man with terrible skin was the only one of the many young toughs present who was willing to talk to me, and his amiability may have had something to do with the fact that he had just absent-mindedly assembled a joint about the size of a Robusto and was now wreathed in its smoke. The Holy Death had restored to him the love of the excruciatingly shy woman at his side, the man said, and he was now Death's devotee forever. At the front of the crowd, banks of flowers to rival those laid at Princess Diana's grave paid tribute to the skeleton. Half hidden by the flowers was a large, clear plastic death figure, and behind it was a sound system at which one of Queta's sons would soon lead the Rosary. Behind that, Queta cackled in answer to a question. Yes, it was true that the Catholic Church disapproved of her "Little Skinny One," she said. "But have you noticed how empty their churches are?"

Queta's genius has been to create out of her Catholic faith an inclusive syncretic ritual: a Rosary, which is recited complete with Hail Marys and the Lord's Prayer; special prayers for those in jail; and a culminating, quasi-Pentecostal moment when the faithful all lift their effigy to Heaven to "charge it with energy." It is a cult, Queta says, accurately, that does not discriminate. A Catholic priest might extend grudging absolution to those who confess that they have just sold several grams of crystal meth to a bunch of twelve-year-olds, but only at Queta's Rosary can you be blessed on a monthly basis without the matter of how you earn a living ever coming up.
Modern scholars often lament how the "orthodox" managed to kick out of Christianity all sorts of popular religious movements, and how the "orthodox" oppose the full acculturation of Christianity into various cultures. This acculturation of Christianity into the drug culture of Mexico perhaps should give these scholars pause.
Also those who have nostalgia for the pagan religions that Christianity replaced and sometimes obliterated should reflect upon the Aztec gods and their thirst for human blood.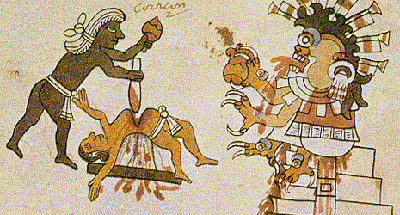 Leave a Comment