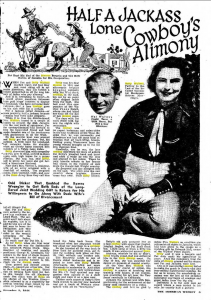 Whenever one's marital affairs occupy a full newspaper page, it is a bad sign.
Elizabeth Lanier Fenno (1916-1969) in 1936 married my wife's first cousin, once removed, Samuel Adams Clark, Jr. (1910-1998).  It did not work out.
Elizabeth Lanier Fenno Clark Walters Ambrose
The San Antonio Light of December 3, 1944 reported:
When Pat and Betty Walters reached trail's end last May and went riding off in opposite directions, they left behind a record unmatched in all the long history of ladies who pay alimony.

Cowboy Patrick Walters

And it is refreshing to report – in a world in which American heiresses have paid king's ransoms to dispose of husbands who have outlasted their welcome – that a lone cowboy gave up his rich wife for a jackass.

For a jackass named Jamaica – or more properly, half a jackass, because Jamaica was their joint property.

While it is true that the divorce-bound Mrs. Waters tossed in a couple of horses to cement the deal, Jamaica was the real basis of agreement. For the cowboy husband had learned to love his long-eared friend and had made Jamaica one of the best known trick performers in all the West.

So the marital knot was severed and Betty got her freedom; Pat, his jackass. A little later the loved-and-lost wrangle broke his shoulder when an unruly horse rammed into Jamaica at a Tahoe Lake rodeo.

Betty showered him with sympathy and Pat, arm in a sling, arrived in Reno again with high hopes for a reconciliation. But nay, nay, said Betty, and to prove her point she got herself a brand-new husband.

Now she's Mrs. Vernon L. Ambrose, wife of an army sergeant with a chest-full of medals. The sergeant comes from Oakland, California. And over at the Reno Army Base they call him (of all things) Pat. Sgt. Pat and Betty were united in the imposing residence of Lloyd Root.  The sergeant won't talk about his exploits, but it is said he was one of the last men to leave the Philippines and that he later served with valor in the several campaigns for the Dutch East Indies.

So much now for Pat No. 2.

As for Betty, when she first went to Nevada she was the fashionable Mrs. Elizabeth Fenno Clark. Stepdaughter of wealthy and socially prominent George K. Livermore, her sojourn in the land of single blessedness was intended for the usual six weeks and good-by forever to Mr. Clark via the usual divorce route.

Time passed and Samuel Adams Clark Jr. passed out of her life. But by then Betty had gone Reno. There was no turning back East for her. So she bought the old Mayberry ranch five miles west of Reno on the shores of the Truckee River – often referred to as a repository for used-up wedding rings tossed by ex-wives to jubilation and relief.

Betty won her first divorce in 1941 and afterwards began keeping company with Pat Walters, cowboy, in the fashion set by so many other elegant ladies from the East. She had met the cowpuncher at the Washoe Pines Ranch, where she had bided her time till the day of her divorce came.

Washoe Pines Ranch c. 1940

The days with Pat were filled with fun and the nights with moonshine.

The cowboy was an expert horseman and rodeo rider in the best traditions of the West. Besides that, he was personable and chivalrous and had the same fatal attraction that all hard-riding, bronco-busting young Westerners have for young women brought up in the far less vigorous East.

Gradually, one by one, the lone cowboy shortened the line sf suitors for Betty's jeweled hand and heart and after a while he was the only one allowed in her corral. There he paid humble tribute to her beauty and charm in the manner of men form the Harold Bell Wright country.

He proposed and she accepted him on the spot. The stars over the cow country shone brighter. Heaven came very near. Then Betty remembered the folks back home. She wondered what her step-papa would say about her marriage to a cowboy.

So she traveled all the way back to New York for parental OK, got it, and the wedding took place on December 29, 19842, without any further ado.

The Mayberry ranch is one of Reno's oldest landmarks and is reputed to have cost Betty $60,000. Afterwards, she ladled out more thousands to modernize it.  And when the cowboy and his lady settled down for life (?) they spurned any suggestion they operate it as a dude ranch and kept it as a love nest.

Hither came scores of Betty's New York friends to see her new husband and get a touch of Western atmosphere with all its "heartiness."

Betty's friends accepted Pat as a real cowboy with spurs that jingled, jingled, jingled, and Pat liked them too. Liked some of them a little too much, it was whispered around Reno.

Anyway, whether he did or didn't, Betty finally roped, tied and delivered him to the Reno divorce court. On May 19 last, she was awarded her decree on grounds of mental cruelty.

At the time Mrs. Walters was planning her course of action, the cowboy, a master at breaking and training wild horses, if not women, was practicing his art near the Tanforan racetrack in California.

Jamaica the Jackass

Jamaica the jackass was with him, performing for the amusement of the many cash customers at a rodeo.

The cowboy said he'd be glad to oblige Mrs. Walters on condition that she relinquish all rights to Jamaica, which had been given to the couple as a wedding gift by Deborah Hull, owner of the Washoe Pines Ranch.

Betty said it was a bargain and Pat duly made his appearance in court. After the customary time the mills of divorce ground out the customary decree and Pat and Jamaica were free.

And so it was another cowboy failed to make the grade in Reno's vast and ever-milling matrimonial roundup. So far as is known the smashed-up romance was the last of the so-called successful marriages of cowboys and great ladies from the big city.

Definitely it is the only case on record where a man turned in his wife for half a jackass.
Betty's marriage to Ambrose lasted at least long enough to produce a daughter, Elizabeth Ann Ambrose (1946-2006). The daughter tried to break the spendthrift trust that her mother had set up for her, but to no avail.
Leave a Comment