+The Rev. Francis. Effingham Lawrence is my wife's second cousin four times removed. He was a High Church Episcopal clergyman who lived from 1827-1879. He died unmarried at the age of 53. From 1839 to his death he was assistant and then rector of the Church of the Holy Communion in Manhattan.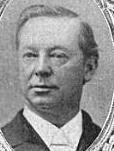 The Rev. Henry C Potter, the rector of Grace Church, preached at Lawrence's funeral service on November 2, 1889. In it he made some remarks which are immediately relevant to the thesis of my book Meek or Macho?
[Dr. Lawrence] was essentially a manly man. "I am a man," said a clergyman in my hearing not long ago upon a public platform, "even though I do wear a cassock." Unfortunately, not all those who wear a cassock can say so as truly as could Dr. Lawrence. He never forgot that he was a Priest in the Church of God, but that consciousness did not make him effeminate.
Lawrence, as we shall see, was a proponent of Anglo-Catholicism and of a Catholic liturgy. The masculinity of Anglo-Catholics was frequently questioned because some were celibate and fussy about ritual. "Effeminate fanatics" and "womanish men" were some of the milder criticisms of these "not conspicuously virile men." Punch observed in "Parsons in Petticoats" that "reverend gentlemen 'of extreme High Church proclivities' are very fond of dressing like ladies."
The "cassock' that Potter mentions was regarded by many as a sign of questionable masculinity. In France bishops required priests to wear the soutane (the cassock); men called it the jupon (skirt), and the clerics who wore it, les enjuponées (the skirted ones). In 1870 the newspaper Patriote wrote of seminarians: "let them have the courage to take off their robe, that it can be seen underneath if they are men or if they are hermaphrodites."
An unmarried, Catholicizing Episcopal priest like Frances Effingham Lawrence could easily have his masculinity questioned, and that is why Potter emphasized that Lawrence was masculine.
Leave a Comment