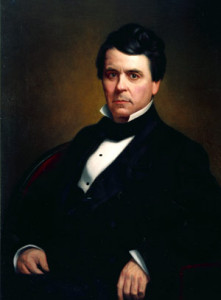 Portrait of James Pollock by John F. Francis
James Pollock was my wife's third great grand uncle. He was the uncle of Sarah Pollock, the wife of James H. Rutter.
James Pollock was born on September 11, 1810, in Milton, Northumberland County, Pennsylvania, of Scotch-Irish Presbyterian parents. He graduated from the College of New Jersey (Princeton University) with a bachelor's and master's degree, both with highest honors.  (He later became President of Princeton's Board of Trustees.) He returned home to set up a law practice. He was appointed a judge and a district attorney, and in 1844 was elected to the U. S. House of Representatives, where he served three terms. While he was in Washington, he shared a boardinghouse with Abraham Lincoln and they became friends.
Pollock was keen on technology. He supported Samuel Morse and his idea for a telegram and was in the room when the famous message, "What hath God wrought" was received.  He also pushed for the construction of a transcontinental railroad; in 1848 he said, "At the risk of being considered insane, I will venture the prediction that, in less than twenty-five years from this evening, a railroad will be completed and in operation between New York and San Francisco, California."   It was finally completed in 1869.
After the left the House, Pollock was appointed a federal judge in Pennsylvania. In 1854 the Whigs nominated Pollock for the governorship of Pennsylvania. He was also supported by the Nativist Know-Nothings  (of which Samuel Morse was a member) who were anti-slavery.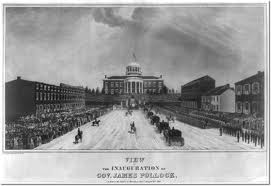 Inauguration of Governor James Pollock
Pollock defeated the Democratic candidate, and began selling off the obsolete public works of the state, the canals and portage railroad which were outmoded by the new railroads and which were beset by corrupt administration. These works had been a drain on the public treasury. Pollock reduced state debt and lowered taxes. He chartered State Normal Schools and Pennsylvania State University and located it in the middle of the state.
In 1855 in thanksgiving for the harvest and the preservation of the country from war, Pollock signed a Thanksgiving Proclamation, which concluded:
Acknowledging with grateful hearts these manifold blessings of a beneficent Providence we should "offer unto God thanksgiving, and pay our vows unto the Most High."

Under the solemn conviction of the importance and propriety of this duty, and in conformity with the wishes of many good citizens, I, James Pollock,  Governor of the Commonwealth of Pennsylvania, do herby appoint Thursday, the 22nd of November next,  as a day of General Thanksgiving and Praise throughout this State; and earnestly implore the people that, setting aside all worldly pursuits on that day,  they unite in offering thanks to Almighty God for his past goodness and mercy; and beseech him for a continuation of his blessings."
In the prelude to the War between the States, the country was convulsed by the controversy over the Kansas-Nebraska Act, which would undo the anti-slavery provisions of the Missouri Compromise.  Pollock served as head of the Pennsylvania delegation at the Washington Peace Conference in 1861 and attempted to avert war. He was unsuccessful.
Pollock was a man of great Christian faith. He presided over the American Sunday School Union from 1855 until his death. It was said 'he was always eager to do his Lord's business with earnestness and dispatch' and while conscious of the power of his masterful mind and loving heart, his fellows managers 'most appreciated his depth of consecration.'
In 1861 Lincoln appointed Pollock the Director of the U S. Mint in Philadelphia.
in his 1863 report to the Secretary of the Treasury, he [Pollock] wrote, "We claim to be a Christian nation—why should we not vindicate our character by honoring the God of Nations…Our national coinage should do this. Its legends and devices should declare our trust in God—in Him who is "King of Kings and Lord of Lords." The motto suggested, "God our Trust," is taken from our National Hymn, the Star-Spangled Banner." The sentiment is familiar to every citizen of our country—it has thrilled the hearts and fallen in song from the lips of millions of American Freemen. The time for the introduction of this or a similar motto, is propitious and appropriate. 'Tis an hour of National peril and danger—an hour when man's strength is weakness—when our strength and our nation's strength and salvation, must be in the God of Battles and of Nations. Let us reverently acknowledge his sovereignty, and let our coinage declare our trust in God."

Oh! thus be it ever, when freemen shall stand
Between their loved homes and the war's desolation!
Blest with victory and peace, may the heaven-rescued land
Praise the Power that hath made and preserved us a nation.
Then conquer we must, when our cause it is just,
And this be our motto: "In God is our trust."
And the star-spangled banner in triumph shall wave
O'er the land of the free and the home of the brave!
He died on April 19, 1890; his reputation of honesty and integrity was recognized even by his enemies. In the funeral sermon, the Rev. John Hemphill proclaimed:
I look back over fifty years of American history, and I can find no man as conspicuous as he in  civic life, who can claim precedence of him  in all the qualities that go to make up a noble, moral manhood. For fully half a century he was exposed to influences which have wrought the undoing of thousands, but he kept "his garments unspotted from the world." He could have died a millionaire, but, loathing alike the bribe giver and the bribe taker, he died with clean hands and a clean soul, leaving to his children, and to his children's children, and to the whole Church of God, the glorious heritage of a "good name" which is far better than "great riches."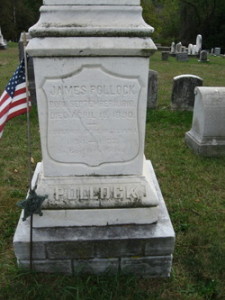 His tombstone monument appropriately reads:
"James Pollock 1810-1890 'In God We Trust'"
At a website there are dozens of memorials to Pollock. One is
Honoring you on your 121st anniversary in heaven.
And another, by a great, great great grandniece:
Perhaps we will meet in Heaven dearest Uncle. May you rest in peace. It took me a long time to find you, but I am proud to have done so.
Leave a Comment