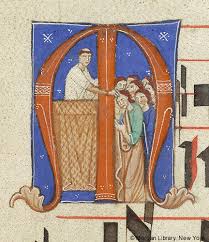 Mount Calvary Church
A Roman Catholic Parish
The Personal Ordinariate of the Chair of S. Peter
Eutaw Street and Madison Avenue
Baltimore, Maryland
Rev. Albert Scharbach, Pastor
Dr. Allen Buskirk, Choirmaster
Ash Wednesday
March 6, 2019
12:10 P.M. Said Mass
7:00 P. M.  Sung Mass
_________________
Common
Missa de Angelis
Anthems
Henry Purcell (1659-1695)
Remember not, Lord, our offences, nor the offences of our forefathers; neither take thou vengeance of our sins: spare us, good Lord, spare thy people, whom thou hast redeemed with thy most precious blood, and be not angry with us for ever.
Lenten Prose: Attende, Domine
Refrain: Hear us, O Lord, have mercy upon us, for we have sinned against thee. 1. To thee, Redeemer, on thy throne of glory, lift we our weeping eyes in holy pleadings: listen, O Jesus, to our supplications. 2. O thou chief cornerstone, right hand of the Father, way of salvation, gate of life celestial, cleanse thou our sinful souls from all defilement. 3. God, we implore thee, in thy glory seated, bow down and hearken to thy weeping children: pity and pardon all our grievous trespasses. 4. Sins oft committed now we lay before thee: with true contrition, now no more we veil them: grant us, Redeemer, loving absolution. 5. Innocent, captive, taken unresisting; falsely accused, and for us sinners sentenced, save us, we pray thee, Jesus our Redeemer.
Hymns
#59 Lord, who throughout these forty days (ST. FLAVIAN) is by Claudia Frances Ibotson Hernaman (1838–1898). Forty is a symbolic number in Scripture. It rained for forty days and nights when the earth was overtaken by floodwaters, and Noah waited another forty days before opening the window of the Ark. Israel wandered in the desert for forty years. Jesus was seen on earth following the resurrection for forty days. In this case, Christ's forty days in the wilderness provides the primary paradigm for the forty days of Lent.
#190 Let Thy Blood in mercy poured is by John Brownlie (1857–1927), a Scots Presbyterian minister. This hymn is a translation of a Greek hymn. The tune JESU MEINE ZUVERSICHT was first published in Johann Crüger's Praxis Pietatis Melica (1653).
In this Lenten hymn attributed to Pope St. Gregory the Great (540—604), # 61 The glory of these forty days, (SPIRES) the typology so frequently used by the Fathers is employed. We are told that our fast, which we keep in imitation of Our Lord's fast, was prefigured in the Old Testament – by Moses, fasting before receiving the Law; by Elijah who, while fasting, was given the vision of the chariot of fire; and by Daniel who, through fasting and meditation, was delivered from the lions' den. And, as St. John the Forerunner fasted and became the herald of the Messiah, we pray that we may, through our fasting, be prepared to see Our Lord. The translator was Maurice Frederick Bell (1862-1947).
Leave a Comment