Mount Calvary Church
Baltimore
Personal Ordinariate of the Chair of St. Peter
Lent II
March 12, 2017
Hymns
O wondrous type! O vision fair
Be Thou my vision
'Tis good, Lord, to be here
Anthems
Call to remembrance, by Richard Farrant
Hide not Thy face, by Richard Farrant
____________________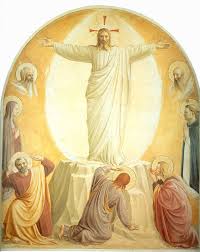 O wondrous type! O vision fair is a translation of Cælestis formam gloriæ partly by John Mason Neale and partly by the editors of Hymns Ancient and Modern.
Moses and Elijah are key persons in Jesus' mission. Gospel writers mention Moses thirty-seven times and Elijah twenty-seven times. In the parable of the Rich Man and Lazarus, Abraham tells the Rich Man, "If they do not hear Moses and the Prophets, neither will they be convinced if someone should rise from the dead." (Luke 16:31). Before his Passion, Jesus went to the top of a mountain to converse with Moses and Elijah. There Jesus "was transfigured before them, and his face shone like the sun, and his clothes became white as light." (Matthew 17:2), with Peter, James, and John as witnesses. Shortly after this event, Jesus "set his face to go to Jerusalem." (Luke 9:51) to battle Satan and death. The martial tune DEO GRACIAS (AGINCOURT) therefore fits this text. By His victory, he has become the One "who will transform our lowly body to be like his glorious body" when we rise from the dead.
O wondrous type! O vision fair
Of glory that the Church may share,
Which Christ upon the mountain shows,
Where brighter than the sun He glows!

With Moses and Elijah nigh
The incarnate Lord holds converse high;
And from the cloud the Holy One
Bears record to the only Son.

With shining face and bright array,
Christ deigns to manifest today
What glory shall be theirs above
Who joy in God with perfect love.

And faithful hearts are raised on high
By this great vision's mystery;
For which in joyful strains we raise
The voice of prayer, the hymn of praise.

O Father, with the eternal Son
And Holy Spirit, ever One,
Vouchsafe to bring us by Thy grace
To see Thy glory face to face. Amen.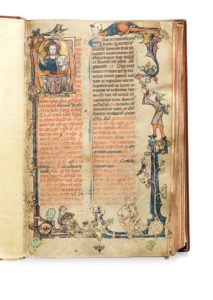 Cælestis formam gloriæ is from the Sarum beviary of 1495.
Cælestis formam gloriæ,
quam spes quærit Ecclesiæ,
in monte Christus indicat,
qui supra solem emicat.

Res memoranda sæculis:
tribus coram discipulis,
cum Elia, cum Moyse
grata promit eloquia.

Assistunt testes gratiæ,
legis vatumque veterum;
de nube testimonium
sonat Patris ad Filium.

Glorificata facie
Christus declarat hodie
quis honor sit credentium
Deo pie fruentium.

Visionis mysterium
corda levat fidelium,
unde sollemni gaudio
clamat nostra devotio:

Pater, cum Unigenito
et Spiritu Paraclito
unus, nobis hanc gloriam
largire per præsentiam.
Here is the plainchant version of the hymn.
Neale's Translation:
A type of those bright rays on high
For which the Church hopes longingly
Christ on the holy mountain shows,
Where brighter than the Sun He glows.

Tale for all ages to declare:
For with the three disciples there,
Where Moses and Elias meet,
The Lord holds converse, high and sweet.

The chosen witnesses stand nigh,
Of Grace, the Law, and Prophecy:
And from the cloud the Holy One
Bears record to the Only Son.

With face more bright than noontide ray
Christ deigns to manifest to-day
What glory shall be theirs above,
Who joy in God with perfect love.

And faithful hearts are raised on high
By this great vision's mystery,
For which, in yearly course, we raise
The voice of prayer, and hymn of praise.

Thou, Father, Thou, Eternal Son,
Thou Holy Spirit, Three in One,
To this same Glory bring us nigh,
That we may see Thee eye to eye.
Here is a great performance of the Agincourt carol. Here is Dunstable's version on the organ at Caen. Here is a duet – do not miss the comments. And one in honor of St. George's Day.
____________________
14th C. Manuscript MG 3, National Library of Ireland
containing "Rob tu mo bhoile"
The Irish monk Eohaid Forgaill (530-598) was a Latin scholar and "King of the Poets." He was said to have spent so much time studying that he went blind, and was give the name Dallán, "Little Blind One."   He wrote the poem, "Rop tú mo Baile" ("Be Thou my Vision") asking God to be his vision But "vision" here means more than physical sight. The original Irish word "baile" mean "vision" or "rapture," in the sense used by the Old Testament prophets.
This was translated into literal prose by Irish scholar Mary Byrne (1880-1931), a Dublin native, and then published in Eriú, the journal of the School of Irish Learning, in 1905. Eleanor Hull (1860-1935b), born in Manchester, was the founder of the Irish Text Society and president of the Irish Literary Society of London. Hull versified the text and it was published in her Poem Book of the Gael (1912).
Irish liturgy and ritual scholar Helen Phelan, a lecturer at the University of Limerick, points out how the language of this hymn is drawn from traditional Irish culture: "One of the essential characteristics of the text is the use of 'heroic' imagery to describe God. This was very typical of medieval Irish poetry, which cast God as the 'chieftain' or 'High King' (Ard Ri) who provided protection to his people or clan. The lorica (Latin: breastplate) is one of the most popular forms of this kind of protection prayer and is very prevalent in texts of this period." St. Patrick's Breastplate (1940 The Hymnal, #268) is in this genre.
Hull's verse version was paired with the Irish tune SLANE in The Irish Church Hymnal in 1919. The folk melody was taken from a non-liturgical source, Patrick Weston Joyce's Old Irish Folk Music and Songs: A Collection of 842 Airs and Songs hitherto unpublished (1909).
"Most 'traditional' Irish religious songs are non-liturgical," says Dr. Phelan. "There is a longstanding practice of 'editorial weddings' in Irish liturgical music, where traditional tunes were wedded to more liturgically appropriate texts. This is a very good example of this practice."
Back in 433 AD, on the eve of Bealtine, a Druidic Holiday that lines up directly with Easter as well as the spring equinox, it was declared by the King, Leoghaire (Leary) Mac Neill, that no fires were to be lit until the fire atop of Tara Hill was lit. Going against the kings wishes, St. Patrick went out to Slane Hill and lit a candle to celebrate the resurrection of Christ. The king was so impressed by the courage that St. Patrick had shown, Leoghaire let him continue his missionary work throughout Ireland. The tune was given the name SLANE to commemorate this event.
English translation by Mary Byrne, 1905:
Be thou my vision O Lord of my heart
None other is aught but the King of the seven heavens.

Be thou my meditation by day and night.
May it be thou that I behold even in my sleep.

Be thou my speech, be thou my understanding.
Be thou with me, be I with thee

Be thou my father, be I thy son.
Mayst thou be mine, may I be thine.

Be thou my battle-shield, be thou my sword.
Be thou my dignity, be thou my delight.

Be thou my shelter, be thou my stronghold.
Mayst thou raise me up to the company of the angels.

Be thou every good to my body and soul.
Be thou my kingdom in heaven and on earth.

Be thou solely chief love of my heart.
Let there be none other, O high King of Heaven.

Till I am able to pass into thy hands,
My treasure, my beloved through the greatness of thy love

Be thou alone my noble and wondrous estate.
I seek not men nor lifeless wealth.

Be thou the constant guardian of every possession and every life.
For our corrupt desires are dead at the mere sight of thee.

Thy love in my soul and in my heart —
Grant this to me, O King of the seven heavens.

O King of the seven heavens grant me this —
Thy love to be in my heart and in my soul.

With the King of all, with him after victory won by piety,
May I be in the kingdom of heaven O brightness of the son.

Beloved Father, hear, hear my lamentations.
Timely is the cry of woe of this miserable wretch.

O heart of my heart, whatever befall me,
O ruler of all, be thou my vision.
Here is the hymnal version. Verse three is usually omitted.
Be Thou my Vision, O Lord of my heart;
Naught be all else to me, save that Thou art;
Thou my best Thought, by day or by night,
Waking or sleeping, Thy presence my light.

Be Thou my Wisdom, and Thou my true Word;
I ever with Thee and Thou with me, Lord;
Thou my great Father, I Thy true son;
Thou in me dwelling, and I with Thee one.

Be Thou my battle Shield, Sword for the fight;
Be Thou my Dignity, Thou my Delight;
Thou my soul's Shelter, Thou my high Tow'r:
Raise Thou me heav'nward, O Pow'r of my pow'r.

Riches I heed not, nor man's empty praise,
Thou mine Inheritance, now and always:
Thou and Thou only, first in my heart,
High King of Heaven, my Treasure Thou art.

High King of Heaven, my victory won,
May I reach Heaven's joys, O bright Heav'n's Sun!
Heart of my own heart, whate'er befall,
Still be my Vision, O Ruler of all.
Although there are hundreds of versions of Be Thou my vision on the Internet, all the vocals ones are not very satisfactory.
Here is the Mormon Tabernacle Choir. Here is King's College, Cambridge. Here it is arranged as an art song. Here sung in Modern Irish.
Here is a charming version for violin and harp. A good arrangement for cello and piano. Of course for Celtic instruments. For string quartet. For brass quintet! For marching band!!
___________________
'Tis good Lord to be here was written by Joseph Armitage Robinson (1858-1933),  D.D., Dean of Westminster and of Wells, of Christ College, Camb. (B.A. 1881, M.A. 1884, D.D. 1896), sometime Fellow of his College, Norrisian Professor of Div., Camb., Rector of St. Margaret's., Westminster, and Canon of Westminster. As Dean of Wells Robinson enjoyed close links with Downside Abbey. He also critically explored the origins of the Glastonbury legends.Robinson was a participant in the bilateral Anglican-Roman Catholic Maline Conversations.  His hymn, "'Tis good, Lord, to be here" was written c. 1890. It was included in the 1904 edition of Hymns Ancient & Modern.
Jesus, with Peter, James and John, had to come down from the mountain.  The next story in Matthew 17 is of Jesus meeting the crowd and healing an epileptic boy; He predicts His death.  In the Liturgy, we catch of glimpse of the Uncreated Light that shone through the humanity of Jesus. It is given to strengthen us in the realities and difficulties of everyday life, where God is to be found.
''Tis good, Lord, to be here', but, Lord, when we go, 'Come with us to the plain', be with us in the day to day realities of our life, in our relationships with others, in our family or health problems, in all the joys and sadnesses of everyday life.
'Tis good, Lord, to be here,
thy glory fills the night;
thy face and garments, like the sun,
shine with unborrowed light.

'Tis good, Lord, to be here,
thy beauty to behold,
where Moses and Elijah stand,
thy messengers of old.

Fulfiller of the past,
promise of things to be,
we hail thy body glorified,
and our redemption see.

Before we taste of death,
we see thy kingdom come;
we fain would hold the vision bright,
and make this hill our home.

'Tis good, Lord, to be here,
yet we may not remain;
but since thou bidst us leave the mount,
come with us to the plain.
The tune SWABIA was composed by Johann M. Spiess (? – 1772). Spiess taught music at the Gymnasium in Heidelberg, Germany, and played the organ at St. Peter's Church and (1746-72) at Berne Cathedral.

Raphael, The Transfiguration (1516-1520)
The upper part portrays the Transfiguration of Christ, flanked by Moses and Elijah, on Mount Tabor. The lower part illustrates the Healing of the Possessed Boy, which follows immediately after the Transfiguration in the Synoptic Gospels.
In the upper Transfiguration, the radiant Christ floats in the clouds above the hill, flanked by Moses and Elijah. Below them, lying dazzled and sprawled on the ground, are his disciples. The figure of the floating Jesus is both indicated and acclaimed by gestures of the crowd in the lower section, which thus unite the two halves of the work. In contrast to the brilliance of the Transfiguration, the lower picture is marked by darkness, as well as the consternation of the apostles who are unable to cure the sick boy. Meanwhile, the expressive bodily gestures and glazed, open-eyed stare of the boy, reveal the awful effects of his condition.
This painting in unique in portraying these episodes together. The name Raphael means "God heals" and Jesus manifests Himself as the one who, by His divine power, heals bodies and souls.
____________________
Anthems
Richard Farrant (1530-1580) was a gentleman of the Chapel Royal until 1564, when he was appointed organist and choirmaster to St. George's Chapel, Windsor; this post entailed the annual presentation of a play before the queen, which led to the creation of the Children of Windsor, a boys' theatrical company formed from members of the choir, Farrant later leased the defunct Blackfriars' Priory and converted it into a theater.
Farrant is also one of the earliest and most well-known composers that began to mix the two mediums of music and drama. It was this uncommon mixture that allowed him to begin to develop the composition style of 'verse.' This becomes prominent in his pieces such as the anthems Call to remembrance and Hide not thou thy face. They are similar in many ways: they are both in the same minor key, befitting their texts that lament sin and beg for mercy. Both anthems ass color by taking advantage of the English technique of juxtaposing notes that do not belong together in Renaissance music theory (for example A and A-flat in teh key of F minor). Both set forth the text in a simple, easily understood fashion, using a homophonic texture and simple rhythms  – plainness and directness being highly desirable qualities in early Anglican liturgy. Both repeat the last section of music and text for dramatic effect. Their unadorned style is fitting for Lent and their powerful pleas for mercy and forgiveness for sin speak right to the heart.
Call to remembrance, O Lord, thy tender mercies and thy loving kindness, which hath been ever of old. O remember not the sins and offences of my youth, but according to thy mercy, think thou on me, O Lord, for thy goodness.
The Tewkesbury Abbey School sings it here.
Hide not thou thy face from us, O Lord, and cast not off thy servants in thy displeasure; for we confess our sins unto thee, and hide not our unrighteousness. For thy mercy's sake, deliver us from all our sins.
Westminster Abbey choir sings it during a service to commemorate the passing of the last British veterans of World War One.
Leave a Comment