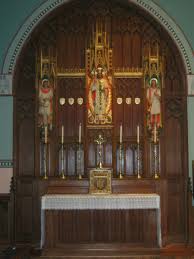 Mount Calvary Church
of the Roman Catholic Personal Ordinariate of the Chair of Saint Peter
Baltimore, Maryland
Pentecost III
June 25, 2017
Hymns
A mighty fortress is our God
At the name of Jesus
All creatures of our God and King
__________________________________ 
A might fortress is our God. Martin Luther in 1529 wrote this paraphrase of Psalm 46. Luther was intensely aware of spiritual warfare and this hymn emphasizes that out struggle is not against flesh and blood but against the principalities and powers of darkness, who cannot be conquered by human might, but only by the power of the incarnate Word of God. Our our translation was done in 1852 by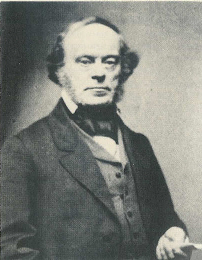 Frederick Henry Hedge (1805-1890)
Born in Cambridge, Massachusetts, Hedge was the son of Harvard University professor of logic and metaphysics Levi Hedge. At the age of 12, he traveled to Germany and studied music for five years under the care of George Bancroft. After graduating from Harvard in 1825 as valedictorian, he enrolled in Harvard Divinity School, where he met Ralph Waldo Emerson. After graduating from the Divinity School in 1828, Hedge was ordained as a Unitarian minister in 1829, and became minister at a Unitarian church in West Cambridge. In 1835 he took charge of a church in Bangor, Maine; in 1850, after spending a year in Europe, he became pastor of the Westminster Church in Providence, Rhode Island, and in 1856 of the church in Brookline, Massachusetts.
He was central to the development of Transcendentalism in the 1830s. On September 8, 1836, Hedge met with Ralph Waldo Emerson, George Putnam (1807-1878), and George Ripley in Cambridge to discuss the formation of a new club. Eleven days later, Ripley hosted their first official meeting at his house on September 18, 1836; the group would eventually be known as the Transcendental Club. Its first official meeting was attended by Bronson Alcott, Orestes Brownson, James Freeman Clarke, and Convers Francis as well as Hedge, Emerson, and Ripley. Future members would include Henry David Thoreau, William Henry Channing, Christopher Pearse Cranch, Sylvester Judd, and Jones Very. The group planned its meetings for times when Hedge was visiting from Bangor, Maine, leading to the early nickname "Hedge's Club". Hedge wrote: "There was no club in the strict sense… only occasional meetings of like-minded men and women", earning the nickname "the brotherhood of the 'Like-Minded'". He became alienated from the group's more extreme positions in the 1840s and did not publish in the Transcendental journal The Dial, despite his friendship with its editor Margaret Fuller, saying he did not want to be associated with the movement in print.
In 1858, Hedge returned to Harvard Divinity School as a professor of ecclesiastical history; that year, he also became editor of the Christian Examiner, a role he held for three years. The next year, Hedge began a four-year term as president of the American Unitarian Association.  In 1872, he resigned his pastorship in Brookline to become professor of German literature at Harvard. He retained this position until 1881. Deeply read in philosophy, ecclesiastical history, and German literature, he ranked as perhaps the foremost German literary scholar in the United States.
Although his theology was radically different from Luther's, he did nor recast Luther's hymn but was a faithful and excellent translator.
Here is a delicate rendition by the Capella Fidiciana of Leipzig,
____________________
At the name of Jesus. The name of a person is his reputation. In the Trinity, each person seeks to honor the other: the Father seeks to honor the Son by communicating to the Son the incommunicable Divine Name, Lord, Kyrios. We who are sinners name Him our Savior, because He has born our human nature beyond the highest heaven to the very throne of God.
The words are by Caroline Maria Noel (1817-1877). Miss Noel was the daughter of the Hon. Gerard T. Noel, and niece of the Hon. Baptist W. Noel. She was born in London, April 10th. 1817 and died at 39 Cumberland Place, Hyde Park, Dec. 7th. 1877. Her first hymn "Draw nigh unto my soul", (Indwelling) was written when she was 17. During the next three years she wrote about a dozen pieces. From 20 years of age to 40 she wrote nothing; and during the next 20 years the rest of her pieces were written. The first edition of her composition was published as "The Name of Jesus and other Verses for the Sick and Lonely" in 1861. This was enlarged from time to time and subsequently changed by the publishers to "The Name of Jesus and other Poems". The 1878 edition contains 78 pieces. Miss Noel, in common with Miss Charlotte Elliott, was a great sufferer, and many of these verses were the outcome of her days of pain. They are specially adapted "for the sick and lonely" and were written rather for private meditation than for public use, although several are suited for the latter purpose. Her best known hymn is the "Processional for Ascension Day, At the Name of Jesus". It is in the enlarged edition of "The Name of Jesus, etc. 1870" page 59 and is dated 1870 by the family. (Dr. Julian's Hymnography)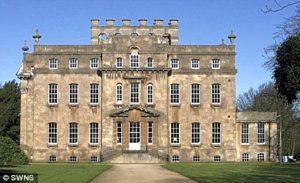 King's Weston
Ralph Vaughan Williams' melody, Kings's Weston, flows reverently in its somewhat somber manner. It has strong appeal, not least because it features a lovely, mournful folklike quality in the Dorian mode. Thus, while the music is perfectly fitting for a religious hymn, its dual expressive manner gives it an unusual dimension.
Here is the Cardiff Festival Choir.
______________________
All creatures of our God and King is based upon the Canticle of Brother Sun by St. Francis of Assisi (1182—1226). It was written in stages during the final year of his life, while he was nearly blind. Francis wrote: "For His praise, I wish to compose a new hymn about the Lord's creatures, of which we make daily use, without which we cannot live."  We and all creation exist to honor and praise God. We praise God even for bodily death, because it is through the gates of death that we return home to Him and enter the New Creation.
The text is a paraphrased translation by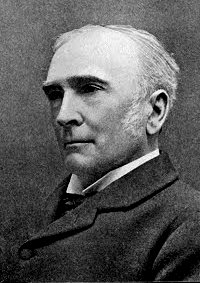 William Henry Draper (1855-1933),
Draper was born in Kenilworth, Warwickshire on 19 December 1855, the fifth son of Henry and Lucy Mary Draper. He attended Cheltenham College, and went up to Keble College, Oxford as an exhibitioner. He was ordained in 1880. He was then Curate of St Mary's, Shrewsbury, and became successively Vicar of Alfreton in 1883 and Vicar of the Abbey Church, Shrewsbury in 1889. In 1899, he became Rector of Adel Church, Leeds, a position he retained for twenty-one years. During the First World War, he also acted as deputy for the Professor of English Literature at the University of Leeds, who was absent on war service. In 1918, Draper was appointed as a member of the council for the revision of the Anglican communion service.
In 1919, he became Master of the Temple in London. In 1930, contending that he had spent too long in one place, he left the Temple to become Vicar of Weare, retiring in 1933 shortly before his death.
Throughout his career, he contributed hymns to periodicals such as The Guardian and the Church Monthly. He also wrote a book of Poems of the Love of England, a biography of Sir Nathan Bodington, a survey of the University extension movement in 1923, and A Picture of Religion in England in 1927. He also developed a scheme for the establishment of church lectures in the universities.
The tune is Lasst Uns Erfreuen (Vigiles et Sancti), from the Jesuit hymnal Auserlesene Katholische Geistliche Kirchengesänge, adapted by Peter von Brachel, Cologne, 1623. It borrows elements of the earlier tune Genevan 68 (1539) by Mattaus Greitter (c. 1494-1550).
Here is the Mormon Tabernacle Choir. Here is John Rutter's arrangement.
Leave a Comment