Frederick Newbold Lawrence (February 28 1834 – December 24, 1916) was my wife's  great great grandfather.
He was a Colonel in the Civil War and twice president of the New York Stock Exchange in 1882-1883.
In 1882 Frederick Newbold, as president of the Exchange, was called to testify about the expulsion of a broker accused of dishonest dealings. The judge was (who else?) Judge Lawrence – and yes, he was, like all the Lawrences in important positions New York, a relative.
In 1888 President Grover Cleveland visited New York; he was welcomed by Frederick Newbold who eulogized his administration.
A Fast Trotter (Dan Patch)
The sport that Frederick Newbold favored was fast trotting. In May 1900 Carlyle Carne, driven by Col. Fred Lawrence, "the veteran road rider," beat Cobwebs, driven by Nathan Strauss.
2,500 or 3,000 pedestrians were on hand, hopeful of witnessing a battle royal between the rival fliers.

Cobwebs wore a pair of knee boots, held in place by blue elastic bands passing over his shoulders, and Carlyle Carne was rigged with white felt ankle and tendon boots forward, with scalpers and shin boots behind.

The New "King of the Speedway" is a flea bitten grey gelding., upward of sixteen hands high. He was foaled in 1891 at Portland Ore. , and was bred by Van B. de Lashmutt. His sire was Hambetonian Mambrino, a son of Menlaus by Rysdyk's Hambletonian. Carne's dam was Lady Gray, by Confederate Chief, granddam by General Knox. The horse came out as a three-year old and has been campaigned every year since 1894. Colonel Lawrence bought him last fall for  $1,375 [about 40,000 in 2015 dollars].
( I detect in here a parody of the society page – who was wearing what, ancestors, money.)
In November 1900 Col. Fred, as he was known in sporting circles,  did not intend to drive for a while so he sold Carlyle Carne at auction. The buyer was Foxhall Keene, his son in law.Frederick Newbold had a town house at 18 West 53rd St NY and an apartment at the Croisic.
In March 1908 the New York Times reported  of Frederick Newbold:
He was ill when he went to the Croisac last Sunday afternoon, and a few minutes after he entered his apartments the elevator boy hear a fall. He investigated and found Mr. Lawrence senseless on the floor with a large cheval looking glass, which had been upset, on top of him. Pneumonia developed and the case was pronounced serious from the first.
He recovered, and his physician credited the recovery to Frederick Newbold's twenty-year course of vegetarianism.
Frederick Newbold married Elizabeth Boyce (1835-1894) on December 6, 1855 in South Carolina. They had three daughters, Mary, Virginia Lee, and Elizabeth, from whom my wife is descended.
His Houses
The Oaks, Queens 
Frederick Newbold constructed The Oaks mansion.
He sold it to restaurateur John Taylor in 1859 who transformed it into greenhouses specializing in roses and orchids. It became the Oakland Golf Club 1886.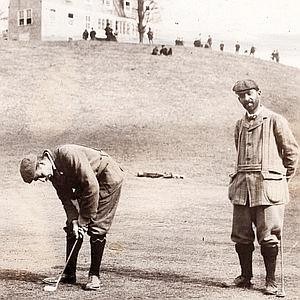 Oakland Golf Club
Oakland Lake is located in a ravine in Bayside. It was also once called Douglas Pond after a local landowning family. They also developed nearby Douglaston. Oakland took its name from "The Oaks," estate of Frederick Newbold Lawrence, who also descended from a local colonial settler family.

In 1896, his estate became a golf course, and in turn, it became CUNY's Queensborough Community College in the 1960s.The lake was is subject to algae and silting and still requires plenty of care to ensure its preservation.

Oakland Lake

This pond can be found at Cloverdale Boulevard and 46th Avenue, one block south of Northern Boulevard.

The neighborhood of Oakland Gardens is named for a private estate called "The Oaks" that once occupied much of the area. John Hicks, one of Flushing's original patentees, settled the area in 1645 and named his estate after the trees in the region. The estate, which spread from present-day 46th Avenue to the Long Island Expressway, passed through several owners, and in 1859 was bought by John Taylor, a successful restaurateur from Manhattan. Taylor and his partner, John Henderson, transformed The Oaks into a horticultural paradise with more than 30 greenhouses, specializing in roses and orchids. In 1896, John H. Taylor, son of the restaurateur, organized the Oakland Golf Course on 110 acres in the area. Most of the single-family houses and apartment complexes in Oakland Gardens today were constructed during a post-World War II building boom, when the area turned into a thriving suburban neighborhood.

 Stone House, Queens
Stone House in Winter
 Stone House was built in 1822 by Judge Effingham Lawrence. He left it to his daughter Lydia; when she died in 1879, she left it to her son Frederick Newbold, who expanded it with a dining room to seat 80. It was demolished by developers in 1956.
Leave a Comment