Mary Laurence (1860-1942) was the daughter of Frederick Newbold Lawrence and Elizabeth Boyce.  She was my wife's great grand aunt.
Her life as Mrs. Frank Worth White 
Frank, the only son of his parents, graduated from Trinity College, was admitted to the Stock Exchange in April 1881 and went to work for his father at Loomis, White and Co., 40 Wall St.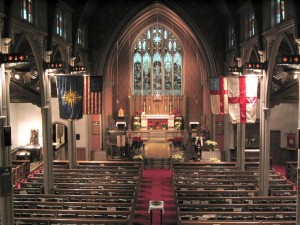 St. George's Church, Flushing
On October 3 1878 he married Mary Lawrence in St. George's Church, Flushing.  Their first and only child, Loomis Lawrence White, was born on November 2, 1879.
Tucker Cottage
In 1883 they took Tucker Cottage in Lenox.
In February 1884 Mary was elected to play in the tableau of Helen of Troy at a charity event in Madison Square garden attended by 3000. Selected Beauties from Society played famous roles.
One critic gushed
"She was in every way worthy to represent the lovely Helen."
Another critic, sharpening her claws, was not entirely sure:
Mrs. Frank Worth comes to nigh as being a professional beauty as anything we have in metropolitan society. She is thin, hollow-chested and bow backed; so that, as Helen or Troy,  she presented no heroism of figure: but her face was delicately fine, her eyes wee glorious, and her transparently clear connection was not much obscured by paint.
In March 1886 "mild Lenten forms of dissipation" characterized New York Society.  Mrs. John Sherwood held gatherings at her house,  where she held forth on "The Vatican and Its Treasures." Afterwards Society was treated to recitations and songs:
Mrs. Frank Worth White, one of our young married belles, sang "My Marguerite" effectively. Mrs. White wore the first spring suit I have seen this season, which consisted of a gray silk ground,  on which were  tiny black and white embroidered flowers,  The whole effect was of rich grey,.  She also wore a tiny bonnet to match, with trimmings of grey velvet. The little strings and bows under the chin are becoming smaller, and are now just a strap.
Such was hot news in the Fort Worth Texas Gazette. I am surprised how papers all over America paid such close attention to the minutiae of the doings of fashionable New York society.
In 1886 Mary was in more tableaux vivants at the ball room of the Metropolitan Opera house to benefit St George's Seaside House. She appeared in The Sibyl by F. S. Church. I have not been able to find that painting, but these are other paintings by Frederick Stuart Church: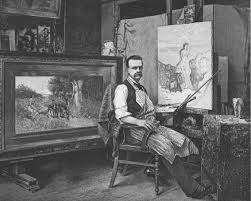 F. S. Church at work
One critic semi-gushed about Mary:
Mrs. Frank Worth is a beauty of the Second Empire. She has been the great rival of Mrs. James Brown Potter, who is one of the handsomest women in the world, but yet she is a red and white "peach-blow" beauty dressed in pale green Nile crepe. She leaned forward, consulting a figure of a sphinx, behind whom burned incense (why?). With her hair half falling from a knot, a wreath of oak leaves and arms bare, she made a beautiful picture of a pretty woman, but it might have been Flora or Euphrosyne, or anybody but a sibyl. She was not a figure to prophesy, but to inspire valentines.
Frank died, at the age of thirty, on January 18, 1887 of pneumonia. He was buried from St. George's Church where he had been married nine years previously.  Mary, at twenty-seven, was a widow with an eight-year old son.
In May 1890 Mary participated in an entertainment at St. Ignatius Club in aid of St. Luke's hospital
Her life as Mrs. Foxhall Parker Keene
Mary and Foxhall Parker Keene announced their engagement August 1891, when she was thirty-one. Foxie, as he was known, was a dashing sportsman, but apparently an unsatisfactory husband, and his life will be discussed in detail.
They married December 10, 1892 at her house at 19 East 22nd St.
She accompanied him to sporting events, but they also attended the opera. Her clothing continued to attract attention. At opening night ate Met
She wore a gown of pale-blue velvet, which had a shimmer of silver and was trimmed with silver embroidery on the skirt. The bodice was of rose-colored velvet, and was studded with handsome jewels. Mrs. Keene also wore a tiara of diamonds.
September 1899 found Mary at Newport. There she participated in a charity theatrical put on by the Earl of Yarmouth.  It included an operetta, "Creatures of Impulse'."
During the performance specialties were introduced and among them the Earl gave a whistling solo,  danced with Miss Ethel Sigsbee a character dance called "The Moth and the Butterfly,"  sand a duet with Miss Hunter, "Doodle Doodle" and again in "No One in the World." Mrs. Foxhall Keene captivated the audience with a French ballad.
(Creatures of Impulse is a stage play by English dramatist W. S. Gilbert, with music by composer-conductor Alberto Randegger, which Gilbert adapted from his own short story. Both the play and the short story concern an unwanted and ill-tempered old fairy who enchants people to behave in a manner opposite to their natures, with farcical results.)
I would have paid good money to hear an earl doing a whistling solo.
Mary also part pated in a 1904 charity event at Mrs. Clare Mackay's house, Harbor Hill, in Mineola.
Harbor Hill
 Dressed in the costumes of demure Puritan maids, witching French and Alsatian peasant girls, and charming little geishas from Japan, women whose names are household words stood behind counters and offered their wares. Some sold candles, others automobiles; some fancywork, others toys. Still others roamed at large and beguiled delighted victims into taking chances in raffles for objects as diversified as signed photographs of the next President of the United States, or a donkey cart with a beribboned "moke" attached.
Mrs. Mackay was dressed in a nurse's costume that would have surpassed the happiest dreams of the most exacting patient, Mrs. O. H. P. Belmont, in the demure grey of a Puritan girl, with a stiffly starched white cap on her head and a white apron with bog baby bows, could hardly take the money fats enough for eth tickets she was selling for a doll's house. Mts. Willie K Vanderbilt, Jr., sold frills and laces and tucks  with all the gentle persuasiveness sof an accomplished "saleslady" in a big department store, and her mild solicitude when purchasers nearly fainted at the prices was something to study. Mrs. Foxhall Keene, in the costume of the court of Louis XVI., asked and got 50 cents for a cup of tea with such a confidential air that the purchasers  felt they had made a lifelong friend and forgot to drink it.
Readers in Lincoln, Nebraska learned
Cloth gowns in color are much worn. Mrs. Foxhall Keene is wearing a brightest red cloth with  the bolero embroidered all over in lighter red. A narrow band of the embroidery runs all around the bottom of the skirt, which is laid in flat stitched folds to the knee, where the fullness is allowed freedom and the skirt falls gracefully about the feet.
The women of St. Louis were enlightened to learn that
Mrs. Foxhall Keene is radiant in a street suit of aluminum grey trimmed with oyster-grey bands. With is she wears a chinchilla set, consisting of muff, collar and cuffs. Her hat is trimmed with chinchilla.
There are many stories about the origin of Chicken à la King, and many of them sound plausible. It is a dish of diced chicken, mushrooms, green peppers, and pimientos in a cream sherry sauce served on toast. Here are some of the stories. Dates range from 1881 to the 1920s.

Either a Mr. or Mrs. Foxhall Keene suggested it to the chef at Delmonico's Restaurant in New York City, and originally served as Chicken à la Keene. This was in the late 1890s.
But alas, all was not chicken a la king and chinchillas. For reasons that were never disclosed, Mary left Foxhall and in 1904 returned to her father. In 1909 she was finally divorced from him on grounds of abandonment. There were hints of financial conflicts (although both were very wealthy) and Mary, like her father, was a vegetarian, but the real reasons for the "incompatibility" were never revealed.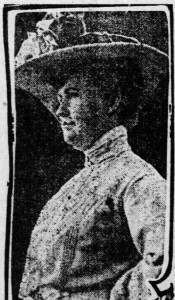 In June 1911 Mary reviewed the working horse parade and there was still some interest in her dress.  She
wore a black hat of middle size, but quite high, with loops of black ribbon.  Her gown was soft, black satiny stuff, with the upper part of the bodice and the sleeves, in one, of black chiffon cloth, over white, and the sleeves were edged with plain hems of stain, and across the front of the corsage was a plastron of black jet embroidery edged with gold. There was a bit of white around the neck. The skirt, at a fleeting glance, seemed to be quiet simple, and she carried a black wrap, which she donned before leaving the stand.
She faded from the social scene and died in New York in 1942 at the age of eighty two.
Leave a Comment