Katherine Boyce Tupper (1882-1978), the daughter of Henry Allen Tupper, Jr., and Marie Louise Pender, was the second cousin, twice removed, of my wife. Katherine graduated from Hollins College in 1902 and then went to study drama at the American Academy of Dramatic Arts in New York. She then went to London with her sister Allene. But Katherine's American accent was a major obstacle, and her father cut off her allowance as soon as she joined a cast. Allene, however, continued getting her allowance and supported both of them while Katherine tried to get rid of her accent. Katherine played various parts, but became ill. In Baltimore she was diagnosed with exhaustion, and sent to the Adirondacks to recuperate. There she again met a childhood friend, Clifton Brown; he fell in love and proposed. She turned him down because she wanted to be an actress. But her pain and paralysis returned, and she decided to give up the stage.
Mrs. Clifton S. Brown
 Katherine as a young bride 
She married the Baltimore attorney, champion tennis player, and president of the Whist Club Clifton Stevenson Brown at her parents' house, 34 Gramercy Park, in New York, on September 30, 1911. They returned to Baltimore, and lived at 1015 N. Calvert St.
1015 North Calvert St.
They had three children, Molly Pender (1912-1997), Clifton Stevenson, Jr. (1914-1952), and Allen Tupper (1916-1944). Katheryn had some money, and decided to buy a summer cottage on Fire Island. On June 4, 1928 she called her husband's office to inform him the final papers for the purchase had arrived, but there was no answer.
Clifton Brown represented Louis Berman in the matter of settling the $300,000 estate of Philip Berman, Louis's father, from which Louis received $36,000. Brown charged Berman a fee of $2,500 for this work. When Berman refused to pay, Brown sued him.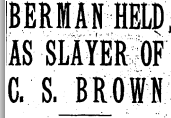 On June 4, 1928 Berman lay in wait for Brown at Brown's office on the seventh floor of the Calvert Building. Berman shot Brown twice; Brown tried to flee down a corridor, but Berman pursued him and shot him three more times. Brown was taken to Mercy Hospital, where he died minutes later. Katherine was left a widow with three children: thirteen, eleven, and nine.
Berman was indicted and tried in September 1928. Berman's attorney had "alienists" examine Berman for an insanity defense, but the defense's own witnesses said Berman was sane and knew right from wrong. The defense attorney then tried to discredit his own witnesses. Berman was convicted of first degree murder and sentenced to life in prison, There he filed a habeas corpus appeal every time  a new judge was installed in Maryland on the grounds that his hour and a half psychiatric examination had not been adequate. He did this over a hundred times and taught other inmates how to do it. Berman had to be transported to courts all over the state for his hearings. Finally Maryland passed a law that once a judge had finally ruled on a point it could not be raised again.
The two Mrs. George Catlett Marshalls
The infant George
 George as VMI cadet
  The First Mrs. Marshall
Elizabeth  "Lily" Coles
Mrs. Coles was concerned. Her daughter Lily was a VMI widow. That is, she had dated many cadets, but nothing had come of it. But then…
While a cadet at VMI, George Marshall met his future wife, Elizabeth ("Lily") Carter Coles. "She was a very lovely looking woman," said Marshall. "I guess you might call her a beauty." Lily lived with her mother in a house just off of the campus. She was "the finest amateur pianist" Marshall had ever heard, and her music and charm so captivated him that he routinely "ran the block" to see her. These visits were against school regulations and would be dismissal offenses if discovered. Because Marshall was the senior military officer of his class, he gambled that he was above suspicion. Moreover, he was in love. The young couple were married on February 11, 1902, in a simple Episcopal ceremony inside the bride's home. The somber-looking wedding party pictured here on the Coles's front porch was not entirely a harbinger of things to come. The marriage was an extraordinarily happy one for twenty-five years.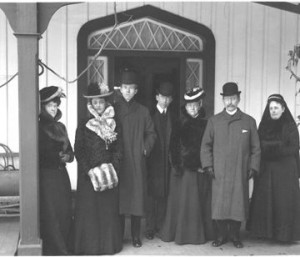 Coles-Marshall Wedding
Left to right:
Marie (Marshall's sister), Lily, George,
Stuart, Mr. and Mrs. George C. Marshall Sr.,
and Mrs. Walter Coles
Lily in China
Lily died in 1927 of a heart condition that had prevented her having children.
The second Mrs. Marshall
 Katherine as widow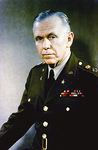 George as Widower
After her husband's murder Katherine stayed with her sister in Connecticut for eight months; she  and Molly then went to Hawaii and stayed in a cottage in Waikiki for several months. On the way back to Baltimore she stopped off in Columbus to see Molly's godmother Mrs. William Blanchard when they was invited to a small dinner at Tom Hudson's house. Mrs. Hudson was a freind of Katherine's from Hollins College. Lt. Col. George Marshall was there. Katherine recounts:
When he first arrived the Colonel was standing by the fireplace. My first impression was of a tall, slender man with sandy hair and deep-set eyes. He refused the cocktails when they were served and this attracted my interest, for it was in prohibition times when the main topic of conversation was, "How do you make your gin?"

I said, "You are a rather unusual Army officer, aren't you. I have never known one to refuse a cocktail before."

He asked agreeably how many I knew.

"Not many," I confessed.

"This certainly was someone different. At dinner he told amusing stories….

When Molly started to leave with a young escort, Colonel Marshall asked to take me home. Now Columbus is a rather small place and after driving around for an hour I asked, "How long have you been at Fort Benning?"

"Two years."

"Well,' I said, after two years haven't you learned your way around Columbus?"

"Extremely well," he answered, "or I could not have stayed off the block where Mrs. Blanchard lives!"

The next summer  I told my sons that I had asked Colonel Marshall to visit us at Fire Island as I wanted him to know them. Clifton suspected something at once and said, "If it makes you happier, Mother, it is all right with me." But Allen, then twelve, sad, "I don't know about that, we are happy enough as we are." Early the next morning he came to my room. "It is all right, Mother, about your asking Colonel Marshall." That summer George told me that Allen had written him a most amusing letter in which he said, "I hope you will come to  Fire Island. Don't be nervous, it is OK with me. (Signed) A friend in need is a friend indeed. Allen Brown." And they were friends until the end."
 Emmanuel Episcopal Church, Baltimore
They were married in the chapel of Emmanuel Episcopal Church in Baltimore on October 2, 1930.    Marshall's best man was General Pershing, whose aide-de-camp he had been. Pershing had known tragedy also; his wife and three of his daughters had died in a fire at the Presidio in 1915.
 Pershing and Marshall
 In 1938 Katherine and Molly were at the cottage on Fire Island when the great New England hurricane hit. Their house survived, but they had to flee through waist-deep water.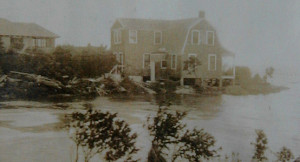 Fire Island, 1938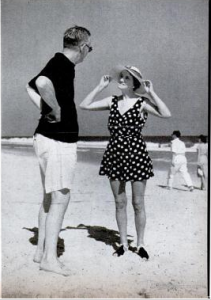 George and Katherine on Fire Island
Katherine had to deal with the problems of life in an underfunded peacetime army, and then the problems of a nation that saw a looming war. After Pearl Harbor she knew that the United States was losing the war and all that the loss would mean for her nation and her family. Later when the tide turned her own children were in peril on the battlefields. Amidst all this were the practical problems of being wife of the Chief of Staff. Even she couldn't get all the food she needed, and tried to raise chickens at their place in Leesburg. After a traumatic experience with  the chickens, she resolved never again to complain how much they cost at the butcher's.
The Marshalls in spring 1941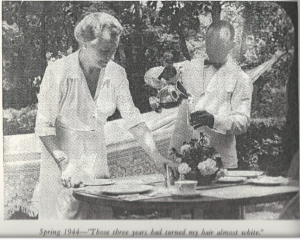 Katherine in spring 1944; she said the war had turned her hair white
Katherine in Life magazine, 1944
 The Marshalls in April 1945
 The Marshalls in 1949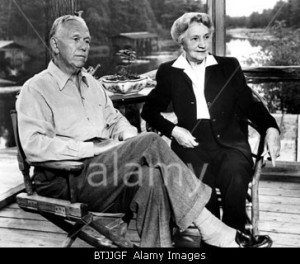 The Marshalls in retirement,1950
Dodona, the Marshalls' house in Leesburg, Virginia
George's funeral,1959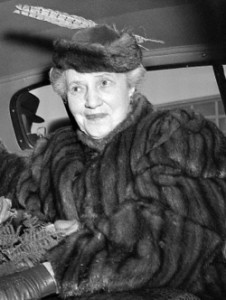 Katherine lived to be 96
 Together: Annals of an Army Wife
by Katherine Tupper Marshall (New York, Tupper and Love, 1946)