Molly Brown
The first child born of the marriage of Clifton Stevenson Brown and Katherine Boyce Tupper was Molly Pender Brown (1912-1997). She was my wife's third cousin, one removed. She was sixteen was her father was murdered, and eighteen when her mother married George Marshall. Molly married James Julius Winn (1907-199) and had three children, James Julius (1942), Katherine (1944), and Ellene (1949).
Molly's godmother was Mrs. William Randolph Blanchard. It was she whose home they visiting when Katherine was invited to the dinner where she met George Marshall. Molly was at school in Florence in 1930 when her mother was married to Lt. Col. Marshall.
A 1925 graduate of Marion Military Institute at Marion, Alabama and a 1929 graduate of the United States Military Academy at West Point, New York, James Julius Winn was a career Army officer with over 30 years of active duty. Shortly after his commissioning, he was assigned as a military aide to President Franklin D. Roosevelt in the White House Winn states that he was a student at Ft. Benning in 1929. He recalls the party Mrs. Marshall gave at Ft. Benning for her daughter Molly in 1930 or 1931. He was assigned to Ft. Myers in 1937 and was there when the Marshalls came in 1939.
Quarters Number One, Fort Myers
Residence of the Joint Chief of Staff
Oval Dining Room
Site of Brown-Winn wedding
In 1940 Molly married Captain James Julius Winn.  Katherine recounts
Molly's wedding on Christmas Day in Quarters Number One at Fort Myer was the first wedding, I believe, ever to take place in that house. She came down the stairway on George's arm, followed by her maid of honor, Mary Winn. They passed through the drawing-room and were met by Captain Winn and his groomsmen at the altar which had been constructed at the far end of the oval dining room. The bride's path was flanked on each side by white chrysanthemums and tall standards holding white candles. Her gown was of cream satin with an extremely long train, and her cap and veil were of Rosepoint lace. She kept her eyes steadily on Captain Winn and his were on her. She said afterwards that this was pre-arranged to keep her from trembling. After the ceremony they walked out beneath the crossed swords of the groomsmen, while the orchestra played Lohengrin's Wedding March. As soon as the reception was over, they left for Panama and I did not see Molly again until she came home a year and a half later with her baby son.
He and Molly were at Ft. Rucker, Alabama in May 1944 when they got word that Molly's brother Allen Brown had been killed. Assigned to 1st Army Artillery, Winn was ordered to the European Theater after the Normandy invasion. On June 30, he arrived in Normandy and was at Le Bourget at the time of the liberation of Paris.

James Julius Winn
In 1946-47 Winn served as American liaison officer to the British Army in India. He saw combat during the Korean Conflict, when he served as an artillery adviser to the Republic of Korea's First Field Army. In 1954-55 Colonel Winn served in Japan as deputy operations officer, US Army Forces Far East. His last active duty assignment was as commanding officer of Fort Ritchie, Maryland. He died on Sunday, December  30,  1990, at the age of 83.
The children of Molly Pender Brown and James Julius Winn are my wife's fourth cousins.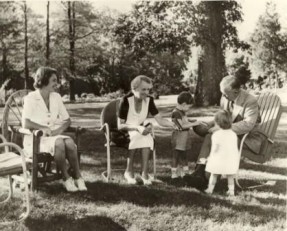 Molly Winn with her children and the Marshalls at Dodona
________________
____________________________________________
___________________________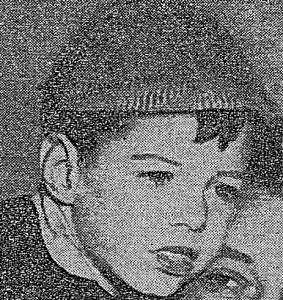 James Winn, Jr.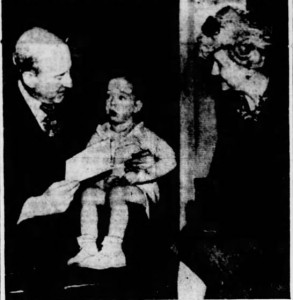 Jimmy regards Secretary of the Treasury Morgenthau dubiously
James Julius Winn, Jr., (1942- ) married Elizabeth Kokernot Lacy (1946-) of Texas. He worked as an attorney in Baltimore, starting in the firm of Piper and Marbury.
Elizabeth Kokernot Lacy
The Kokernot family owns the Kokernot O6 Ranch in Texas.
KOKERNOT RANCH. The Kokernot Ranch, branding O6, covers some 500,000 acres in Jeff Davis, Pecos, and Brewster counties. The O6 brand was registered in Calhoun County as early as 1837 and was purchased by John W. Kokernot in 1872. In 1883 Kokernot and his brother, Lee M. Kokernot, leased grazing land from the state and began running cattle on the open range in the Trans-Pecos area. The brand was registered in Jeff Davis County in 1889 and transferred to L. M. Kokernot in 1896. Settlers began to move into the area; so in 1912 Herbert Lee Kokernot, son of L. M. Kokernot, began purchasing the land and continued to add to his holdings up to 1938. H. L. Kokernot, Jr., took over the ranch management in 1920. In 1939 ranch holdings stood at 300,000 acres. The rough terrain of the ranch necessitated use of the old-time mule-drawn chuck wagon, so that the O6 retained much of the traditional ranch atmosphere.
__________________________________________
_________________
Kitty Winn
Katherine (Kitty) Winn (1944-  ) had an extensive career as an actress before she married Morton Winston in 1978.
She studied acting at Centenary Junior College and Boston University, graduating from the latter in 1966. During her college years Winn acted in student productions at Centenary Junior College, Boston University, and Harvard College and summer stock for two summers at The Priscilla Beach Theatre south of Boston. Shortly after college she joined the company at American Conservatory Theater in San Francisco where she remained for four years under the artistic direction of William Ball.
She has (secumdum Wiki) appeared in
Motion Pictures
The Exorcist
Movies for Television
| | | | |
| --- | --- | --- | --- |
| Year | Name of Film | Role | Other Actors |
| 1970 | The House that Wouldn't Die for ABC | | Barbara Stanwyck |
| 1972 | The Life of Harriet Beecher Stowe for NET | Harriet | |
| 1974 | The Carpenters for KCET | Sissy | Vincent Gardenia |
| 1975 | Miles to Go Before I Sleep | | |
| 1977 | The Last Hrrah for Hallmark Hall of Fame | Maeve Skeffington | Carroll O'Connor |
| 1983 | The Tragedy of King Lear for KCET | Cordelia | |
Series for Television
Awards
Cannes Film Festival
| | | |
| --- | --- | --- |
| Year | Performance | Award |
| 1971 | Helen in The Panic in Needle Park | Best Actress Award |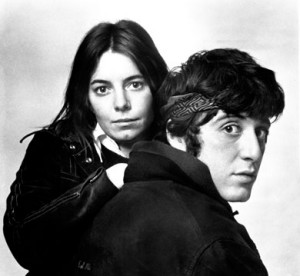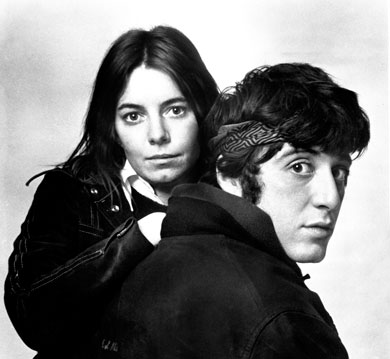 Kitty as Helen in Needle Park
Rob Boylan writes of her acting in that film:
Kitty Winn won Best Actress at Cannes in 1971 for playing Helen, an innocent girl from the Midwest who comes to New York and ends up a junkie, in The Panic in Needle Park (streaming on Netflix). Co-written by husband-and-wife duo Joan Didion and John Gregory Dunne, and starring the then little-known Al Pacino as the charismatic hustler Bobby, Panic is a stark, withering account of drug use that remains just as relevant 40 years later. Though she starts out straight, curiosity finally gets the best of Helen and she sneaks a hit while Bobby is out cold. There is a devastating moment later in the movie as they walk the streets together. He cradles her face and sees the drugs in her eyes. "When did that happen?" he asks sadly, but she can't answer. The line may be Pacino's but the scene's disquieting heartbreak is all Winn's.
She has recently returned to the stage as Carol in The Last Romance for the San Jose Repertory Theater (2011).
Charlie McCollum writes of that play
The early moments of "The Last Romance" echo the sentiments of "September Song," that pop standard from the late 1930s by Kurt Weill and Maxwell Anderson.

An older man sits alone on a bench in a park ablaze with the colors of fall. He is clearly waiting for someone — perhaps anyone — to enter his life. You can almost hear the song's lyrics in the background: "When the autumn weather turns the leaves to flame, one hasn't got time for the waiting game."

"Last Romance," which opened Wednesday at San Jose Repertory Theatre in a regional premiere, is all about romance and whether you can find it again in your golden years after losing the one you love. It is also a work you end up liking more than loving.

Ralph Bellini (Will Marchetti) is a blue-collar kind of guy, who has worked all his life for the railroad, though he was once a talented opera singer. After the death of his wife, he lives with his younger sister, Rose (Sharon Lockwood), who becomes almost a surrogate mother to him.

Then one day, he sees Carol Reynolds (Kitty Winn), an elegant and reserved woman who lives in an upscale apartment building nearby and walks her dog in the park. There's a spark in Ralph's heart, something he hasn't felt in a while.

It turns out that Carol may be lonelier than Ralph. She has just gotten her dog because she is afraid of growing old completely alone.

This odd couple gets off to a stumbling start since neither has done this dance in some time. He makes inappropriate jokes and lies about things. She is reserved and, it turns out, also lying about things.

But somehow, it all starts to come together, and Carol and Ralph find themselves falling into a romance, if not precisely love. Then things get complicated, and it is, as Ralph suggests early on, like opera.

"The thing about opera, see, is all the lovers want to do is be in love," he says. "But it ain't ever that simple. Something always gets in the way."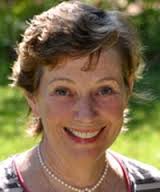 Kitty
_________________________________________________________

________________________
Ellene at VMI in 1979, unveiling the statue of her step-grandfather, Gen. Marshall
Ellene Winn (1949 – ) married Michael Hall Mobbs.  He represented the Secretary of Defense at the Strategic Arms Reduction Talks in the 1980's. It appears they are divorced and he has married a Russian attorney.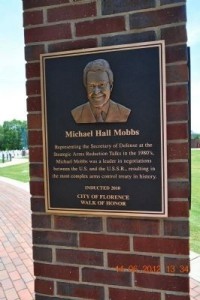 Their children are Michael Hill Mobbs, Jr.  and Ellene Glenn Mobbs (my wife's fourth cousins, once removed).
——————————————————————–
Michael Hall Mobbs Jr.
Michael was a neighbor of ours in North Baltimore and has followed the family military tradition. The community paper in 2006 reported
Cadet Michael Hall Mobbs Jr., son of Ellene Winn of Roland Park and Michael Mobbs of Washington, D.C., has been named to the Cadet chain of command at the U.S. Military Academy. Mobbs was chosen as the brigade command sergeant major, the third highest rank in the Corps of Cadets.
When he was at in Fort Bragg, North Carolina, in 2013 he and Scooter engaged in the Spur Ride: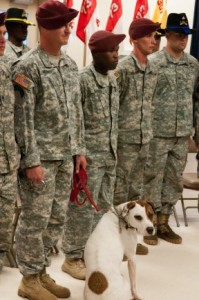 Captain Mobbs and Scooter
— The annual spur ride is a tradition which tests the best of the best within the U.S. Army's cavalry career field. Capt. Michael Mobbs and his dog, Scooter, recently proved just how far they would go to earn the honor of becoming spur holders–an honor bestowed upon those troopers who complete a spur ride.

Mobbs, an infantry officer and company commander of Charlie Troop, 3rd Squadron, 73rd Cavalry Regiment, in the 82nd Airborne Division's 1st Brigade Combat Team, strived to set the example for his paratroopers by participating in his squadron's spur ride, Oct. 6. In a move rarely undertaken, Mobbs invited Scooter to participate by his side in the grueling, team-building event here.

About three years ago Mobbs took in Scooter, a puppy who escaped from a dog fighting circuit, and welcomed him in as part of his family.

"I've always had a lot of respect for Scooter," said Mobbs. "He's been a great family dog [and has been] protective of my girls and our home."

Mobbs said inviting Scooter to participate in the event was a practical matter. The commander said he takes care of Scooter while his wife takes care of their two daughters and second dog in Washington, D.C.

This year's spur ride was particularly intense because all the events, which included tasks ranging from ruck marches to paddling boats, were packed into a 24-hour time span. There was no opportunity for rest, and the candidates were pushed to their limits to earn their spurs.

Mobbs said he was very impressed with Scooter's performance during the spur ride, and he believes that Scooter probably motivated several candidates who saw him driving on when things got particularly tough. He said that Scooter's reward for participating was the honor of becoming an honorary spur holder, a steak at the end of the spur ride, and the 48-hour nap he took after it was all done.

"I think in another life he would have made an outstanding service dog," said Mobbs. "He's clearly demonstrated that he has the mental and physical stamina required."

Mobbs set out to inspire his troops and take part in a tradition that spans back to the early 1700s. He did just that by earning his spurs, and along the way he introduced the cavalry to Scooter, its newest honorary spur holder.
Michael is married and has two children.
_______________________________________________________
_____________________________
Andrew and Leenie
Ellene (Leenie) Glenn Mobbs married Andrew Moore in Pittsburgh on June 7, 2014. Ellene attended Carnegie Mellon (like her cousin my son Thomas Podles, who was there at the same time) and graduated with a degree in creative writing. She has published several poems:
"Before the House Wakes" appeared in the Blast Furnace Press 1.2 (2011).
Before the House Wakes

Bayberry leaf air, the porch.
I lie, while quiet the wooden chairs and benches, tearing warm
Portuguese bread, soft under my fingers. Not far
from ocean pines that grow from salt water sand,
I think of midnight
and spread the pear jam,
eyes bruised and losing sleep.

The mist will seize before the oven sun, pots and cups,
swollen pines take the air and I will track
its dampness onto linoleum and buckled
sheets. But now, bluebirds
through brush and scented water, hushed, stir
the leaves, the bayberry, the pine.