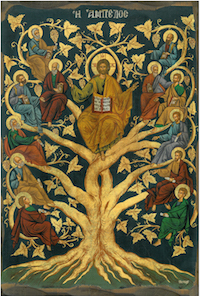 Christ the True Vine
Mount Calvary Church
Eutaw Street and Madison Acenue
Baltimore, Maryland
A Roman Catholic Parish of
The Personal Ordinariate of the Chair of St. Peter
Anglican Use
Rev. Albert Scharbach, Pastor
Easter V
April 29, 2018
8:00 AM Said Mass
10:00 AM Sung Mass
________________________
Prelude
Variations from Organ Concerto op. 4 no. 1, G.F. Handel
Hymns
Hail, Thou once despised Jesus (IN BABILONE)
Be joyful, Mary, heavenly Queen (REGINA COELI)
Love's redeeming work is done (SAVANNAH)
Anthems
Jubilate Deo, Orlando di Lasso
I am the true vine, Arvo Pärt
Common
Missa S. Maria Magdelena, Healey Willan
Postlude
Il Alleluia per Resurrectione, Gottlieb Muffat
______________________________
Prelude
Variations from Organ Concerto op. 4 no. 1, G.F. Handel
Here is a 2010 performance.
__________________________
Hymns
Hail, Thou once despised Jesus (IN BABILONE)
Hail, Thou once despised Jesus. This much-altered hymn bears strong Wesleyan traits. The first stanza praises the One who suffered for us and "didst free salvation bring." This One was a "universal Savior" through whom "we find favor" and "life." Charles Wesley made liberal use of the words "free" and "universal." In stanza two this theme continues. Using the early Christian term, "Paschal Lamb," we find that "full atonement [has been] made." The "gate of heaven" is opened to all and there does not appear to be any restriction on who may enter as "reconciled are we with God" is an open-ended claim. Stanza three places Jesus on the "throne . . . in glory" where he is adored by "all the heavenly hosts . . . at thy Father's side." He is there as our intercessor and is preparing a place for us. The final, triumphal stanza begins with "Worship, honor, power, and blessing," echoing Revelation 4:11 and 5:12-13. The themes of salvation and atonement found throughout this hymn are derived from Romans 5:8-12 and Hebrews 8:1, 7:25.
1 Hail, thou once despisèd Jesus!
Hail, Thou Galilean king!
Thou didst suffer to release us;
Thou didst free salvation bring.
Hail, Thou universal Savior,
bearer of our sin and shame!
By Thy merit we find favor;
life is given through Thy name.
2 Paschal Lamb, by God appointed,
all our sins on Thee were laid;
by almighty Love anointed,
Thou hast full atonement made:
all Thy people are forgiven
through the virtue of Thy blood;
opened is the gate of heaven;
peace is made 'twit man and God.
3 Jesus, hail, enthroned in glory,
there forever to abide!
All the heav'nly host adore Thee,
seated at Thy Father's side.
There for sinners Thou art pleading;
there Thou dost our place prepare;
ever for us interceding,
till in glory we appear.
4 Worship, honor, pow'r, and blessing
Thou art worthy to receive;
highest praises, without ceasing,
meet it is for us to give.
Help, ye bright angelic spirits,
bring your sweetest, noblest lays;
help to sing our Savior's merits;
help to chant Immanuel's praise!
Here is the The Festival Choir and Hosanna Chorus
John Bakewell (1721-1819) may be the author. This hymn appeared without an author's name in A Collection of Hymns addressed to the Holy, Holy, Holy, triune God, in the Person of Christ Jesus, our Mediator and Advocate (1757). It had two 8-line verses. In 1760 it was enlarged to twice the original length, with the addition of an 8-line verse beginning 'Paschal Lamb by God appointed' and two further quatrains, one beginning
There for Sinners thou art pleading
'Spare them yet another Year'
the other reading:
Help, ye bright angelic Spirits,
Bring your sweetest, noblest Lays,
Help to sing our Jesu's Merits,
Help to chaunt Immanuel's Praise!
It appeared in this form in Martin Madan's A Collection of Psalms and Hymns (1760), a selection for the Lock Hospital  of which Madan was chaplain, and (with slight alterations) in Richard Conyers's A Collection of Psalms and Hymns (Third Edition, 1774). It was substantially altered by Augustus Montague Toplady in Toplady's Psalms and Hymns (1776), to make it 'subservient to his stern Calvinistic views'.
The hymn, which is usually used at Ascensiontide, has all the marks of the evangelical fervour that swept parts of the Church of England in the middle of the 18th century. There have been many alterations to the text, but the commonest order is three or four 8-line verses:
Hail, thou once despised Jesus…
Paschal Lamb, by God appointed,…
Jesus, hail! Enthroned in glory…
Worship, honour, power and blessing…
The authorship of this hymn is difficult to determine. Bakewell may have written the two earliest verses (though this is not certain), and the others may have been by him or by Madan, altered by Toplady. A fifth verse, no longer used, was printed in A Collection of Hymns for the Use of those that Seek and those that Have Redemption in the Blood of Christ (1757) edited by James Allen.
IN BABILONE is a traditional Dutch melody that appeared in Oude en Nieuwe Hollantse Boerenlities en Contradansen (Old and New Dutch Peasant Songs and Country Dances), c. 1710. Ralph Vaughan Williams discovered this tune as arranged by Julius Rontgen (b. Leipzig, Germany, 1855; d. Utrecht, the Netherlands, 1932) and included it in The English Hymnal (1906).
__________________________
Be joyful, Mary, heavenly Queen (REGINA COELI)
Be joyful Mary, heavenly Queen is a translation of Regina coeli, iubila, an anonymous 17th century hymn. The tune was written by Johann Leisentritt (1527-1586), and published in his Catholicum Hymnologium Germanicum in 1584. Here is Notre Dame.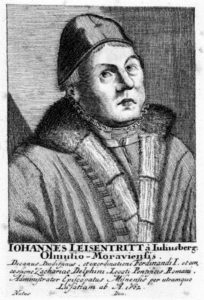 The words in the 1901 translation (Psallite: English Catholic Hymns) closely follow the Regina coeli. The words have been modernized in out version. I am searching for the original translation.
1 Be joyful, Mary, heav'nly Queen,
Gaude, Maria!
Your grief is changed to joy serene,
Alleluia! Laetare, O Maria!

2 The Son you bore by heaven's grace,
Gaude, Maria!
Did by his death our guilt erase,
Alleluia! Laetare, O Maria!
3 The Lord has risen from the dead,
be joyful, Mary!Gaude, Maria!
He rose in glory as he said,
Alleluia! Laetare, O Maria!

4 Then pray to God, O Virgin fair,
be joyful, Mary!Gaude, Maria!
That he our souls to heaven bear,
Alleluia! Laetare, O Maria!
Here is the Notre Dame choir singing it as a recessional.
The Latin original is somewhat different:
Regina coeli jubila, Gaude Maria.
Jam pulsa cedunt nubila.
Alleluia. Laetare o Maria.

2. Quem digna terris gignere, Gaude Maria.
Vivis resurgit funere.
Alleluia. Laetare o Maria.

3. Sunt fracta mortis spicula, Gaude Maria.
Jesu jacet mors subdita.
Alleluia. Laetare o Maria.

4. Acerbitas solatium, Gaude Maria.
Luctus redonat gaudium.
Alleluia. Laetare o Maria.

5. Turbata sputis lumina, Gaude Maria.
Phoebea vincunt fulgura,
Alleluia. Laetare o Maria.

6. Manum pedumque vulnera, Gaude Maria.
Sunt gratiarum flumina,
Alleluia. Laetare o Maria.

7. Transversa ligni robora, Gaude Maria.
Sunt sceptra regni fulgida.
Alleluia. Laetare o Maria.

8. Lucet arundo purpura, Gaude Maria.
Ut fulva terrae viscera,
Alleluia. Laetare o Maria..

9. Catena, clavi, lancea, Gaude Maria.
Triumphi sunt insignia,
Alleluia. Laetare o Maria..

10. Ergo, Maria, plaudito, Gaude Maria.
Clientibus succurrito,
Alleluia. Laetare o Maria.
Here is Praetorius's setting.
_________________________
Love's redeeming work is done (SAVANNAH)
Love's redeeming work is done by Charles Wesley is a cento composed of stanxas ii.-v.,x., of his hymn "Christ the Lord is risen to-day." Books originating in the Church of England tradition use the tune SAVANNAH, first found in England in John Wesley's A Collection of Tunes, Set to Music, as they are commonly sung at the Foundery (1742), with the name HERNHUTH, which indicates its origins in 18th-century Moravian books, The name SAVANNAH comes from the Moravian settlement at Savannah, Georgia. Wesley accompanied the Moravians on their voyage to Savannah and was deeply impressed by their calm and faith during a storm that panicked the sailors.
1 Love's redeeming work is done;
fought the fight, the battle won:
lo, our Sun's eclipse is o'er,
lo, he sets in blood no more.
2 Vain the stone, the watch, the seal;
Christ has burst the gates of hell;
death in vain forbids his rise;
Christ has opened paradise.
3 Lives again our glorious King;
where, O death, is now thy sting?
dying once, he all doth save;
where thy victory, O grave?
4 Soar we now where Christ has led,
following our exalted Head;
made like him, like him we rise;
ours the cross, the grave, the skies.
5 Hail the Lord of earth and heaven!
Praise to thee by both be given:
thee we greet triumphant now;
hail, the Resurrection Thou!
Here is the St Edmundsbury Cathedral Choir. Here is a 1970 version from Guilford Cathedral.
__________________________________
Anthems
Jubilate Deo, Orlando di Lasso
Jubilate Deo, omnis terra; servite Domino in lætitia. Intrate in conspectu eius in exsultatione, quia Dominus ipse est Deus.
O be joyful in the Lord, all ye lands: serve the Lord with gladness, and come before his presence with a song. For the Lord, he is God.
Here is the Slovak Choir.
Orlando di Lasso was born in Mons in the province of Hainaut, in what is today Belgium. Information about his early years is scanty, although some uncorroborated stories have survived, the most famous of which is that he was kidnapped three times because of the singular beauty of his singing voice. At the age of 12 he left the Low Countries with Ferrante Gonzaga and went to Mantua, Sicily, and later Milan (from 1547 to 1549). While in Milan he made the acquaintance of the madrigalist Hoste da Reggio, an influence which was formative on his early musical style.
He then worked as a singer and a composer for Constantino Castrioto in Naples in the early 1550s, and his first works are presumed to date from this time. Next he moved to Rome, where he worked for the Archduke of Florence, who maintained a household there; and in 1553, he became maestro di cappella (chorus leader) of the Basilica di San Giovanni in Laterano in Rome, a spectacularly prestigious post for a man only 21 years old, but he stayed there only for a year (Palestrina took this post a year later, in 1555).
No solid evidence survives for his whereabouts in 1554, but there are contemporary claims that he traveled in France and England. In 1555 he returned to the Low Countries and had his early works published in Antwerp (1555-1556). In 1556 he joined the court of duke Albrecht V of Bavaria, who was consciously attempting to create a musical establishment on par with the major centers in Italy; Orlando di Lasso was one of several Netherlanders to work there, but by far the most famous. He evidently was happy in Munich and decided to settle there. In 1558 he married Regina Wackinger, the daughter of a maid of honor of the Duchess; they were to have two sons, both of whom became composers. By 1563 Orlando di Lasso had been appointed maestro di cappella, succeeding Ludwig Daser in the post. Orlando di Lasso was to remain in the service of Albrecht V and his heir, Wilhelm V, for the rest of his life.
By the 1560's Orlando di Lasso had become quite famous, and composers began to go to Munich to study with him. Andrea Gabrieli went there in 1562, and possibly remained in the chapel for a year; Giovanni Gabrieli also possibly studied with him in the 1570s. His renown had spread outside of strictly musical circles, for in 1570 Emperor Maximilian II conferred nobility upon him, a rare circumstance for a composer; Pope Gregory XIII knighted him; and in 1571, and again in 1573, the king of France, Charles IX, invited him to visit. Some of these kings and aristocrats attempted to woo him away from Munich with more attractive offers, but Orlando di Lasso was evidently more interested in the stability of his position, and the splendid performance opportunities of Albrecht's court, than in financial gain. "I do not want to leave my house, my garden, and the other good things in Munich," he wrote to the Duke of Saxony in 1580, upon receiving an offer for a position in Dresden.
In the late 1570's and 1580's Orlando di Lasso made several visits to Italy, where he encountered the most modern styles and trends. In Ferrara, the center of avant-garde activity, he doubtless heard the madrigals being composed for the d'Este court; however his own style remained conservative, indeed becoming more simple and more refined as he aged. In the 1590s his health began to decline, and he was treated for hypochondria; however he still was able to compose as well as travel occasionally. His final work was the exquisite set of 21 madrigale spirituale, the Lagrime di San Pietro (Tears of St. Peter), which he dedicated to Pope Clement VIII, and published posthumously in 1595. Orlando di Lasso died in Munich, on June 14, 1594, the same day that his employer decided to dismiss him for economic reasons; he never saw the letter.
____________________________
I am the true vine, Arvo Pärt
Here is the Ars Nova of Copenhagen.
This composition for a cappella-choir was written by Arvo Pärt for the 900th anniversary of the foundation of Norwich Cathedral in 1996 and is based on the opening seconds of Bogoroditse Djevo ('Rejoice, O Mother of God') – a King's College Choir Commission from 1990. The tempo is fast, the mood exultant and the tonal colouring decidedly folk-like. What follows is hardly less unexpected, an English setting  of John chapter 15 verses 1-14, wherein Jesus likens himself to 'the true vine', and commands his followers to love one another. Here the writing, although subscribing to the tintinnabulation of Part's familiar mature style, covers an especially wide vocal range, and the word-painting is masterly. Where Jesus says 'If you abide in me, and my words abide in you … ' Part sets up a bass pedal, then, with ' … ye shall ask what ye will, and it shall be done unto you' he cues an exquisite blending of lines, sailing his sopranos above his basses.
Postlude
Il Alleluia per Resurrectione, Gottlieb Muffat
Here played by Franz Lehrndorfer on the Dreifaltigkeits-Orgel in Ottobeuren.
Gottlieb Muffat (1690 – 1770), son of Georg Muffat, served as Hofscholar under Johann Fux in Vienna from 1711 and was appointed to the position of third court organist at the Hofkapelle in 1717. He acquired additional duties over time including the instruction of members of the Imperial family, among them the future Empress Maria Theresa. He was promoted to second organist in 1729 and first organist upon the accession of Maria Theresa to the throne in 1741.
It is well established that Handel borrowed copiously from his contemporaries, including Muffat. While it would be easy to cast aspersions at Handel for this seemingly dishonest practice, it hardly diminishes his stature as a composer and probably would not have created much consternation for either party.