Henry Effingham Lawrence
Henry Effingham Lawrence was born 1829, the son of Joseph Lawrence (one of the first presidents of the U.S. Trust Co. and president of the New York State Bank) and Rosetta Townsend. He married Lydia Greene Underhill; they had four children: Edith, Joseph, Margaret, and Mary Trimble.
Lydia was a Quaker but was read out of meeting for marrying Henry, and Episcopalian.
Lydia Greene Underhill
Mary Trimble was apparently named for Merritt Trimble, the husband of her mother's sister, Mary Underhill.
Henry was taken into the dry goods firm of Lawrence, Trimble, & Co,  where his father Joseph was a partner. Daniel Trimble committed suicide in 1850 by jumping from the Hoboken ferry in a fit of despondency. The firm was renamed Lawrence, Taylor, and Co., 314 Broadway, and went through several other renamings.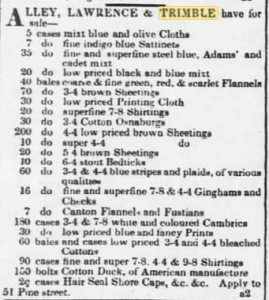 Henry's house in Manhattan was at 57 East Twenty-fifth St. near Madison Square; Merritt Trimble lived next door, and other Lawrences also occupied houses on the block. The family went to Grace Church, where they occupied the pew immediately behind the future Edith Wharton. Henry summered with his family at a farm named Arcadia at Snedens Landing, opposite Dobbs Ferry.

Snedens Landing, 1858
He purchased a mile of Hudson River waterfront and in 1876 built Cliffside. It was designed by J. Cleveland Cady , who also designed the old Metropolitan Opera House. The house had a pipe organ and contained Henry's collection of Hudson River School paintings. Henry imported ginko and paulownia trees for his garden.
Map 1874
Cady's Drawing of Cliffside
Cliffside Today
Henry was living at Cliffside when he died  in 1890. He left to each of his four children $30,000 ($800,000 to each in 2015 dollars, a total of $3,200,000 in 2015 dollars) and the remainder to his wife.
Leave a Comment