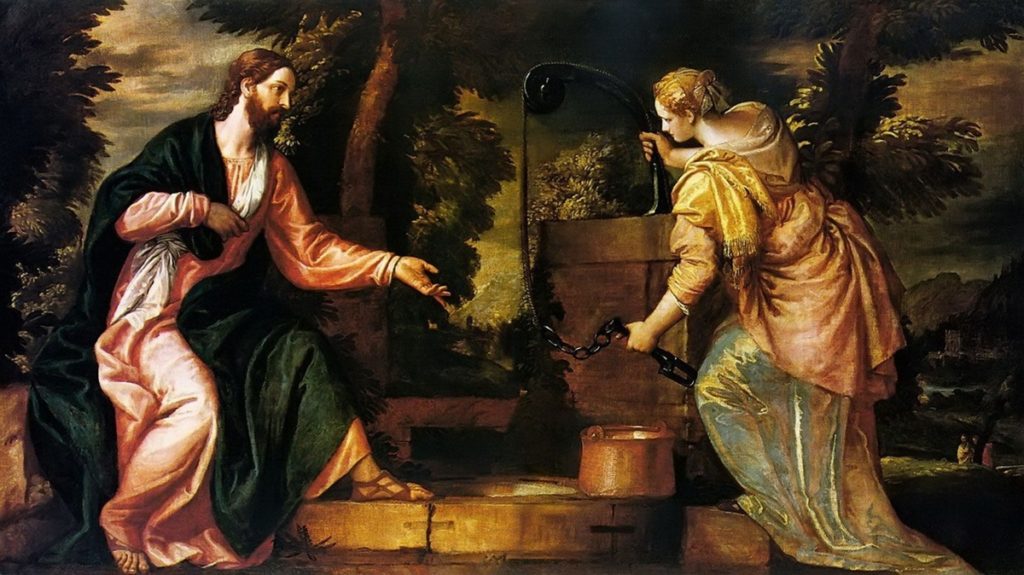 Jesus and the Samaritan Woman, Veronese
Mount Calvary Church
Baltimore
Personal Ordinariate of the Chair of St. Peter
Lent III
March 19, 2017
Hymns
When I survey the wondrous cross
Just as I am
I bind unto myself today
Anthems
I Heard the, Voice of Jesus Say, Bonar, Vaughan Willaims
Sicut cervus, Palestrina
Common
Kyrie, Sanctus, Agnus Dei, Merbecke
______________________________
When I survey the wondrous cross by Isaac Watts (1674—1748). When preparing for a communion service in 1707, when he himself was thirty-three years old, Watts wrote this personal expression of gratitude for the love that Christ revealed by His death on the cross. Watts echoes Paul: "But far be it from me to glory except in the cross of our Lord Jesus Christ, by which the world has been crucified to me, and I to the world" (Gal 6: 14). The third stanza repeats almost verbatim phrases from St. Bernard of Clairvaux's hymn "Salve mundi salutare":  such sentiments would be felt by any sincere Christian who meditated upon the crucifixion.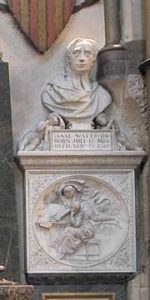 Monument to Isaac Watts, Westminster Abbey
During Watt's early life, Calvinist sentiments in England, especially among Nonconformists, barred any music in church except psalm singing, and Watts knew how dreary it could be. He commented, "The singing of God's praise is the part of worship most closely related to heaven; but its performance among us is the worst on earth." (Things have not changed much.)
When I survey the wondrous cross
On which the Prince of glory died,
My richest gain I count but loss,
And pour contempt on all my pride.

Forbid it, Lord, that I should boast,
Save in the death of Christ my God!
All the vain things that charm me most,
I sacrifice them to His blood.

See from His head, His hands, His feet,
Sorrow and love flow mingled down!
Did e'er such love and sorrow meet,
Or thorns compose so rich a crown?

Were the whole realm of nature mine,
That were a present far too small;
Love so amazing, so divine,
Demands my soul, my life, my all.
Salve, mundi salutare. This hymn is variously attributed to Bernard of Clairvaux, Bonaventure, and Arnulph von Löwen.
Salve, mundi salutare:
Salve, salve, Jesu chare,
Cruci tuae me aptare
Vellem vere, tu scis quare
Da mihi tui copiam.
Ac si praesens sis accedo,
Immo te praesentem credo.
O quam nudum hic te cerno!
Ecce tibi me prosterno:
Sis facilis ad veniam.

Clavos pedum, plagas duras
Et tam graves impressuras
Circumplector cum affectu,
Tuo pavens in aspectu,
Meorum memor vulnerum.
Grates tantae caritati,
Nos agamus vulnerati.
O amator peccatorum,
Reparator confractorum:
O dulcis pater pauperum!

Quidquid est in me confractum
Dissipatum, aut distractum,
Dulcis Jesu, totum sana,
Tu restaura, tu complana,
Tam pio medicamine.
Te in tua cruce quaero,
Prout queo, corde mero;
Me sanabis hic, ut spero:
Sana me, et salvus ero,
In tuo lavans sanguine.

Plagas tuas rubicundas,
Et fixuras tam profundas,
Cordi meo fac inscribi,
Ut configar totus tibi,
Te modis amans omnibus.
Dulcis Jesu, pie Deus,
Ad te clamo licet reus:
Praebe mihi te benignum,
Ne repellas me indignum
De tuis sanctis pedibus

Coram cruce procumbentem,
Hosque pedes complectentem,
Jesu bone, non me spernas,
Sed de cruce sancta cernas
Compassionis gratia.
In hac cruce stans directe,
Vide me, o mi dilecte,
Totum te ad me converte:
Esto sanus, dic aperte,
Dimitto tibi omnia.
The tune is ROCKINGHAM. Edward Miller (1735 —1807) adapted ROCKINGHAM from an earlier tune, TUNEBRIDGE, which had been published in Aaron Williams's A Second Supplement to Psalmody in Miniature (c. 1780). Its name refers to a friend and patron of Edward Miller, the Marquis of Rockingham, who served twice as Great Britain's prime minister.
Miller's father had made his living laying brick roads, and the young Edward became an apprentice in the same trade. Unhappy with that profession, however, he ran away to the town of Lynn and studied music with Charles Burney, the most prominent music historian of his day. A competent flute and organ player, he was organist at the parish church in Doncaster from 1756 to 1807. Miller was active in the musical life of the Doncaster region and composed keyboard sonatas and church music. His most influential publications were The Psalms of David for the Use of Parish Churches (1790), in which he sought to reform metrical psalmody (and which included ROCKINGHAM), and David's Harp (1805), an important Methodist tunebook issued by Miller with his son.
Here is King's College.
A Digression on English Hymnody
J. F. Coltheart describes the development of English hymnody after the Reformation and the impedance of Watts:
"In the new ritual that had to be made, Cranmer omitted all hymns. Ordinary citi­zens could not read Latin and without choirs of monks who were experienced in plain-song tunes, congregational singing was impossible. Thus was discarded, at a stroke, the hymnology that the Roman Church had built up during a thousand years.
Glorious hymns such as Bernard of Clairvaux's "Jesu, the Very Thought of Thee, With Sweetness Fills My Breast," were lost sight of in English-speaking Christendom until the middle of the nineteenth century. Medieval hymns from the time of Thomas Aquinas and St. Francis, along with hymns from the days of Charlemagne and even from the time of the barbarian invasions of the fourth and fifth centuries, were all swept out of sight for three hundred years. Treasures like Bernard of Cluny's "Jerusa­lem the Golden," the sixth century "O Christ, Our King, Creator, Lord," the ninth century "Creator Spirit, by Whose Aid," the incomparably beautiful "Jesu, Thou Joy of Loving Hearts," "Jerusalem, My Happy Home," and many others were dis­carded in the urgent clamor to dispense with anything connected with Rome. Bai­ley says, "Cranmer has made a clean sweep of the hymnic treasure of the centuries."
It was during the reign of Henry's suc­cessor, the boy king Edward VI, that the singing of psalms became popular. Thomas Sternhold, a Groom of the Robes, set Psalm 23 to a Genevan tune, and the youthful monarch liked it so much that he commis­sioned Sternhold to produce more. In 1549 there appeared the book by Sternhold "Certayne Psalmes, chose out of the Psalter of David and drawe into Englishe metre by Thomas Sternhold, grome of ye kynge's Maiesties robes." This was the beginning of an endless procession of Metrical Psal­ters that dominated the Established Church and the Non-Conformists for centuries, un­til the genius of Isaac Watts "broke its stranglehold and led the way to the use of true hymns of 'human composure.'
With the coming of Isaac Watts (1674-1748) English hymnology cast aside the Psalter, and the hymns of human compo­sure came into being. Our hymnals today are liberally sprinkled with Watts's hymns —"When I Survey the Wondrous Cross," "Praise Ye the Lord," "O God, Our Help," "I Sing the Mighty Power," "Joy to the World," "Jesus Invites His Saints," "Come, We that Love the Lord," et cetera.
____________________
Just as I am by Charlotte Elliott (1789–1871). Elliott was an invalid most of her life and was distressed by her inability to help spread the Gospel. She confided to a clergyman her distress that she was unable to offer any service to God. The clergyman told her that "you must come as you are—a sinner— to the Lamb of God who takes away the sins of the world." When we sin, we, like Adam, want to hide from the face of God. We have nothing to offer Him but He calls and commands us, "Come!" We come in repentance and sorrow to receive his great gift: Himself in the Eucharist.
Charlotte Elliott
Miss Elliott was the daughter of Charles Elliott of Clapham and Brighton and grand-daughter of the Rev. H. Venn of Huddersfield. She was born March 18th. 1789. The first 32 years of her life were spent mostly at Clapham. In 1823 she removed to Brighton and died there Sept. 22nd. 1871. To her acquaintance with Dr. C. Malan of Geneva is attributed much of the deep spiritual-mindedness which is so pronounced in her hymns. Though weak and feeble in body, she possessed a strong imagination and a well cultured and intellectual mind. Her love of poetry and music was great and is reflected in her verse. Her hymns number about 150, a large proportion of which is in common use. The finest and most widely known of these are: "Just as I am" and "My God, my Father while I stray". Her verse is characterized by tenderness of feeling, plaintive simplicity, deep devotion and perfect rhythm. For those in sickness and sorrow, she has sung as few others have done.
The history of the writing of "Just as I am, without one plea".— In the Record, Oct. 15th. 1897, Bishop H.C.G. Moule of Durham, the Principal of Ridley Hall, Cambridge, gave a most interesting account of Miss Elliott, and the origin of this hymn. Dr. Moule, who is related to the family, derived his information from family sources. In an abbreviated form, this is the beautiful story — "Ill health still beset her. Besides its general trying influence on the spirit, it often caused her the peculiar pain of a seeming uselessness in her life, while the circle round her was full of unresting serviceableness for God. Such a time of trial marked the year 1834, when she was 45 years old and was living in Westfield Lodge, Brighton … Her brother, the Rev. H.V. Elliott, had not long before conceived the plan of St. Mary's Hall at Brighton, a school designed to give at nominal cost, a high education to the daughters of clergymen; a noble work which is to this day carried on with admirable ability and large success. In aid to St.Mary's Hall there was to be held a bazaar… Westfield Lodge was all astir; every member of the large circle was occupied morning and night in preparation with the one exception of the ailing sister Charlotte — as full of eager interest as any of them, but physically fit for nothing. The night before the bazaar she was kept wakeful by distressing thoughts of her apparent uselessness; and these thoughts passed by a transition easy to imagine into a spiritual conflict until she questioned the reality of her whole spiritual life, and wondered whether it was anything better after all than an illusion of the emotions, an illusion ready to be sorrowfully dispelled. The next day, the busy day of the bazaar …. the troubles of the night came back upon her with such force that she felt they must be met and conquered by the grace of God. She gathered up in her soul the grand certainties, not of her emotions, but of her salvation: her Lord; His power: His promise. And taking pen and paper from the table she deliberately set down in writing for her own comfort the formulae of her faith … so in verse she restated to herself the Gospel of pardon, peace and heaven…. there, then, always, not at some past moment, but "even now" she was accepted in the Beloved, "Just as I am". As the day wore on, her sister-in-law, Mrs. H.V. Elliott, came in to see her and bring news of the work. She read the hymn and asked (she well might) for a copy. So it first stole out from that quiet room into the world, where for sixty years it has been sowing and reaping, until a multitude which only God can number has been blessed through the message".
Just as I am – without one plea,
But that Thy blood was shed for me,
And that Thou bidst me come to Thee,
– O Lamb of God, I come!

Just as I am – and waiting not
To rid my soul of one dark blot,
To Thee, whose blood can cleanse each spot,
– O Lamb of God, I come!

Just as I am – though toss'd about
With many a conflict, many a doubt,
Fightings and fears within, without,
– O Lamb of God, I come!

Just as I am – poor, wretched, blind;
Sight, riches, healing of the mind,
Yea, all I need, in Thee to find,
– O Lamb of God, I come!

Just as I am – Thou wilt receive,
Wilt welcome, pardon, cleanse, relieve;
Because Thy promise I believe,
– O Lamb of God, I come!

Just as I am – Thy love unknown
Has broken every barrier down;
Now to be Thine, yea, Thine alone,
– O Lamb of God, I come!

Just as I am – of that free love
The breadth, length, depth, and height to prove,
Here for a season, then above,
– O Lamb of God, I come!
The tune is ST. CRISPIN, composed by Sir George Job Elvey. He was born at Canterbury on 29 March 1816, was a son of John Elvey. For several generations, his family had been connected with the musical life of the cathedral city. At an early age, he was admitted as a chorister of Canterbury Cathedral, under Highmore Skeats, his brother, Stephen Elvey, being then master of the boys.
In 1830, Stephen Elvey having been appointed organist of New College, Oxford, George went to reside with him, and completed his musical education under his brother's guidance. He studied at the Royal Academy of Music under Cipriani Potter and Dr Crotch.
Before he was seventeen, he had become a very expert organist and took temporary duty at Christ Church, Magdalen, and New College. In 1834, he gained the Gresham gold medal for his anthem, 'Bow down Thine ear, Lord.' In 1835, he succeeded Skeats as organist of St. George's Chapel, Windsor. Among his earliest pupils were Prince George, Duke of Cambridge and Prince Edward of Saxe-Weimar, for whose confirmation he composed his well-known anthem, 'Wherewithal shall a young man cleanse his way?'
He matriculated from New College on 17 May 1838 and graduated Mus. Bac. on 2 June following, his exercise being an oratorio, 'The Resurrection and Ascension,' afterwards performed by the Sacred Harmonic Society at Exeter Hall (12 November 1838), and subsequently at Boston, United States of America, and at Glasgow. On 2 July 1840, by a special dispensation of the chancellor of the university, Elvey graduated Mus. Doc. two years earlier than was allowed by the statutes. His exercise on this occasion was the anthem, 'The ways of Zion do mourn.' Two anthems, with orchestral accompaniments, 'The Lord is King,' and 'Sing, Heavens,' were written respectively for the Gloucester festival of 1853 and the Worcester festival of 1857.
Of his best-known works produced chiefly between 1856 and 1860 many were composed for special services at St. George's Chapel. By the death of the Prince Consort in 1861, Elvey lost one of his most sympathetic patrons. The funeral anthems, 'The Souls of the Righteous' and 'Blessed are the Dead,' were both written for anniversary services in memory of the prince. For the marriage of the Prince of Wales (1863) he composed a special anthem, with organ and orchestral accompaniment, 'Sing unto God,' and for the marriage of Princess Louise (1871) a festal march which attained considerable popularity.
He was knighted on 24 March 1871. The last important public event in which he took part was the marriage of the Duke of Albany at St. George's Chapel on 6 May 1882. In June of that year, he resigned his post as organist. After some years spent in retirement he died at the Towers, Windlesham, on 9 September 1893.
His most famous work is probably the hymn tune DIADEMATA, to which "Crown Him With Many Crowns" is set. A memoir of him, by his widow, was published in 1894. The Hymn "Come, Ye thankful People, Come" to his tune "St. George's Windsor" is also well-known.
The Washington Cathedral choir sings Just as I am.
____________________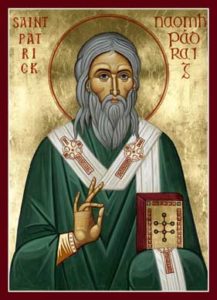 I bind unto myself today. St. Patrick's Lorica or Breastplate. According to legend, on the way to Tara, St. Patrick and his monks was hunted by the scouts of the pagan king Loegaire mac Neill. Patrick sang this poem, which may be modeled after the incantations of the Druids, and the scouts saw Patrick as a deer and his men as fawns; therefore the poem is also called The Deer's Cry.
The themes of this hymn reflect St. Patrick's preparation for spiritual battle as recorded in his autobiographical Confession. With the whole armor of Christ, Patrick won Ireland for teh Church, and this hymn is a powerful model for our own spiritual battles.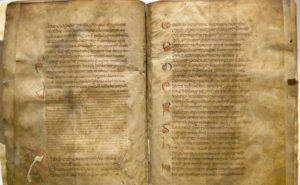 Liber Hymnorum
The prayer is part of the Liber Hymnorum, a collection of hymns found in two manuscripts kept in Dublin and published in 1903 in the Thesaurus Paleohibernicus.
Here is a literal translation from the Old Irish:
I bind to myself today
The strong virtue of the Invocation of the Trinity:
I believe the Trinity in the Unity
The Creator of the Universe.
I bind to myself today
The virtue of the Incarnation of Christ with His Baptism,
The virtue of His crucifixion with His burial,
The virtue of His Resurrection with His Ascension,
The virtue of His coming on the Judgement Day.
I bind to myself today
The virtue of the love of seraphim,
In the obedience of angels,
In the hope of resurrection unto reward,
In prayers of Patriarchs,
In predictions of Prophets,
In preaching of Apostles,
In faith of Confessors,
In purity of holy Virgins,
In deeds of righteous men.
I bind to myself today
The power of Heaven,
The light of the sun,
The brightness of the moon,
The splendour of fire,
The flashing of lightning,
The swiftness of wind,
The depth of sea,
The stability of earth,
The compactness of rocks.
I bind to myself today
God's Power to guide me,
God's Might to uphold me,
God's Wisdom to teach me,
God's Eye to watch over me,
God's Ear to hear me,
God's Word to give me speech,
God's Hand to guide me,
God's Way to lie before me,
God's Shield to shelter me,
God's Host to secure me,
Against the snares of demons,
Against the seductions of vices,
Against the lusts of nature,
Against everyone who meditates injury to me,
Whether far or near,
Whether few or with many.
I invoke today all these virtues
Against every hostile merciless power
Which may assail my body and my soul,
Against the incantations of false prophets,
Against the black laws of heathenism,
Against the false laws of heresy,
Against the deceits of idolatry,
Against the spells of women, and smiths, and druids,
Against every knowledge that binds the soul of man.
Christ, protect me today
Against every poison, against burning,
Against drowning, against death-wound,
That I may receive abundant reward.
Christ with me, Christ before me,
Christ behind me, Christ within me,
Christ beneath me, Christ above me,
Christ at my right, Christ at my left,
Christ in the fort,
Christ in the chariot seat,
Christ in the poop [deck],
Christ in the heart of everyone who thinks of me,
Christ in the mouth of everyone who speaks to me,
Christ in every eye that sees me,
Christ in every ear that hears me.
I bind to myself today
The strong virtue of an invocation of the Trinity,
I believe the Trinity in the Unity
The Creator of the Universe.
Each verse of the prayer begins "Atomruig indiu" "I arise today" or "I bind unto myself today" and this phrase is repeated at the beginning of most of the verses.
The Liber hymnorum also tells us why we should sing:
Whoever should recite the hymnody, would be making a song of praise dear to God, for it wipes out all sins, and cleanses the powers of the body and subdues involuntarily the lusts of the flesh; it lessens melancholy, and (banishes) all madness; it breaks down anger, it expels hell's angels, and gets rid of the devils; it dispels the darkness of the understanding, and increases holiness; it preserves the health, and completes good works, and it lights up a spiritual fire in the heart, i.e., the love of God (in place of) the love of man, and it (promotes) peace between the body and the soul.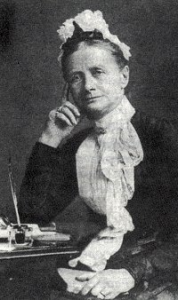 Cecil Francis Humphreys Alexander
Cecil Francis Alexander (1818–1895) wrote the hymn based on this poem in 1889 at the request of Hercules Henry Dickinson, Dean of the Chapel Royal at Dublin Castle. Dickinson gives this account:
"I wrote to her suggesting that she should fill a gap in our Irish Church Hymnal by giving us a metrical version of St. Patrick's 'Lorica' and I sent her a carefully collated copy of the best prose translations of it. Within a week she sent me that exquisitely beautiful as well as faithful version which appears in the appendix to our Church Hymnal."
She was the daughter of Major John Humphreys, Miltown House, co. Tyrone, Ireland, In 1850 she married the Rt. Rev. W. Alexander, D.D., Bishop of Derry and Raphoe. She wrote 400 hymns, of which the best known are "All things bright and beautiful," "Once in royal David's city," and "There is a green hill far away."
And here is the complete hymn:
I bind unto myself today
The strong Name of the Trinity,
By invocation of the same,
The Three in One and One in Three.

I bind this day to me for ever,
By power of faith, Christ's Incarnation;
His baptism in Jordan river;
His death on cross for my salvation;
His bursting from the spicèd tomb;
His riding up the heavenly way;
His coming at the day of doom:
I bind unto myself today.

I bind unto myself the power
Of the great love of cherubim;
The sweet 'Well done' in judgment hour;
The service of the seraphim;
Confessors' faith, apostles' word,
The patriarchs' prayers, the prophets' scrolls;
All good deeds done unto the Lord,
And purity of virgin souls.

I bind unto myself today
The virtues of the star-lit heaven,
The glorious sun's life-giving ray,
The whiteness of the moon at even,
The flashing of the lightning free,
The whirling wind's tempestuous shocks,
The stable earth, the deep salt sea,
Around the old eternal rocks.

I bind unto myself today
The power of God to hold and lead,
His eye to watch, his might to stay,
His ear to hearken to my need;
The wisdom of my God to teach,
His hand to guide, his shield to ward;
The word of God to give me speech,
His heavenly host to be my guard.

Christ be with me, Christ within me,
Christ behind me, Christ before me,
Christ beside me, Christ to win me,
Christ to comfort and restore me,
Christ beneath me, Christ above me,
Christ in quiet, Christ in danger,
Christ in hearts of all that love me,
Christ in mouth of friend and stranger.

I bind unto myself the Name,
The strong Name of the Trinity;
By invocation of the same,
The Three in One, and One in Three.
Of whom all nature hath creation;
Eternal Father, Spirit, Word:
Praise to the Lord of my salvation,
Salvation is of Christ the Lord.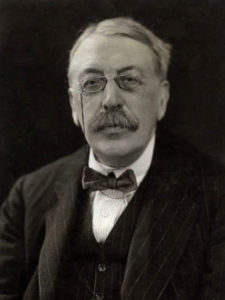 Charles Villiers Stanford
The music to the hymn was originally set in 1902 by Charles Villiers Stanford for chorus and organ, using two traditional Irish tunes, ST. PATRICK and GARTAN, which Stanford took from his own edition (1895) of George Petrie's Collection of the Ancient Music of Ireland (originally 1855).  In many churches, it is unique among standard hymns because the variations in key, length and meter of verses mean that at least three different tunes must be used.
The choir of Trinity College, University of Melbourne sings the Lorica. Here is an arrangement by Melville Cook.
____________________
Anthems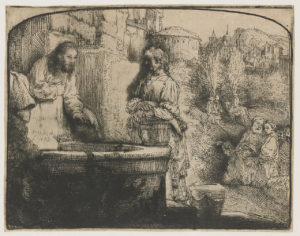 Jesus and the Woman of Samaria, Rembrandt
Both of today's anthems deal with the theme of living water that Jesus offer to the Samaritan woman at the well. The choir will sing a capella a simple arrangement of I heard the voice of Jesus say.
I Heard the Voice of Jesus Say, by Horatius Bonar
I heard the voice of Jesus say,
'Come unto me and rest;
lay down, thou weary one, lay down
thy head upon my breast':
I came to Jesus as I was,
weary and worn and sad;
I found in him a resting-place,
and he has made me glad.
I heard the voice of Jesus say,
'Behold, I freely give
the living water, thirsty one;
stoop down and drink and live':
I came to Jesus, and I drank
of that life-giving stream;
my thirst was quenched, my soul revived,
and now I live in him.

I heard the voice of Jesus say,
'I am this dark world's light;
look unto me, thy morn shall rise,
and all thy day be bright':
I looked to Jesus, and I found
in him my star, my sun;
and in that light of life I'll walk
till travelling days are done.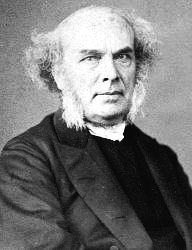 Horatius Bonar
The text is by Horatius Bonar (1808-1889). To say that Horatius Bonar had a family history of serving in the Church of Scotland would be an understatement. With Nearly 364 years of service in the church, it was no question what would become of Horatius at some point in his life. Horatius was born December 19th, 1808 to James Bonar who was at the time the Solicitor of Excise in Scotland. Born in Edinburgh, Scotland, Horatius stayed in his hometown and studied at the local High School and the University where, in 1837, he was ordained in the church, and became an assistant to Rev. John Lewis, Minister of St. James's, Leith, Scotland. In November of that same year, Bonar left St. James and became Minister of North Perish, Kelso, Scotland. In 1843, because of a "great disruption," in the church, Bonar left the his position at North Perish and joined the Free Church of Scotland. In 1853, the University of Aberdeen conferred upon Bonar the Doctorate of Divinity, which eventually would lead him back to Edinburgh in 1866, when he was placed at Chalmers Memorial Church, The Grange, Edinburgh. This was Bonar's last call, but in 1883, he was chosen to be the Moderator of the General Assembly of the Free Church of Scotland. He was well known for being a poet.
Bonar preached the Substitutionary Sacrifice:
"If Christ is not the substitute, he is nothing to the sinner. If he did not die as the sin-bearer, he has died in vain. Let us not be deceived on this point nor misled by those who, when they announce Christ as the deliverer, think they have preached the gospel. If I throw a rope to a drowning man, I am a deliverer. But is Christ no more than that? If I cast myself into the sea and risk myself to save another, I am a deliverer. But is Christ no more? Did He risk His life? The very essence of Christ's deliverance is the substitution of himself for us–his life for ours! He did not come to risk his life; he came to die! He did not redeem us by a little loss, a little sacrifice, a little labor, a little suffering: 'He redeemed us to God by His blood' (I Peter 1:18,19). He gave all he had, even his life, for us. This is the kind of deliverance that awakens the happy song, 'To Him that loved us, and washed us from our sins in His own blood' (Revelation 1:5)."
His poems and his life were marked by sadness: Five of his children died young. But later, his widowed daughter and her five children had to move in with him. Many grandparents would groan at the added burden, but Bonar rejoiced. To him it was as if God had given him five children to replace those he had lost.
____________________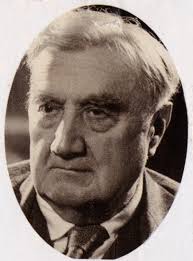 Ralph Vaughn Williams 
The tune KINGSFOLD is an old English folk song. The tune is written in e minor, but also can be considered a modal tune. The tune was published in English Country Songs (1893), an anthology compiled by Lucy E. Broadwood and J. A. Fuller Maitland. It wasn't until Ralph Vaughn Williams (1872-1958) heard this folk song in Kingsfold, Sussex, England, that the tune was actually named. After Vaughn Williams had heard the tune, he decided  to arrange the tune for the text of "I Heard the Voice of Jesus Say" for the  English Hymnal (1906).
Its unusual use of the minor key ads poignancy to this haunting hymn tune. In teh thrid verse, the penitent soul responds to Jesus' invitation and drinks "of that life-giving stream," so that "my thirst was quenched, my soul revived, and now I live in Him."
Here I heard the voice of Jesus say is sung at service of thanksgiving at Westminster Abbey on Sunday to mark the 70th anniversary of the end of World War Two in Europe, 10th Mary 2015. Here it is sung by a youthful choir faster tempo.
_____________________
Sicut cervus, by Giovanni Pierluigi da Palestrina (1525-1594)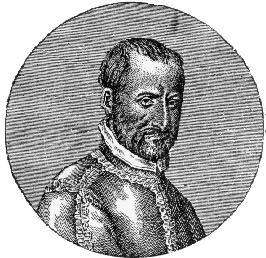 Palestrina
Psalm 42: 1-3
Sicut cervus desiderat ad fontes aquarum:
ita desiderat anima mea ad te, Deus.
Sitivit anima mea ad Deum fortem vivum:
quando veniam et apparebo ante faciem Dei?
Fuerunt mihi lacrimae meae panes die ac nocte,
dum dicitur mihi quotidie: Ubi est Deus tuus?

As a hart longs for flowing streams,
so longs my soul for thee, O God.
My soul thirsts for God, for the living God.
When shall I come and behold the face of God?
My tears have been my food day and night,
while men say to me continually, "Where is your God?"
Sicut cervus is likely the best known of Palestrina's motets.It has the beauty and dignity for which Palestrina's music is known and judged to be the ideal of Renaissance counterpoint. The motet's polyphonic flow and gentle melodic arches contain a quiet drama. While the motet's word-painting is not overt, neither is it hidden. There is a deep feel for the words' meaning as the  voices begin quietly in imitation for the words Sicut cervus (As the hart). At the word desiderat (longs), rhythm quickens and the line rises to its peak at the word: fontes (streams); as the words seek their object, so the melodic lines seek their goal.  As the text's thought turns toward the self with the words ita desiderat anima mea ad te, Deus (Thus longs my soul for Thee, God), shorter motives in closer imitation and intensifying dissonance patterns express the human soul's fervent desire and bring the motet to its conclusion.
Here it is sung by the Westminster Cathedral Choir. And here at Somerville College, Oxford.
Leave a Comment