A voice crying in the wilderness, "Prepare ye the way of the LORD"
Anton Raphael Mengs, 1728-1779
Mount Calvary Church
Eutaw Street and Madison Avenue
Baltimore, Maryland
A Parish of the Roman  Catholic Personal Ordinariate of St. Peter
Rev. Albert Scharbach, Pastor
Schedule for week of December 10, 2017
 ________________________
Sunday December 10
Advent II
8:00 AM Said Mass
9:00 AM Bible Study: Jonah
9:30 AM Confessions
10:00 AM Sung Mass
Coffee Hour
4:00 PM Advent Service of Lessons and Carols
Tuesday December 12
5:30 PM Mass in Alcock Chapel
Wednesday December 13
5:30 PM Mass in Alcock Chapel
Thursday December 14
5:30 PM Mass in Alcock Chapel
Sunday December 17
 8:00 AM Said Mass
9:30 AM Confessions
10:00 AM Sung Mass
Coffee Hour
_________________________________________
Music for December 10, 10 AM Sung Mass
Prelude
Rorate Coeli from op. 8, Jeanne Demessieux (1921-1968)
Common
Kyrie, Sanctus, Agnus Dei, Merbecke
Hymns
Comfort, comfort ye my people
The Lord will come and not be slow
Hark, a thrilling voice i sounding
Anthems
On Jordans bank, Monteverdi
O thou that tellest good tidings to Zion,  G. F. Handel
Postlude
Kommst Du Nun, Jesu, Vom Himmel Herunter, BWV 650 – J. S. Bach
________________________________________________________________________
Prelude
Rorate Coeli from op. 8, Jeanne Demessieux (1921-1968)
 Jeanne Demessieux entered the Montpellier Conservatoire in 1928. In 1933, she began her studies at the Paris Conservatoire and was also appointed titular organist at Saint-Esprit. From 1936-39, Demessieux studied organ privately with Marcel Dupré, whose organ class at the Conservatoire she joined in 1939. After receiving a first prize in organ performance and improvisation in 1941, Demessieux studied privately with Dupré in Meudon for five more years, before she played her début concert at Salle Pleyel in Paris in 1946. This was the beginning of her career as an international concert organist. Demessieux gave more than 700 concerts in France, the United Kingdom, Belgium, the Netherlands, Switzerland, Germany, and the United States. She had memorized more than 2,500 works, including the complete organ works of Bach, Franck, Liszt, and Mendelssohn, and all of Dupré's organ works up to Opus 41. In 1962, Demessieux was appointed as titular organist at La Madeleine in Paris. She died in Paris on 11 November 1968 from the effects of throat cancer. A large crowd, including Marcel Dupré, attended her funeral at La Madeleine. The great organ remained silent, and a vast black drape hung from the gallery to the floor.
Here is the piece.
Hymns
Comfort, comfort ye my people  is a translation by Catherine Winkworth of Tröstet, tröstet meine Lieben of Johannes Olearius (1611-1684). It is a versification of the text Isaiah 40: 1-5, which marks the beginning of the passages that  display messages of condolence and of hope that the exile of Judah from Babylon will soon be over.
Comfort, comfort ye my people,
Speak ye peace, thus saith our God;
Comfort those who sit in darkness,
Mourning 'neath their sorrows' load;
Speak ye to Jerusalem
Of the peace that waits for them,
Tell her that her sins I cover,
And her warfare now is over.

Yea, her sins our God will pardon,
Blotting out each dark misdeed;
All that well deserved His anger
He will no more see nor heed.
She hath suffer'd many a day,
Now her griefs have passed away,
God will change her pining sadness
Into ever-springing gladness.

For Elijah's voice is crying
In the desert far and near,
Bidding all men to repentance,
Since the kingdom now is here.
Oh that warning cry obey,
Now prepare for God a way;
Let the valleys rise to meet Him,
And the hills bow down to greet Him.

Make ye straight what long was crooked,
Make the rougher places plain,
Let your hearts be true and humble,
As befits His holy reign;
For the glory of the Lord
Now o'er earth is shed abroad,
And all flesh shall see the token
That His Word is never broken.
Here is a vigorous version by First Plymouth Church.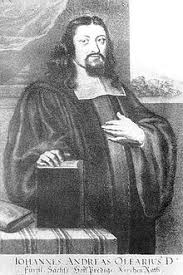 Johannes Andreas Olearius was born into a long line of Lutheran theologians. He began his studies at the University of Wittenburg in 1629, where he earned his master's degree in 1632, and eventually his doctorate in 1643. Then he was appointed by Duke August of Sachsen-Weissenfels as the chief court preacher and private chaplain at Halle. During his time in Halle, Olearius became Kirchenrath (1657) and eventually the superintendent (1664). In 1680, upon the death of Duke August, the administration in Halle fell under the control of Duke Johann Adolf, who gave Olearius many of the same positions that he already held, only this time in Weissenfels, which Olearius held until his death in 1684. During his lifetime, Olearius had published many different works, one of which was a commentary on the entire bible itself. Olearius was also known as one of the biggest contributors to the largest collection of hymns at the time, Geistliche Singe-Kunst (1671). Olearius worked on both the first edition of the collection and the second edition of the collection (published only a year later, updated with nearly 100 more hymns). Olearius is also known for having translated Thomas A. Kempis's book Imitatio Christi (The Imitation of Christ).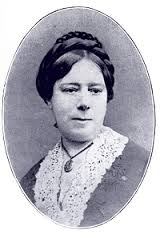 Catherine Winkworth was a woman of great note, being a well-educated woman, and a supporter of women's rights and higher education for women. Beginning her education with her mother, Winkworth was raised with her close relatives in Dresden, Germany, where she became interested in German hymnody. Eventually, Winkworth moved to Manchester, England, where she remained until 1862, when she moved with her family to Clifton, which is just outside of Bristol, England. Spending most of her life translating texts of German hymns, Winkworth began with a collection of hymnals from her friend, Baron Bunsen. Though the translations are often changed, most of her original translations are used in many different hymnals today. The bulk of her work was published in two collections of Lyra Germanica (1855, 1858), as well as her book Chorale Book for England. In this collection, Winkworth was sure to pair each tune with the appropriate German text, which was annotated by two gentleman, Sterndale Bennet and Otto Goldschmidt. During her lifetime, Winkworth also translated biographies of German Christians who supported ministries to the poor and to the sick, as well as biographies of German hymn writers, and published them in Christian Singers of Germany (1869).
Originally written as an accompaniment for the text from Psalm 42, the tune FREU DICH SEHR was composed by Louis Bourgeois. Born in 1510, Bourgeois was a famous French Renaissance composer and music theorist. Though almost nothing is known about Bourgeois's early life, it is known that his first publicatioin was a collection of secular chansons published in 1539 in Lyon, France. In 1547 however, Bourgeois moved to, and became a citizen of Geneva, where he published his first collection of four-voice psalms. Between 1549 and 1550, Bourgeois worked on a number of tunes that were supposed to accompany psalms. Though it was known that Bourgeois had worked on this collection, the extent to which he was a composer, compiler or arranger was unknown until a copy of a long-lost copy of the Genevan Hymnal was brought to the library at Rutgers University. In an avertissement (or note) to the reader, Bourgeois specified the exact work that had been done by his predecessors, what he had changed, and which arrangements were his. Bourgeois is one of the three main composers who contributed to the Genevan Hymnal.
Around this time, Bourgeois lost his reputation with musical authorities around France, and was eventually thrown in jail  for having made changes to popular hymn-tunes "without a license." Eventually, Bourgeois was released from prison on a personal recommendation from John Calvin himself, but, even after his release, the controversy continued. Because the singers had already learned the original tunes, had no desire to learn anything new, the town council demanded that a burning of his instructions be held, claiming that his instructions were too confusing and unnecessary. Shortly after this incident, Bourgeois (understandably) left Geneva, and moved to Lyon, which his wife followed sometime after. Shortly after his move, his employment in Geneva was terminated. Eventually, in 1560, Bourgeois moved to Paris, where he published a fierce piece of invective against the publishers in Geneva. During his time in Paris, a Parisian publisher came out with a collection of four-voice chansons written by the composer, a form of music which Bourgeois had claimed to be "dissolute," during his time in Geneva. Oddly enough, his daughter was born around this time, and she was baptized as Catholic. Nothing is known of Bourgeois's life after 1560, though most hymnals print his date of death as 1561. Bourgeois is the most responsible for the tunes in the Genevan Psalter, a source for music in both the Reformed Church, and the church in America. Though many of his tunes were written in a monophonic style (containing only one part for voice), it is known that he had written harmonization for each of his tunes, but that was usually reserved for performances in his home. Of all Bourgeois compositions, perhaps the most famous is known as the OLD 100TH, which many know as the tune for the Doxology.
_______________________________________
The Lord will come and not be slow is a cento by John Milton (1608-1674) of words from Psalms 82, 85, 86.
1 The Lord will come and not be slow,
his footsteps cannot err;
before him righteousness shall go,
his royal harbinger.
2 Truth from the earth, like to a flower,
shall bud and blossom then;
and justice, from her heavenly bower,
look down on mortal men.
3 Rise, God, judge thou the earth in might,
this wicked earth redress;
for thou art he who shalt by right
the nations all possess.
4 The nations all whom thou hast made
shall come, and all shall frame
to bow them low before thee, Lord,
and glorify thy name.
5 For great thou art, and wonders great
by thy strong hand are done:
thou in thy everlasting seat
remainest God alone.
Here is St. John's, Detroit.
The tune YORK is an old Scottish melody.
_______________________
Hark! a thrilling voice is sounding is based on the Latin hymn Vox clara ecce intonat in a translation by Edward Caswall
Stanzas 1-3 contain references to Christ's first coming, but they can be used to celebrate his second coming as well. Stanza 4 surely refers to His second coming.
1 Hark! a thrilling voice is sounding;
"Christ is nigh," it seems to say;
"Cast away the works of darkness
O ye children of the day!"

2 Wakened by the solemn warning,
Let the earth-bound soul arise;
Christ, her Sun, all sloth dispelling,
Shines upon the morning skies.

3 Lo! the Lamb, so long expected,
Comes with pardon down from heaven;
Let us haste, with tears of sorrow,
One and all to be forgiven;

4 So when next He comes in glory,
Wrapping all the world in fear,
May He with His mercy shield us,
And with words of love draw near.
Here is St Johns, Detroit.
Here is the Latin original:
VOX clara ecce intonat,
obscura quaeque increpat:
procul fugentur somnia;
ab aethere Christus promicat.

Mens iam resurgat torpida
quae sorde exstat saucia;
sidus refulget iam novum,
ut tollat omne noxium.

E sursum Agnus mittitur
laxare gratis debitum;
omnes pro indulgentia
vocem demus cum lacrimis,

Secundo ut cum fulserit
mundumque horror cinxerit,
non pro reatu puniat,
sed nos pius tunc protegat.

Summo Parenti gloria
Natoque sit victoria,
et Flamini laus debita
per saeculorum saecula. Amen.
Here is the Gregorian setting.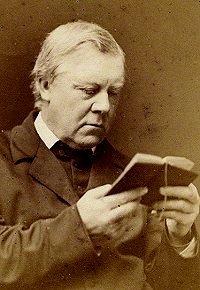 Edward Caswell
Edward Caswell (1814—1878) was an Anglican clergyman. In 1850, his wife having died the previous year, he joined the Oratory of St. Philip Neri under the future Cardinal Newman, to whose influence his conversion to Roman Catholicism was due.
He was born at Yateley, Hampshire on 15 July 1814, the son of Rev. R. C. Caswall, sometime Vicar of Yateley, Hampshire. Caswall was educated at Marlborough Grammar School and Brasenose College, Oxford, where he graduated Bachelor of Arts in 1836 with honours and later proceeded to Master of Arts. He was curate of Stratford-sub-Castle, near Salisbury, 1840–1847. In 1850, he joined the Oratory of St. Philip Neri. He died at the Oratory, Edgbaston, near Birmingham on 2 January 1878 and was buried at Rednal, near Bromsgrove, Worcestershire.
He wrote original poems that have survived mainly in Catholic hymnals due to a clear adherence to Catholic doctrine. Caswall is best known for his translations from the Roman Breviary and other Latin sources, which are marked by faithfulness to the original and purity of rhythm. They were published in Lyra Catholica, containing all the breviary and missal hymns (London, 1849); The Masque of Mary (1858); and A May Pageant and other poems (1865). Hymns and Poems (1873) are the three books combined, with many of the hymns rewritten or revised. Some of his translations are used in the Hymns Ancient and Modern. His widely used hymn texts and translations include "Alleluia! Alleluia! Let the Holy Anthem Rise"; "Come, Holy Ghost"; "Jesus, the Very Thought of Thee"; "When Morning Gilds the Skies"; and "Ye Sons and Daughters of the Lord."
____________________________________________
Anthems
On Jordans bank, Claudio Monteverdi
This seems to be the only available recording on YouTube of On Jordan's bank set to Monteverdi.
O thou that tellest good tidings to Zion,  G. F. Handel
Here is Marilyn Horne. A tiny bit fast, but what a voice! Some prefer Janet Baker. For a more delicate approach, here is Anne Sofie von Otter.
__________________________________
Postlude
Kommst Du Nun, Jesu, Vom Himmel Herunter, BWV 650 – J. S. Bach (1685-1750)
     Apart from the D minor Toccata and Fugue, made famous by Walt Disney in Fantasia, J. S. Bach's best-known organ work is probably the chorale prelude Kommst du nun, Jesu, vom Himmel herunter, BWV 650. It is a magnificent example of the pedal cantus firmus style. Not nearly so dense and motivically organized as the preludes in the Orgelbüchlein, it is instead an expansive work in which a delightfully flowing, newly composed obbligato melody is every bit as vital as the Lutheran chorale that serves as its cantus firmus backbone.
The cantus firmus of BWV 650 is a relatively late Lutheran hymn (1665) that Bach used on several occasions and with several different texts. In fact, the organ prelude was transcribed directly from the second movement of the cantata Lobe den Herren, BWV 137 of 1725 (a movement in which Bach sets the "Lobe den Herren" text to the melody), a little over two decades after the cantata was originally composed. The chorale prelude version of the music is called Kommst du nun, Jesu, vom Himmel herunter solely because that is the title given to the piece in the 1749 volume (the so-called Schübler Chorales — all transcriptions of earlier cantata movements) in which it first appeared; precisely what the connection in Bach's mind between the melody and the Nativity text "Kommst du nun" was is not entirely certain, though the text and melody certainly fit together seamlessly.
The actual cantus firmus melody — played on the pedals, but using a stop the ensures that the resulting pitch is higher than that of the manual left hand (which is thus the true bass of the piece) — only appears in isolated pockets of the prelude, each time rising up out of the flowing right hand's obbligato melody as if to bridge the distance between Heaven and earth ("Kommst du nun, Jesu, vom Himmel herunter auf Erden"; "Are you coming now, Jesus, from Heaven down to earth"). The obbligato line is itself built of such persuasive stuff that it continues for a full twelve measures after the cantus firmus has had its final say, finally winding down only at the final, rich cadence.
Here is Bine Bryndorf.
Leave a Comment