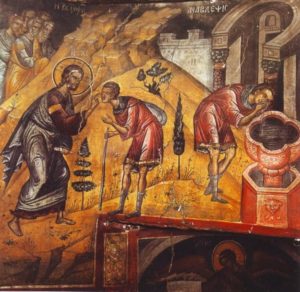 The Healing of the Man Born Bind
Mount Calvary Church
Baltimore
Personal Ordinariate of the Chair of St. Peter
Laetare Sunday
March 26, 2017
Hymns
Immortal, invisible, God only wise
Jesus, lead the way
O for a thousand tongues to sing
Anthems
In Thee is gladness, Giovanni Gastoldi
Laetare Ierusalem, Henrich Isaac
Common
Kyrie, Sanctus, Agnus Dei, Merbecke
Immortal, Invisible, God only wise by William Chalmers Smith is a proclamation of the transcendence of God:  "To the King of ages, immortal, invisible, the only God, be honor and glory for ever and ever" (1 Tim 17). No man has ever seen God, who dwells in inaccessible light that is darkness to mortal eyes. God lacks nothing (nor wanting) and never changes (nor wasting), and is undying, unlike mortals, who in a striking image "blossom and flourish like leaves on the tree, then wither and perish." The original ending of the hymn completes the thought: "And so let Thy glory, almighty, impart, / Through Christ in His story, Thy Christ to the heart." "No one has ever seen God; the only Son, who is in the bosom of the Father, he has made him known" (John 1:18). Only in Jesus through the proclamation of the Gospel can we know the Father.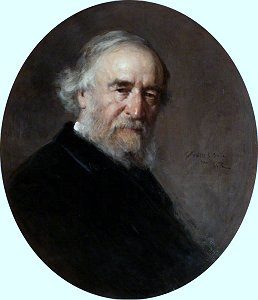 Walter Chalmers Smith D. D. (1824-1908)  was educated at the Grammar School and University of that City. He pursued his Theological studies at Edinburgh, and was ordained Pastor of the Scottish Church in Chadwell Street, Islington, London, in 1850. After holding several pastorates he became, in 1876, Minister of the Free High Church, Edinburgh. The Free Church of Scotland elected him its moderator during its Jubilee year in 1893.
"From 1860 to 1893 Dr. Smith published the following volumes of verse: "The Bishop's Walk" (1860); "Hymns of Christ and the Christian Life" (1867); "Olrig Grange" (1872); "Borland Hall" (1874); "Hilda; among the Broken Gods" (1878); "Raban; or, Life Splinters" (1880); "North Country Folk" (1883); "Kildrostan" (1884); "Thoughts and Fancies for Sunday Evenings" (1887); "A Heretic and other Poems" (1891); "Selections from the Poems of Walter C. Smith" (1893).
Although Dr. Smith's work has a claim to a place among that of the general poets, there is a certain fitness in his being placed among the sacred poets, since the strongest force in his poetry is the religious one, so that, even in what may be called his secular poetry, the most vital parts grow out of his theologic thought or religious feeling. In this respect he is like the other poet of Aberdeenshire, George MacDonald, who says himself, that he would not care either to write poetry or tell stories if he could not preach in them—but then there is preaching and preaching; and if all preaching were of the living sort we get from these two Aberdonians, the name would carry a higher meaning than it usually does." (William Horder)
Immortal, invisible, God only wise,
in light inaccessible hid from our eyes,
most blessed, most glorious, the Ancient of Days,
almighty, victorious, thy great name we praise.

Unresting, unhasting, and silent as light,
nor wanting, nor wasting, thou rulest in might:
thy justice, like mountains high soaring above,
thy clouds which are fountains of goodness and love.

To all, life thou givest, to both great and small;
in all life thou livest, the true life of all;
we blossom and flourish like leaves on the tree,
then wither and perish, but naught changeth thee.

Thou reignest in glory, thou dwellest in light,
thine angels adore thee, all veiling their sight;
all praise we would render; O help us to see
'tis only the splendor of light hideth thee!
The final stanzas have been somewhat altered from the original:
Great Father of glory, pure Father of light,
Thine angels adore Thee, all veiling their sight;
Of all Thy rich graces this grace, Lord, impart
Take the veil from our faces, the vile from our heart.

All laud we would render; O help us to see
'Tis only the splendor of light hideth Thee,
And so let Thy glory, almighty, impart,
Through Christ in His story, Thy Christ to the heart.
John Roberts, in Welsh Ieuan Gwyllt (1822-1877), composed the tune ST. DENIO (also known as JOANNA, or PALESTINA). It is derived from a Welsh folk song Can Mlynned i 'nawr' ("A Hundred Years from Now"). This version appeared in his Canaidau y Cyssegr (Songs of Worship) of 1839.  The melody was first harmonized to, adapted for, and used with Smith's words in The English Hymnal of 1905-1906, edited by Gustav Theodore Holst (1874-1934). Roberts was a leader in the revival of Welsh choral song.
This hymn was sung in Westminster Abbey, London, England, at the 2002 funeral of Queen Elizabeth, the Queen Mother. It is Prince Charles's favorite hymn and was sung at his wedding to Camilla.  Here it is sung at a memorial service for the victims of the terrorist attacks on the World Trade Center in New York City and on the Pentagon in Washington from St Paul's Cathedral, 14th September 2001.
As Librarian of Corpus Christi College, Cambridge, Christopher de Hamel has charge of The Gospels of St. Augustine, the very manuscript that Pope Gregory the Great (540—604) gave to St. Augustine of Canterbury (543—604) to take to England. De Hamel carried it in the procession of the enthronement of Rowan Williams as Archbishop of Canterbury in 2003.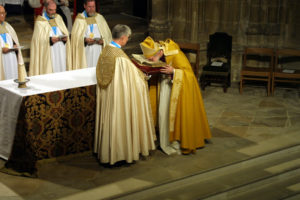 Rowan Williams venerating the Gospel Book of St. Augustine
In his book, Meetings with Remarkable Manuscripts, de Hamel recounts:
"I had to enter the cathedral that day through the west door, joining the procession just as they began singing the first hymn, 'immortal, invisible, God only wise,' a Welsh tune in homage to the nationality of the new primate. I was holding the Gospels of St. Augustine open of a cushion. It was secured by two ribbons of transparent conservation tape. Upwards of 2,500 people singing a familiar hymn very loudly in an enclosed stone building makes the air vibrate. This is the nature of sound waves. The parchment leaves of the manuscript, as we saw earlier, are extremely fine and of tissue thinness, and they picked up the vibrations and they hummed and fluttered in time to the music. At that moment it was as if the sixth-century manuscript on its cushion had come to life and was taking part in the service."
____________________
Jesus, lead the way is a translation by the Episcopal clergyman Arthur W. Fandlander of the German hymn Jesu, geh' voran, written by Nicolas Ludwig, Graf von Zinzendorf. It is a simple prayer for help in the difficulties and pains of life, and a reminder that the way of the cross leads home to God.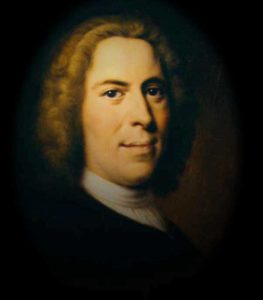 Nicolas Ludwig, Graf von Zinzendorf
The tune SEELENBRÄUTIGAM (The Bridegroom of the soul) is by Adam Drese (1620—1701). In 1697 he wrote Seelenbräutigam, Jesus, Gottes lamm. In 1721 Von Zinzendorf wrote Seelenbräutigam, o du Gottes Lamm, and set it to Drese's melody, thereby leading to a confusion between the two hymns. Von Zinzendorf later wrote Jesu, geh voran, which is set to Drese's tune, and it is a translation of this hymn that we use in the 1940 Hymnal.
Arthur William Farlander 
The version in the 1940 Hymnal is the translation by Arthur William Farlander (1898—1952). Farlander was born in Germany. Sometime in his early life he moved to the United States and was confirmed as an Episcopalian in the 1920s.  He was ordained in 1927. He was rector of a church in San Francisco, dean of St James Cathedral in Fresno, and later rector of churches in Santa Clara and Santa Rosa. He was on the twenty-four member committee which produced the 1940 Hymnal for which he helped translate six texts. He was a pioneer in Episcopal radio ministry.
Drese was at first musician at the court of Duke Wilhelm, of Sachse-Weimar; and after being sent by the Duke for further training under Marco Sacchi at Warsaw, was appointed his Kapellmeister in 1655. On the Duke's death in 1662, his son, Duke Bernhard, took Drese with him to Jena, appointed him his secretary, and, in 1672, Town Mayor. After Duke Bernhard's death, in 1678, Drese remained in Jena till 1683, when he was appointed Kapellmeister at Arnstadt to Prince Anton Günther of Schwarzburg-Sondershausen, who required Drese to put aside secular music and concentrate on Pietist compositions. He died at Arnstadt shortly before J. S. Bach came there.
Jesus, led the way
Through our life's long long day,
And with faithful footsteps steady,
We will follow, ever ready;
Guide us by Thy hand
To our fatherland.
Should our lot be hard,
Keep us on our guard;
Even through severest trial
Make us brave in self-denial
Transient pain may be,
But a way to Thee.

When we need relief,
From an inner grief,
Or when evils come alluring
Make us patient and enduring:
Let us follow still
Thy most holy will.

Order thou our ways,
When we need relief,
From an inner grief,
Or when evils come alluring
Make us patient and enduring:
Let us follow still
Thy most holy will.

Saviour, all our days:
Order thou our ways,
When we need relief,
From an inner grief,
Or when evils come alluring
Make us patient and enduring:
Let us follow still
Thy most holy will.
Here, with a somewhat different translation,  is a choral arrangement
Von Zinzendorf's hymn:
Jesus, geh voran
auf der Lebensbahn;
und wir wollen nicht verweilen,
Dir getreulich nachzueilen,
führ uns an der Hand
bis ins Vaterland.

Soll's uns hart ergehn
laß uns feste stehn,
und auch in den schwersten Tagen
niemals über Lasten klagen;
denn durch Trübsal hier
geht der Weg zu Dir.

Rühret eigner Schmerz
irgend unser Herz,
kümmert uns ein fremdes Leiden:
O so gib Geduld zu beiden.
Richte unsern Sinn
auf Dein Kommen hin.

Ordne unsern Gang,
Jesus, Leben slang.
durch rauhe Wege,
gib uns auch die nöt'ge Pflege.
Tu uns nach dem Lauf
Deine Türe auf.
Here is Bach's 1697 arrangement of Jesu, geh voran, using Drese's tune and words..
J.S. Bach in 1736 used Drese's Seelenbraatigam, Jesus Gottes lamm as the basis for his cantata of that name (BWV 496). Here is a version and also the beginning.
And here is the complete text:
Seelenbräutigam,
Jesu, Gotteslamm!
habe Dank für deine Liebe,
die mich zieht aus reinem Triebe
von dem Sündenschlamm,
Jesu, Gotteslamm.

Deine Liebesglut
Licht stärket Mut und Blut,
wend nu freundlich mich anblickest
und an deine Brust mich drückest,
macht mich wohlgemut
deine Liebesglut.

Wahrer Mensch und Gott,
Tost in Not und Tod,
du bist darum Mensch geboren,
zu ersetzen, was verloren,
durch dein Blut so rot,
wahrer Mensch und Gott.

Meines Glaubens Licht
lass verlöschen nicht,
salbe mich mit Freudenöle,
dass hinfort in meiner Seele
ja verlösche nicht
deine Liebesglut.

So werd ich in dir
bleiben für und für,
deine Liebe will ich ehren
und in dir dein Lob vermehren,
weil ich für und für
bleiben werd in dir.

Held aus Davids Stamm,
deine Liebesflamm
mich ernähre, und verwehre,
dass die Welt mich nicht versehre,
ob sie mir gleich gram,
Held aus Davids Stamm.

Großer Friedensfürst,
wie hast du gedürst
nach der Menschen Heil und Leben
und dich in den Tod gegeben,
da du riefst: Mich dürst',
großer Friedensfürst.

Deinen Frieden gib
aus so reiner Lieb,
uns, den Deinen, die dich kennen
und nach dir sich Christen nennen,
denen bist du lieb,
deinen Frieden gib.

Wer der Welt abstirbt,
emsig sich bewirbt
um den lebendigen Glauben,
der wird bald empfind1ich schauen,
dass niemand verdirbt,
wer der Welt abstirbt.

Nun ergreif ich dich,
ach! ergreife mich!
ich will nimmermehr dich lassen,
sondern gläubig dich umfassen,
weil im Glauben ich
nun ergreife dich.
Wenn ich weinen muss,
wird dein Tränenfluss
nun die meinen auch begleiten
und zu deinen Wunden leiten,
dass mein Tränenfluss
sich bald stillen muss.

Wenn ich mich aufs neu
wiederum erfreu,
freuest du dich auch zugleiche,
bis ich dort in deinem Reiche
ewiglich aufs neu
mich mit dir erfreu.

Hier durch Spott und Hohn,
dort die Ehrenkron;
hier im Hoffen und im Glauben,
dort im Haben und im Schauen;
denn die Ehrenkron
folgt auf Spott und Hohn.

Jesu, hilf, dass ich
allhier ritterlich
alles durch dich überwinde
und in deinem Sieg empfinde,
wie so ritterlich
du gekämpft für mich.

Du mein Preis und Ruhm,
werte Saronsblum,
in mir soll nun nichts erschallen
als was dir nur kann gefallen,
werte Saronsblum,
du mein Preis und Ruhm.
Schleiermacher also wrote a short hymn for this melody: Dienen Frieden gieb.
_____________________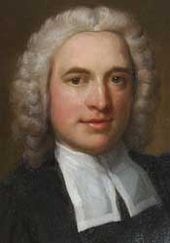 Charles Wesley
O for a thousand tongues to sing was written by Charles Wesley on the first anniversary of his conversion. In in May, 1738, he was suffering severely from pleurisy while he and his brother were studying under the Moravian scholar Peter Boehler in London. At the time, Wesley was plagued by extreme doubts about his faith. Taken to bed with the sickness, on May 21 Wesley was attended by a group of Christians who offered him testimony and basic care, and he was deeply affected by this. He read from his Bible and found himself deeply affected by the words, and at peace with God. Shortly his strength began to return. He wrote of this experience in his journal, and counted it as a renewal of his faith. Charles composed this hymn in 1739. Because of the benefactions that God has made us in creating, redeeming, and sanctifying us, our overwhelming desire should be to praise God in word and deed in gratitude for what He has done,  so that all may know of His great deeds.
This is the version we will use:
1 O for a thousand tongues to sing
my dear Redeemer's praise,
the glories of my God and King,
the triumphs of his grace!
2 Jesus! the name that charms our fears,
that bids our sorrows cease;
'tis music in the sinner's ears,
'tis life and health and peace.
3 He breaks the power of cancelled sin,
he sets the prisoner free:
his blood can make the foulest clean;
his blood availed for me.
4 He speaks; and, listening to his voice,
new life the dead receive,
the mournful broken hearts rejoice,
the humble poor believe.
5 Hear him, ye deaf; his praise, ye dumb,
your loosened tongues employ;
ye blind, behold your Saviour come;
and leap, ye lame, for joy!
6 My gracious Master and my God,
assist me to proclaim
and spread through all the earth abroad
the honours of thy name.
Here it is sung at Coral Ridge Presbyterian.
Charles Wesley in his journal:
"May 21, 1738. I waked in expectation of His coming. At nine my brother and some friends came and sang a hymn to the Holy Ghost. My comfort and hope were hereby increased. In about half an hour they went. I betook myself to prayer the substance as follows: O Jesus, thou hast said, I will come unto you; thou hast said, I will send the Comforter unto you. thou hast said, My Father and I will come unto you, and make our abode with you. Thou art my God, who canst not lie. I wholly rely upon thy most true promise: accomplish it in thy time and manner.…Still I felt a violent opposition and reluctance to believe, yet still the Spirit of God strove with my own and the evil spirit till by degrees he chased away the darkness of my unbelief. I found myself convinced, I knew not how or when, and immediately fell to intercession."
One year from the experience, Wesley was taken with the urge to write another hymn, this one in commemoration of his renewal of faith. This hymn took the form of an 18-stanza poem, beginning with the opening lines 'Glory to God, and praise, and love,/Be ever, ever given' and was published in 1740 and entitled 'For the anniversary day of one's conversion'. The seventh verse, which begins, 'O for a thousand tongues to sing', and which now is invariably the first verse of a shorter hymn, recalls Böhler's words, 'Had I a thousand tongues I would praise Him with them all'. The hymn was placed first in John Wesley's A Collection of Hymns for the People Called Methodists published in 1780 and has always been the first hymn in every Methodist hymnal since then.
Here are all the original stanzas of the hymn:
1. Glory to God, and praise and love,
Be ever, ever given;
By saints below and saints above,
The Church in earth and heaven.
2. On this glad day the glorious Sun
Of righteousness arose,
On my benighted soul he shone,
And filled it with repose.
3. Sudden expired the legal strife;
'Twas then I ceased to grieve.
My second, real, living life,
I then began to live.
4. Then with my heart I first believed,
Believed with faith divine;
Power with the Holy Ghost received
To call the Saviour mine.
5. I felt my Lord's atoning blood
Close to my soul applied;
Me, me he loved – the Son of God
For me, for me he died!
6. I found and owned his promise true,
Ascertained of my part,
My pardon passed in heaven I know,
When written on my heart.
7. O For a thousand tongues to sing
My dear Redeemer's praise!
The glories of my God and King,
The triumphs of His grace!
8. My gracious Master and my God,
Assist me to proclaim,
To spread through all the world abroad
The honors of Thy name.
9. Jesus! the Name that charms our fears,
That bids our sorrows cease;
'Tis music in the sinner's ears,
'Tis life, and health, and peace.
10. He breaks the power of cancell'd sin,
He sets the prisoner free;
His blood can make the foulest clean,
His blood avail'd for me.
11. He speaks, – and, listening to his voice,
New life the dead receive;
The mournful, broken hearts rejoice;
The humble poor believe.
12. Hear him, ye deaf; his praise, ye dumb,
Your loosen'd tongues employ;
Ye blind, behold your Saviour come,
And leap, ye lame, for joy.
13. Look unto him, ye nations; own
Your God, ye fallen race;
Look, and be saved through faith alone,
Be justified by grace.
14. See all your sins on Jesus laid;
The Lamb of God was slain;
His soul was once an offering made
For every soul of man.
15. Harlots, and publicans, and thieves,
In holy triumph join!
Saved is the sinner that believes,
From crimes as great as mine.
16. Murderers, and all ye hellish crew,
Ye sons of lust and pride,
Believe the Savior died for you;
For me the Saviour died.
17. Awake from guilty nature's sleep,
And Christ shall give you light,
Cast all your sins into the deep,
And wash the AEthiop white.
18. With me, your chief, ye then shall know,
Shall feel your sins forgiven;
Anticipate your heaven below,
And own that love is heaven.
In the 1989 United Methodist Hymnal, the first hymn is still O for a thousand tongues to sing; it uses verses 7,8, 9, 10, 11, 12, and a slightly altered version of verse 18. The next page has all the verses except verse 17 (not surprisingly). That verse is not racist, but allusion to Jeremiah 13: 23-24:
Can the Ethiopian change his skin
    or the leopard his spots?
Then also you can do good
    who are accustomed to do evil.
The point is that Christ can transform a sinner into a saint.
AZMON was composed by the German composer and conductor Carl Gotthölf Glaser (1784-1829). In 1839 Lowell Mason arranged  AZMON as a setting for this hymn. Azmon means "strong," and is a place on the southern boundary of the Holy Land, apparently near the torrent of Egypt (Wadi el-Arish). (Numbers 34:4,5). Charles Ives used the tune in Symphony No. 3, The Camp Meeting. AZMON and ERIE (What a friend we have in Jesus) are the primary source materials for the first movement, subtitled 'Old Folks Gatherin'.
______________________________
Anthems
In Thee is gladness amid all sadness,
Jesus, day-star of my heart!
By Thee are given the gifts of heaven,
thou the true Redeemer art!
Our souls thou wakest;
our bonds thou breakest.
Who trusts Thee surely
has built securely and stands forever: Allelujah!
Our hearts are longing to see thy dawning.
Living or dying, in thee abiding,
naught can us sever: Allelujah!

Jesus is ours!
We fear no powers,
not of earth or sin or death.
He sees and blesses in worst distresses;
he can change them with a breath.
Wherefore the story –
tell of His glory with hearts and voices;
all heaven rejoices in him forever: Allelujah!
We shout for gladness,
triumph o'er sadness,
love him and praise him,
and still shall raise him
glad hymns forever: Allelujah!
Here it is sung by a choir at St. Olaf.

The anthem In Thee is gladness is a translation by Catherine Winkworth of Johannes Lindemann's In dir ist Freude. On Laetare Sunday we pause in our time of penitence to look forward to the joy of Easter.  The hymn proclaims  that Jesus is the "day-star of my heart," the source of our hope. The first stanza alludes to Romans 8:38-39: "For I am persuaded, that neither death, nor life, nor angels, nor principalities, nor powers, nor things present, nor things to come, nor height, nor depth, nor any other creature, shall be able to separate us from the love of God, which is in Christ Jesus our Lord."  .  The second stanza draws from Romans 8:31, "If God be for us, who can be against us?" Even the dance-like character of the music seems to defy the struggles of life because of the hope that Jesus offers to all. Indeed, the hymn concludes with "shout[s] for gladness, triumph o'er sadness . . . [and] voices raising glad hymns forever. Alleluia!"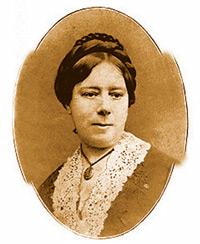 Catherine Winkworth
Catherine Winkworth (13 September 1827 – 1 July 1878) was born at 20 Ely Place, Holborn, on the edge of the City of London. She was the fourth daughter of Henry Winkworth, a silk merchant. In 1829, her family moved to Manchester, where her father had a silk mill. Winkworth lived most of her early life in this great city, engine of the Industrial Revolution. Winkworth studied under the Rev. William Gaskell, minister of Cross Street Chapel, and with Dr. James Martineau, both of them eminent British Unitarians. She subsequently moved with the family to Clifton, near Bristol. Her sister Susanna Winkworth (1820–1884) was also a translator, mainly of German devotional works. Winkworth translated biographies of two founders of sisterhoods for the poor and the sick: Life of Pastor Fliedner, 1861, and Life of Amelia Sieveking, 1863. She is best known for bringing the German chorale tradition to English speakers with her numerous translations of church hymns, which were published in the Lyra Germanica.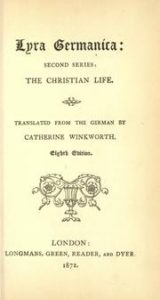 She also worked for wider educational opportunities for girls and  in promoting women's rights, as the secretary of the Clifton Association for Higher Education for Women, and a supporter of the Clifton High School for Girls, where a school house is named after her, and a member of the Cheltenham Ladies' College. She was likewise governor of the Red Maids' School in Westbury-on-Trym in the city of Bristol.
According to the Encyclopedia of Britain by Bamber Gascoigne (1993), it was Catherine Winkworth who, learning of General Charles James Napier's ruthless and unauthorised, but successful campaign to conquer the Indian province of Sindh, "remarked to her teacher that Napier's despatch to the governor-general of India, after capturing Sindh, should have been Peccavi (Latin for 'I have sinned': a pun on 'I have Sindh'). She sent her joke to the new humorous magazine Punch, which printed it on 18 May 1844. She was then sixteen years old. The Oxford Dictionary of Quotations attributes this to Winkworth, noting that it was attributed to her in Notes and Queries in May 1954.The pun has usually been credited to Napier.] The rumour's persistence over the decades led to investigations in Calcutta archives, as well as comments by William Lee-Warner in 1917 and Lord Zetland, Secretary for India, in 1936.
Catherine Winkworth died suddenly of heart disease near Geneva on 1 July 1878 and was buried in Monnetier, in Upper Savoy. A monument to her memory was erected in Bristol Cathedral. She is commemorated as a hymn writer with John Mason Neale on the liturgical calendar of the Episcopal Church on 7 August.
Cantor Johann Lindemann (1549-1631), relative of Martin Luther, was a signer of the Lutheran Formula of Concord (1577). Lindemann attended the gymnasium (high school) in Gotha and then studied at the University of Jena. He returned to Gotha, where he served on the council and became a cantor in several churches (1580-1631). He wrote this text to fit the tune by Gastoldi. It was published in Amorum filii Dei decades duae … Zwantzig Weyhenachten Gesenglein … zum Theil unter … Madrigalia und Balletti (Erfurt, 1594, 1596 and 1598), a three-volume anthology of contrafacta of five-part Italian secular pieces. Eight are by Giovanni Giacomo Gastoldi, and the Latin title of the collection may perhaps be seen as recalling Gastoldi's pieces Amor, tu che congiungi and Filli vezzosa e lieta. Lindemann's uncle, Cyriak Lindemann, probably knew Georg Fabricius, one of the leading hymnologists of the Reformation period, who studied in Italy for four years. Johannes Lindemann's particular significance is as one of the first to marry the Italian madrigal with the chorale tradition of central Germany and Thuringia. An illustration is afforded by this chorale In dir ist Freude, a contrafactum of Gastoldi's L'innamorato; it became one of the best-known Protestant chorales.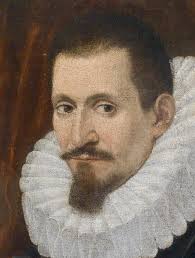 Giovanni Giacomo Gastoldi
The tune IN DIR IST FREUDE, adapted from Giovanni Giacomo Gastoldi's (c. 1554-1609) balletto, "Al­i­eta vi­ta," in  Ba­let­ti a cinque vo­ci. It is characterized as being a "light-hearted, dancelike piece" which contained a fa-la-la (nonsense syllable) refrain. Gastoldi was an Italian priest and composer who had a great influence on several great composers of his era including Claudio Monteverdi, Hans Leo Hassler, and Thomas Morely.  The tune was not paired with the text until 1863 when it was published in the Chorale Book for England: A Complete Hymn Book for Public and Private Worship, in accordance with the Services and Festivals of the Church of England under the section heading "Love to the Savior."
A Digression on Contrafacta
from WPWT
The absence of contrast between 'secular' and 'sacred' styles of music in the Middle Ages] can be shown simply by the observation that a secular song, if given a set of sacred words, could serve as sacred music, and vice versa. Only recently has it been recognized how frequently such interchange took place, and the more we learn about medieval music, the more important it becomes. The practice of borrowing a song from one sphere and making it suitable for use in the other by the substitution of words is known as "parody" or contrafactum.'
The contrafactum (plural contrafacta) may operate in either direction: to provide pious words to fit a secular song, or profane words to fit a religious song. It may involve 'parody' in the literary sense, offering purposeful variations on the words of the original song, but sometimes there may be only a more general contrast in content between the two songs, or even no obvious relationship at all between them. Although in some cases it is possible to tell which came first, the religious or the secular version, in others it is less clear in which direction the process operated.
Examples of this can be found particularly in Goliardic verse, which sometimes parodies the forms of hymns and the church services; for instance, the first line of the sixth-century Latin hymn for Prime, Iam lucis orto sidere, which celebrates control of both the emotions and the appetites (potus cibique parcitas, 'restraint in food and drink'), is borrowed to introduce a twelfth-century drinking song:
Iam lucis orto sidere
Deum precamur supplices
ut in diurnis actibus
Nos servet a nocentibus . . . Now at the dawning of the day
To God as suppliants we pray
That from our daily round he may
All harmful beings keep away . . .
becomes:
Iam lucis orto sidere
statim oportet bibere;
Bibamus nunc egregie
Et rebibamus hodie . . . Now at the dawning of the day
We must start drinking straight away;
Let's drink now till the drink's all gone,
And have another later on . . .
This kind of contrafactum becomes commoner in the later Middle Ages; it is particularly associated, from the early thirteenth century onwards, with the work of the friars, who often supplied pious words to be sung to popular secular tunes (a device later to be taken over, for similar reasons, by the Salvation Army, on the principle 'Why should the Devil have all the best tunes?'). St Francis described his followers as joculatores Dei, 'God's minstrels'. An example of this can be found in the Red Book of Ossory (Bishop's Palace, Kilkenny), which includes 60 Latin lyrics in two hands of the late C14, accompanied by a note:
Attende, lector, qu[o]d Episcopus Ossoriensis fecit istas cantilenas pro vicariis Ecclesie Cathedralis sacerdotibus et clericis suis ad cantandum in magnis festis et solaciis, ne guttura eorum et ora Deo sanctificata polluantur cantilenis teatralibus, turpibus et secularibus, et cum sint cantatores prouideant sibi de notis conuenientibus secundum quod dictamina requirunt.
Be advised, reader, that the Bishop of Ossory [the Franciscan friar Richard de Ledrede, d. 1360] has made these songs for the vicars of the cathedral church, for the priests, and for the clerks, to be sung on the important holidays and at celebrations in order that their throats and mouths, consecrated to God, may not be polluted by songs which are lewd, secular, and associated with revelry, and, since they are trained singers, let them provide themselves with suitable tunes according to what these sets of words require.
Twenty five of the Latin lyrics are on the Nativity or related themes, 11 on Easter and the Resurrection, one on the Annunciation, the rest on various devotional topics. Some of them are accompanied by introductory fragments of English or French verse, whose form (though not content) they seem to echo: e.g. the first line of the popular dance-song 'Maiden on the moor' ('A maiden stayed on the moor for a full week and a day . . .') prefaces a lyric on the Nativity:
Maiden in the mor lay,
in the mor lay,
seuenyst[es] fulle,
seuenist[es] fulle.
Maiden in the mor lay–
in the mor lay–
seuenistes fulle,
[seuenistes fulle,
fulle] ant a day… Peperit virgo,
Virgo regia,
Mater orphanorum,
Mater orphanorum,
Peperit virgo,
Virgo regia,
Mater orphanorum,
mater orphanorum,
Plena gracia… A virgin gave birth,
A royal virgin,
Mother of orphans,
Mother of orphans,
A virgin gave birth,
A royal virgin,
Mother of orphans,
Mother of orphans,
Full of grace…
LP's addition: O Haupt voll Blut und Wunden was set to a love song, Innsbruck ich muss dich lassen; Good King Wenceslaus to the the spring carol Tempus adest floridum; What Child is This to a ballad about a woman of dubious virtue –Greensleeves; the Star Spangled Banner to a drinking song To Anacreon in Heaven [try hitting those high notes after 6 glasses of port]. Contemporary composers use it. "Come to Me," also known as "Fantine's Death," is sung in the first act of 'Les Miserables.' "On My Own," the contrafactum of "Come to Me," is performed during the second act of the show.  "Comme d'habitude", music by Claude François and Jacques Revaux, original French lyrics by Claude François and Gilles Thibaut, was rewritten as "My Way" with English lyrics by Paul Anka.  In Japan, the Scots song "Auld Lang Syne" has a new set of words in the song "Hotaru no hikari" (lit. "The light of the firefly"), and is used at graduation ceremonies [inscrutable]. There are of course many ad hoc parodies when students discover that O my darling Clementine has the same meter as Tantum ergo.)
____________________
Laetare Jerusalem: et conventum facite omnes qui diligitis eam.
Gaudete cum laetitia, qui in tristitia fuistis:
Ut exsultetis, et satiemini ab uberibus consolationis vestrae.
Rejoice, O Jerusalem: and come together all you that love her.
Rejoice with gladness, you that have been in sorrow:
That you may exult, and be filled from the breasts of your consolation.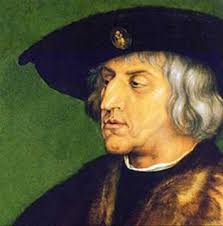 Heinrich Isaac
Heinrich Isaac (c. 1450 – 26 March 1517) was a Nederlandish composer of south Netherlandish origin. He wrote masses, motets, songs (in French, German and Italian), and instrumental music. A significant contemporary of  Josquin des Prez, his influence was especially pronounced in Germany, due to the connection he maintained with the Hapsburg court. He was the first significant master of the Franco-Flemish polyphonic style who both lived in German-speaking areas, and whose music was widely distributed there. It was through him that the polyphonic style of the Netherlands became widely accepted in Germany, making possible the further development of contrapuntal music there. His best known composition is Innbruck, ich muss dich lassen, the melody of which was used for O Haupt voll Blut und Wunden (O Sacred Head Surrounded)(see Digression on Contrafacta above.)
Isaac is held in high regard for his Choralis Constantinus. It is a huge anthology of over 450 chant-based polyphonic motets for the Proper of the Mass. It had its origins in a commission that Isaac received from the Cathedral in Konstanz, Germany in April 1508 to set many of the Propers unique to the local liturgy. Isaac was in Konstanz because Maximilian had called a meeting of the Reichstag (German Parliament of nobles) there and Isaac was on hand to provide music for the Imperial court chapel choir. After the deaths of both Maximilian and Isaac, Ludwig Senfl, who had been Isaac's pupil as a member of the Imperial court choir, gathered all the Isaac settings of the Proper and placed them into liturgical order for the church year. But the anthology was not published until 1555, after Senfl's death, by which time the reforms of the Council of Trent had made many of the texts obsolete. The motets remain some of the finest examples of chant-based Renaissance polyphony in existence. The motet Laetare Ierusalem is from this collection.
Leave a Comment