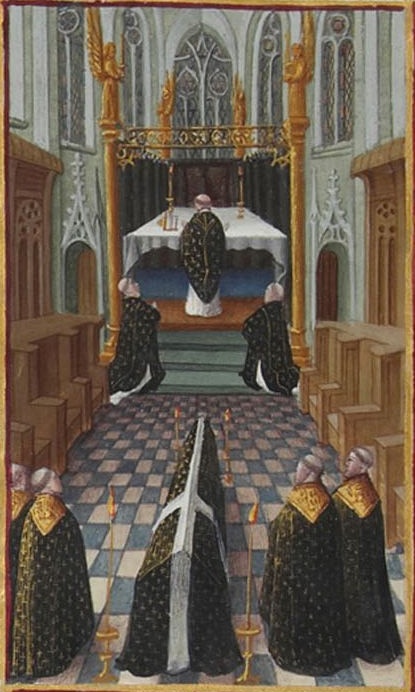 Mount Calvary Church
A Roman Catholic Parish
The Ordinariate of the Chair of St. Peter
Eutaw Street and Madison Avenue
Baltimore, Maryland
All Souls' Day
November 2, 2018
7:00 P.M.
The Common, Proper and Dies Irae will be in plainchant
Here is the Latin Dies Irae
Hymns
Jesus son of Mary was written by Edmund Stuart Palmer (1856–1931) in Swahili as 'Yesu Bin Mariamu' sometime before 1901, for the Requiem of a colleague. Palmer was a doctor and Anglican cleric who preached and practiced medicine in Zanzibar and East Africa.
Here is the tune we will use ADORO DEVOTE.
Here is the choir of All Saints with the original tune for the Swahili hymn.
Abide with me was written by the Scottish Anglican clergyman Henry Francis Lyte (1793–1847). The hymn is based on Luke 24:29, part of a post-Resurrection narrative telling the story of Emmaus: "But they constrained him, saying, Abide with us: for it is toward evening, and the day is far spent. And he went in to tarry with them."  Lyte takes the quotation and turns it into a metaphor for human life in all of its brevity. At the same time, by changing 'Abide with us' into 'Abide with me,' he deepens the feeling by making it speak to the individual, in prayer or meditation. It is perhaps the personal intensity of the text, the use of the metaphor of evening and the closing line, "In life, in death, O Lord, abide with me," that makes this hymn a favorite at requiems.
Here is the Kings College Choir, Cambridge.
_____________________
Day of Wrath
The tune of the Dies Irae is used scores, probably hundreds of times, in classical music. As the themes of Death, Judgement, and Wrath have been softened or have disappeared from mainline Christianity, the Dies Irae has become more and more prominent in popular culture. Death is dreadful, and there is no escape, as we all, believers and non-believers, deep down know.
A Musical History of Death: "Exit Music" by Tom Allen
Leave a Comment