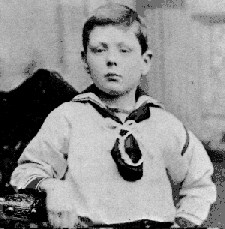 The young Winston
My wife is related by marriage to Winston Churchill (first cousin once removed of the wife of the great-grandfather of my wife), through Jennny Jerome.
The Jeromes were extremely prolific, so my wife shares that distinction with several thousand other Americans.
I could say many things about Winston (especially about Operation Keelhaul), but here I would like to point point that being a member of a famous and aristocratic family is no guarantee of a sane or decent or happy life.
Winston's son Randolph (1911-1968) married as his second wife Jane Osborne. Their daughter was Arabella Churchill (1949-2007), the first cousin, three times removed, of the wife of the great-grandfather of my wife.
Arabella Churchill
Her life was not especially happy. Wikipedia summarizes:
She went to Fritham School for Girls, where she was Head Girl, and then Ladymede school, near Aylesbury, Buckinghamshire. She worked at Lepra, the charity for leprosy sufferers, and then briefly at London Weekend Television.

In 1954 she had appeared on the cover of Life as part of a feature on possible future spouses of Prince Charles. In 1967 she was 'Debutante of the Year,' met the Kennedys and Martin Luther King in America, and was romantically linked with Crown Prince (now King) Carl XVI Gustaf of Sweden in 1970. In 1971 she was invited to represent Britain at the Norfolk International Azalea Festival in Virginia, established in 1953 after NATO's Allied command was established there. Each year a NATO country is honoured, and invited to send a beautiful "Azalea Queen" as its ambassador.

Churchill refused to go, indicating in a letter she believed in the goals of the peace movement, and was horrified by the Vietnam War. Chased through London by a surprised press, she left instead for rural Somerset, where she helped lead the first full-scale incarnation of the Glastonbury Festival with Andrew Kerr, Thomas Crimble, Michael Eavis and many others.

During the 1970s she embraced the alternative culture of the time, which included living for a time in a squat\ but later worked and lived on a farm. She granted a rare interview to Rolling Stone magazine. In 1979 Churchill and Kerr were again in charge of the festival, and from then on her administration continued alongside Eavis and Kerr, along with the founding and leading of the charity Children's World and work as a fundraiser.

In 1972 she married Jim Barton, and in 1973 had a son, Nicholas Jake. In 1987 she met her second husband, a juggler, Haggis McLeod, and in 1988 they had a daughter, Jessica.

She embraced Tibetan Buddhism through the teachings of Sogyal Rinpoche, author of The Tibetan Book of Living and Dying.[4]

On Thursday 20 December 2007, Churchill died at St Edmund's Cottages, Bove Town, Glastonbury, Somerset, aged 58. She had suffered a short illness due to pancreatic cancer, for which she had refused chemotherapy and radiotherapy. Arrangements following her death respected her Buddhist faith, and included a parade and simple farewell on the final evening of the Glastonbury Festival in June 2008. Festival organiser Michael Eavis, paying tribute to Churchill after her death, said "Her energy, vitality and great sense of morality and social responsibility have given her a place in our festival history second to none."
James Barton was a schoolteacher. The son Jake has had a troubled life. The Daily Mail goes on about the family troubles:
Churchill it was worth everything to fly to Australia to be at her son Jake Barton's wedding. It was the moment for which Sir Winston Churchill's favourite grandchild had long been waiting — the day that Jake, 33, whom she had cheerfully hauled as a baby through squats and hippie communes, was finally settling down. Arabella remembers waving goodbye to him and "my beautiful new daughter-in-law" Kim as she and her husband drove away from the ocean-side resort of Byron Bay towards Brisbane airport.

"The thought of more air travel and jet lag appalled me, but we love Jake and Kim dearly, so Haggis (her second husband, a juggler) and I really felt we had to be at their wedding," she wrote afterwards in a website diary. Perhaps the next piece of family news would be about a baby, her own first grandchild?

When important news came, though, it was anything but joyous. Jake's beachside home had been raided by New South Wales police and he was in custody accused of running a £5 million drugs ring. Today, seven months after that happiest of wedding days, Jake is held in Sydney's Parklea prison and Arabella Churchill's brief dynastic contentment has turned to anguish. Next month, Sir Winston's great-grandson goes on trial and faces a maximum sentence of life imprisonment.

"There is nothing I can say about this," says Arabella, 57, who, as a teenager, would sit and talk with her grandfather, holding the great wartime leader's hand. "Nothing at all."

Worst of all, for a woman who has devoted much of her life to helping thousands through her Children's World charity (which provides entertainment for children from all backgrounds) is the certain knowledge that, in this grave moment of crisis, her own child is beyond her help.

Australian police allege that Jake Barton ran a major drugs syndicate. They say they seized 250,000 Ecstasy tablets and all the paraphernalia of a large-scale drug-producing operating, including 30lb of MDMA, the powder used to make Ecstasy tablets, and two pill presses. So large is the drugs ring police claim to have smashed that a shortage of Ecstasy supplies in Sydney has been noticed and prices have shot up. The problem of being a Churchill is that the name always attracts attention, but no one in Australia knew that Jake was a scion of that remarkable — and, at times, remarkably troubled — family. Jake kept his dynastic connections to himself.

Jake's arrest is an unimaginable twist in a saga of disappointment that for decades has pursued the descendants of Britain's most lionised leader. Ever in the shadow of Sir Winston, whatever they have done never seems to be enough for them to feel they live up to him.In particular, the great man's son Randolph — Arabella's father — was one of the most famously unpleasant figures in mid-20th century public life. A man of huge political ambition and enormous alcohol consumption, he stood six times for Parliament without success, each failure making him more generally unpleasant. When he had surgery for a benign tumour, Evelyn Waugh remarked that the surgeon had removed "the only part of Randolph that was not malignant". Arabella's half-brother, Winston, 66, did become an MP but was a politician of only modest achievement. If he did achieve any kind of status it was only, according to Soraya Khashoggi, former wife of billionaire Adnan, in bed. But on one occasion at least, being a Churchill certainly helped him out of a little difficulty. Soraya tells how once, during their five-year affair, they were driving along a freeway in America when she started to remove her clothes. She told him: "The faster you go, the more I'll take off. "In no time at all, Winston was doing 100 miles an hour and I had nothing on — which was when we heard the police siren." The punishment? Just a ticking off after the officer examined his driver's licence and satisfied himself he really had stopped Winston Spencer Churchill.

It was the same Winston who created a furore in 1995 by selling the Chartwell Papers, his grandfather's archive, to the nation for £12.5 million, paid for with National Lottery money. Some historians and many of his fellow MPs were outraged because they believed many of the documents should have been the property of the state.

As for Arabella, her early years — post-war years when her grandfather was the hero of the free world — were embellished with Churchillian glamour. In America, she met the Kennedys and Martin Luther King. Jackie Onassis, she recalled, took "an almost aunt-like interest" in her. On the eve of her wedding in 1972, she bumped into the former American First Lady at the hairdressers. As Arabella has recalled: "She said, 'Darling, I've heard about the wedding. May I go to Tiffany and get you a little box or something?' I said: 'No, no, I have a wedding list at a shop called Kitchens' — and she went and bought the rest of the stuff. "My brother Winston thought I'd gone mad, but I couldn't think what I'd do with a silver box. I was more interested in having a bread board."

The Churchill girl who had been Deb of the Year in 1967 and whose lunch date with the then Crown Prince (now King) Carl Gustav of Sweden excited the Swedish media to speculate on her as a future Queen, was marrying a bearded, Scots-born teacher, Jim Barton.Arabella had been under an intense media spotlight after declining to be the Azalea Queen at the annual celebration of one of her grandfather's greatest monuments, Nato. She wrote a pithy letter to the organisers in Norfolk, Virginia, saying that a military organisation using force of arms to impose its view "alarmed and disillusioned" her. In her exasperation about the way the world was going, Arabella was eschewing the conventional gilded Churchillian path through life. She was determined to be herself. One day she just wasn't around any more: she'd slipped away to join a group of hippies. At Glastonbury, as she and others were founding the music festival in which she is still involved, she met Barton, whose father was a headmaster in Bournemouth.

Enter Jake, born in 1973, not at Blenheim Palace, seat of the Dukes of Marlborough, where his illustrious great-grandfather was born, but on a sheep farm in Wales which Arabella and Jim were running. Barely a year later, Jim Barton had left and his mother was on her own. An extraordinary, not to say eccentric childhood followed, as Arabella, wracked by periods of depression so familiar among the Churchills, drank, took Valium and consulted a clinical psychologist. By the time Jake was three, his mother had moved into a squat in London's Maida Vale. Ever the organiser, she set up a restaurant in the rooms downstairs, cooking "cheap, wholesome food for my friends". Her friends? These were 200 other fellow-squatters in the run-down neighbourhood. When she learned that the then Greater London Council was evicting her and Jake from the squat, she burst into tears. "Oh Christ, I'm homeless again," she sobbed. "What am I going to do now?"

For Jake it was a totally un-Churchillian start in life, but some normality arrived when Arabella's mother June (Randolph's second wife, who was to commit suicide at 58 while suffering from cancer) bought her a house in Kensington. Before long she had let the upper part of the house and was living downstairs with Jake, but spending increasing amounts of time among the hippies in and around Glastonbury. Eventually she moved to the town, sending Jake to St Dunstan's mixed secondary school just behind Glastonbury High Street. He was "a bit of a character, a comedian, but with a wise air about him — the kids looked up to him," recalls one of his contemporaries. "I didn't know until afterwards that he was a member of the Churchill family."

By now — again through the Glastonbury festival — Arabella had met her second husband, Ian 'Haggis' McLeod, a juggler of some renown and 14 years her junior. They have a daughter, Jessica, 17, who is also being educated locally.For Arabella Churchill, life continues to be rather bohemian, based round the New Age mecca of Glastonbury, in a somewhat dilapidated semi with beautiful views over the hills. But with Haggis and Jess, Gracie the dog and cats Rumple and Badger, her Children's World charity and the Glastonbury festival in which she organises three big performance fields for children, life of late was "absolutely lovely" for Arabella.

But then came the news about Jake. "It was," says a family friend, "the most disastrous news she has ever had. "She is speechless with despair. She doesn't know what to think. Deaths in the family, for whatever reason, you come to expect. But not this, not Jake. He's such a lovely boy, and he's always worked hard for a living." Jake, however, has always been a young man without a settled career. At 19, he teamed up with his father, Jim Barton, to form a film company. Three years later, having made no impression on the film world, the company was dissolved. He went to Australia and — encouraged long-distance by Arabella — did a fish-farming course at Launceston University in Tasmania. At the same time, by now in his late 20s, he took out Australian citizenship. After this he moved to Indonesia to work as a pearl farmer. Then he returned to Eastern Australia, surfed, sailed and met Kim.

And then, last June, the New South Wales Special Crimes Unit burst in. Jake is charged, together with his associate, New Zealand-born Rees Gerard Woodgate, 42, with supplying a commercial quantity of Ecstasy. The shock waves have reverberated through the widespread Churchill family whose talents through the generations have encompassed everything from soldiering to literature. The family has always had a melancholic side — Sir Winston called it his "black dog" — but is never short of instant, often dark humour.

"Well, we've done everything else — so what about drug dealing?" quipped one peripheral family figure yesterday, before adding hastily: "But I cannot believe that Jake has done these things. It must be a terrible mistake."
The Australian court, however, on December 20, 2007, had a different opinion:
The great-grandson of Sir Winston Churchill has been sentenced to three years' jail for being part of a multi-million dollar party drug syndicate.

Nicholas Jake Barton, 33, had pleaded guilty in the Downing Centre District Court in Sydney to knowingly taking part in supplying a commercial quantity of a prohibited drug.The judge said it was brought to his attention that Barton was a relative of Sir Winston Churchill.

"The fact that the offender descends from a hero of the 20th century does not affect the penalty I must impose," Justice C.D. Charteris said. Barton, wearing a dark suit, white shirt and silver tie, did not not react when the sentence was read.

Justice Charteris said he had to take into account the deterrent value of the sentence to the offender and the community, but Barton's early admission of guilt, added to the fact the Crown did not have a strong case, meant that he considered Barton to have good prospects for rehabilitation. Barton was arrested in June during police raids in Sydney's eastern suburbs, following a three-month investigation.

About 250,000 tablets, 18kg of MDMA – the powder used to make the drug – and two industrial pill presses were confiscated by police. The tablets had a street value of $12.5 million and the powder was worth $2.5 million.

Barton admitted that he had sublet a property in South Coogee to a co-defendent, Reese Gerard Woodgate, 42, a New Zealander, who also pleaded guilty. Barton said he then found out Woodgate was involved in the "neferious business" of the manufacturer and distribution of drugs, according to the agreed facts, read out by Justice Charteris. "To my [eternal] regret I did not take any action to stop this," Barton said in a statement read out by the judge. In the statement, Barton said he regretted bringing disgrace and shame upon his family because of the crime.

Barton was given a 20-month non-parole period in court today, and will be eligible for release next February as he has been in custody since June 2006. Judge Charteris said he was satisfied that Barton had shown remorse and the reason for the short non-parole period was that his mother – Arabella Spencer Churchill, granddaughter of Sir Winston and daughter of his son, Randolph – was terminally ill in the UK with pancreatic cancer and had a life expectancy of between four and five months.

She elected not to have chemotherapy and the judge hoped that Barton would have time to visit her after serving his sentence.
But that was not to be.
Arabella Churchill, charity worker, co-founder of the Glastonbury festival and granddaughter of Sir Winston, died of cancer early yesterday [20 December 2007] – the same day that her son was jailed in Australia for his part in a multi-million pound drug racket.
My son, who for some reason seems to have heard of this case, says that Jake was framed.
Arabella's second husband fourteen years her junior) was colorful: Ian "Haggis" MacLeod.
Haggis and Charlie are a comedy juggling act formed in 1984 by Haggis McLeod and Charlie Dancey. They learned their skills together at the Walcot Village Hall juggling workshop in Bath, England. Their first performance was a busking show that took place on the waterfront of Bristol Docks. Haggis and Charlie performed regularly on the streets of Bath in their early years together. They have been seen almost every year at Glastonbury Festival and became something of a tradition at the Winchester Hat Fair.

They were also involved in a successful world record attempt on 26 June 1994 when 826 people, juggling at least three objects each, kept 2,478 objects in the air, at Glastonbury Festival.[1]

For a brief time the duo became a trio, when Pippa Tee joined the act, which was renamed Haggis & Chips (short for Haggis & Charlie & Pippa).
Here he is in 2012 doing his routine in Hawaii.
Arabella and Haggis's daughter Jennifer has managed to stay out of the news.
Leave a Comment