Effingham Lawrence (1779-1850) was the forth great grandfather of my wife. He was the son of Joseph Lawrence (1741-1813) and Phebe Townsend (1740-1816) and  married Anne Townsend (1782-1845) and had seven children.
He was a First Judge of Queens County.
He was mainly a farmer. He owned "The Bayside Farm" and three additional farms. In his early days he was an important breeder of thoroughbred cattle. Judge Lawrence's books reveal that his interest in breeding Merino sheep led him to correspond with owners of that stock from places as divergent as Canada and the Carolinas, and his account books reveal that he originally spent $2,200 for a ram and two ewes.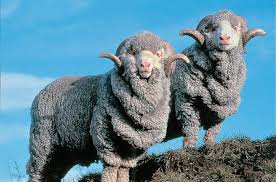 He had large flocks of Merinos which were the foundation of flocks in Vermont, Canada, and the Western states. These were said to be the progenitors of "Canadian mutton" sold in the early markets in New York City.
At this time the borough of Queens extended as far as Hempstead. Even though he served several years as a judge of the County Court, Lawrence had the time to research and grow the finest apples, peaches and apricots in our region. Records show he was an early advocate of the liberal use of plant food and fertilizer in those early times.
By 1817 Judge Lawrence was one of the prominent men to initiate the formation of the Agricultural Society of Queens County. Queens then encompassed an area that reached as far as Hempstead. Rufus King of Jamaica was elected the society's first president and Judge Lawrence served as one of two vice presidents. The stated purpose of the society was "to improve the method of farming and raising of stock and advancing rural economy."  The first meeting was held in the old Mineola courthouse in 1819 and that year the first exhibition was also held.
In July 1841 a Queens County Agricultural Society was formed to supplant the original society and at that time Judge Lawrence was selected as its president. Its first fair was held on Oct. 15, 1842, at Anderson's Hotel in Hempstead. Before the event, the poet, journalist, and horticulturist William Cullen Bryant composed an ode which was sung at a local church. The number of visitors to these fairs ranged from 6,000 to 20,000 people, attracted as well by the racetrack. Fairs were later held also at Jamaica.
Judge Lawrence was also known as a breeder of fine horses, and in his younger days he participated in the hunt. In season he would pack up his family and set off for a two day trip to Smithtown to visit his relative Richard Smith. The area around Lake Ronkonkoma at that time was ideal for fox and deer.
Stone House
Stone House was built in 1822 by Isaac Stansbury for Judge Lawrence on 49 acres overlooking Little Neck Bay.
Judge Lawrence is buried in the Lawrence Cemetery in Bayside.
Leave a Comment