Mount Calvary Epiphany Offertory Hymn: #329 How bright appears the morning star. William Mercer in 1859 paraphrased "Wie schön leuchtet der Morgenstern," Philip Nicolai wrote in 1597, during a terrible pestilence. Nicolai, a Lutheran mister, saw thirty parishioners a day buried under his window. The original version of the hymn uses the extravagant language of bridal mysticism. William Mercer changed it into a sober celebration of God's love and power, manifested in the Incarnation.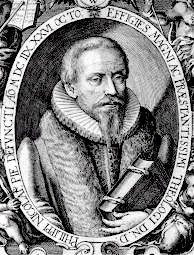 Wikipedia: The words in seven stanzas are based on Psalms 45, a mystical wedding song. Jesus is identified with the morning star, according to Revelation 22:11, and with the bridegroom of the psalm. Nicolai wrote the words in response to a pestilence in 1597. He published the chorale first in 1599 in his book Frewdenspiegel deß ewigen Lebens ("Mirror of Joy of the Life Everlasting") in Frankfurt, together with "Wachet auf, ruft uns die Stimme". He introduced it: "Ein Geistlich Brautlied der Gläubigen Seelen / von Jesu Christo irem himlischen Bräutgam: Gestellt ober den 45. Psalm deß Propheten Dauids" (A spiritual bridal song of the believing soul / concerning Jesus Christ, her heavenly bridegroom, founded on the 45th Psalm of the prophet David). This hymn is often referred to as "The Queen of Chorales".
Here are the original stanzas:
Wie schön leuchtet der Morgenstern

Voll Gnad' und Wahrheit von dem Herrn,

Die süße Wurzel Jesse!

Du Sohn David zus Jakobs Stamm,

Mein König und mein Bräutigam,

Hast mir mein Herz besessen,

Lieblich, freundlich,

Schön und herrlich, groß und ehrlich,

Reich von Gaben,

Hoch und sehr prächtig erhaben!

How beautifully shines the morning star

full of grace and truth from the Lord,

the sweet root of Jesse!

You son of David from the line of Jacob,

my king and my bridegroom,

have taken posession of my heart,

[you who are] lovely, friendly,

beautiful and glorious, great and honourable,

rich in gifts,

lofty and exalted in splendour!

2

Ei meine Perl', du werte Kron',

Wahr'r Gottes- und Mariensohn,

Ein hochgeborner König!

Mein Herz heißt dich ein Lilium,

Dein süßes Evangelium

Ist lauter Milch und Honig.

Ei mein Blümlein,

Hosianna, himmlisch Manna,

Das wir essen,

Deiner kann ich nicht vergessen!

Ah my pearl, my precious crown,

true son of God and Mary,

a king of most noble birth!

My heart calls you a lily,

your sweet gospel

is pure milk and honey.

Ah my dear flower,

hosanna, heavenly manna,

that we eat,

I cannot forget you!

3

Geuss sehr tief in mein Herz hinein,

Du heller Jaspis und Rubin,

Die Flamme deiner Liebe

Und erfreu' mich, daß ich doch bleib'

An deinem auserwählten Leib

Ein' lebendige Rippe!

Nach dir ist mir,

Gratiosa coeli rosa,

Krank und glimmet

Mein Herz, durch Liebe verwundet.

Pour most deeply within my heart,

you clear jasper and ruby,

the flames of your love,

and make me rejoice, so that I may remain

in your chosen body

a living rib!

Because of you,

gracious rose of heaven,

my heart is sick and smouldering,

wounded with love.

4

Von Gott kommt mir ein Freudenschein,

Wenn du mit deinen Äugelein

Mich freundlich tust anblicken.

O Herr Jesu, mein trautes Gut,

Dein Wort, dein Geist, dein Leib und Blut

Mich innerlich erquicken!

Nimm mich freundlich

In dein' Arme, daß ich warme

Werd' von Gnaden!

Auf dein Wort komm' ich geladen.

A joyful light from God comes to me

when with your dear eyes

you look on me as a friend.

Oh Lord Jesus, my beloved good,

your word, your spirit, your body and blood

refresh me within.

Take me like a friend

in your arms, so that I may become warm

with your grace

To your word I come invited.

5

Herr Gott Vater, mein starker Held,

Du hast mich ewig vor der Welt

In deinem Sohn geliebet.

Dein Sohn hat mich ihm selbst vertraut,

Er ist mein Schatz, ich bin sein' Braut,

Sehr hoch in ihm erfreuet.

Eia, eia,

Himmlisch Leben wird er geben

Mir dort oben!

Ewig soll mein Herz ihn loben.

Lord, God,Father, my mighty hero,

before the world you have

loved me in your son.

Your son has betrothed me to himself,

he is my treasure, I am his bride,

most greatly I rejoice in him.

Yes, yes.

Heavenly life he will give me

in the the world above!

My heart shall praise him for ever.

6

Zwingt die Saiten in Zithara

Und laßt die süße Musika

Ganz freudenreich erschallen,

Daß ich möge mit Jesulein,

Dem wunderschönen Bräut'gam mein,

In steter Liebe wallen!

Singet, springet,

Jubilieret, triumphieret,

Dankt dem Herren!

Groß ist der König der Ehren!

Pluck the strings on the harp

and let the sweet music

resound full of joy,

so that with dear Jesus,

my most beautiful bridegroom,

in constant love I may make my pilgrimage!

Sing, leap,

rejoice, triumph,

thank the Lord!

Great is the king of honour!

7

Wie bin ich doch so herzlich froh,

Daß mein Schatz ist das A und O.

Der Anfang und das Ende!

Er wird mich doch zu seinem Preis

Aufnehmen in das Paradeis,

Des klopf' ich in die Hände.

Amen! Amen!

Komm, du schöne Freudenkrone,

Bleib nicht lange,

Deiner wart' ich mit Verlangen!

How full I am therefore of heartfelt joy

that my treasure is the alpha and the omega,

the beginning and the end;

To his reward he will

take me up to paradise,

and so I clap my hands

Amen! Amen!

Come, you sweet crown of joy,

do not long delay,

I wait for you with longing.
Bach used only the first and last stanzas in his cantata #1 "Wie schön leuchtet der Morgenstern" and changed it into a celebration of the Annunciation by the addition of the recitative:
Du wahrer Gottes und Marien Sohn,

Du König derer Auserwählten,

Wie süß ist uns dies Lebenswort,

Nach dem die ersten Väter schon

So Jahr' als Tage zählten,

Das Gabriel mit Freuden dort

In Bethlehem verheißen!

O Süßigkeit, o Himmelsbrot,

Das weder Grab, Gefahr noch Tod

Aus unsern Herzen reißen.
You, very son of God and Mary,

You, king of the chosen ones,

how sweet is Your living word to us,

by which our forefathers already

counted years as well as days,

that Gabriel joyfully

promised there in Bethlehem!

O sweetness, o bread of heaven,

that neither grave, danger or death

can wrest from our hearts.
Bach seems to be referring to the custom of starting the new year on March 25, the date of the Incarnation.
Leave a Comment